Lil Mo explains why she has beef with Queen Naija and dishes on all the "R. Kellys" in the music industry. Get into her interview, plus check out Adrien Broner cutting up after cathcing an "L" by Manny Pacquiao inside....
Lil Mo and her hubby/boxer Karl Dargan (aka Dynamite) are making their press rounds for "Marriage Boot Camp: Hip Hop Edition." The couple stopped by at Power 105's "The Breakfast Club" the explain why they went on the show and much more.
During the interview, Mo was asked about her "beef" with YouTube star/singer Queen Naija. You may recall, the "Superwoman" singer criticized Queen (who's pregnant) over her performance at the 2018 Soul Train Music Awards and folks were on her neck about it, calling her a bitter betty.
Mo explained she never said Queen couldn't sing, but maybe she shouldn't perform while pregnant.
I know when I'm pregnant, and I got a lot of kids, I don't sing," she shared.
The R&B songbird then went on to explain more in depth why she has a problem with Queen. And it has everything to do with disrespecting legends in the game.
"The backstory is, [gospel singer] John P. Kee is my uncle. That's how I got started in the game. That's who's suing her now for stealing his old melody. But then when she was talking crazy about my uncle, talking bout, 'Well tell him we need to go preach the gospel song.' Woah woah, we not doing that, sis! Since when was it okay to disrespect the legends and the OGs?"

"Now there's some muthaf*ckers that get on my nerves, but I know, if they came before me, you show them respect. I don't care what they do. That level of respect has been eliminated because social media caps people up, or whoever is popular thinks they can talk crazy."

"And because I know people, I know a lot of higher ups – it's a lot of people who still respect my opinion that you may not see on the regular basis – they'll tell me, 'Oh she treats people, her team treats people a certain way if they find that you're of importance or of you someone of status, then they'll be nice to you, but if you're just regular, they not gone speak. I hate people like that and that's what I heard about that team. My kids love her to death. I didn't even put two and two together and realize that's the one from the YouTube show."

"But then I was like, 'I would have been like, 'Nah, let me just sing my song and do my set. Y'all can save this cypher until I have this baby cause my diaphragm ain't right' Cause clearly it look like she ain't wanna be there. It's so many people that I think that opportunity would have been perfect for, who have a cult-like following. Just because they're not popular and just because - not disrespect - they're not all the way lightskinned because it still is that line of light skin vs. dark. It's very prevalent in the industy. Why? Because I still have to deal with it."
Peep the clip above.
Mo also issued a warning to Queen's fiance Clarence after he was talking crazy about her.
"He better be careful. Well, he got a fade coming." Oop!
The "4 Ever" singer got super emotional while talking about riding people who don't ride for her in the same way. She said "everyone thinks it's just Robert [R. Kelly], but it's not." Oh?
Mo said she's not going to snitch on the people she knows of who participate in the same activities as Kelly because "when I f*ck with you, I f*ck with you."
"One of my OGs, she told me 'Mo, you have to pick better people to ride for.' This makes me f*cking cry because I always have people's f*ckin' back, nobody don't be having mine. I am tight because that sh*t be making me mad. I hate when people ruin their opportunity then you're just like 'yo, what is y'all doing?' They know what's going on in the industry."
Charlamagne asked who are the people she's referring to, she responded, "EVERYBODY! All of them!"
Wow.
Check it at the 22:30-minute mark below:
By the way, Clarence seemingly responded to Mo's interview tweeting:
Please don't let being on tv fool you I turned down love & hip hop twice I make way more on YouTube..

— God's Plan (@clarencenyc_) January 23, 2019
Thoughts?
In other news...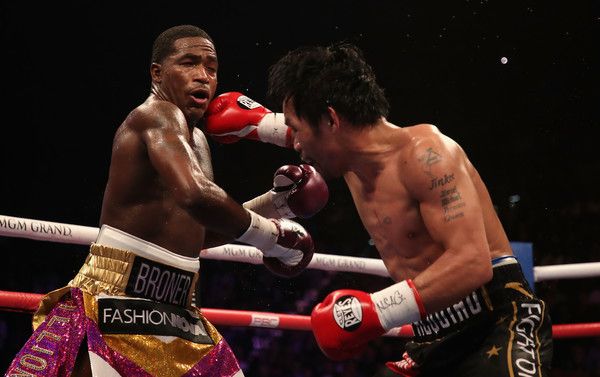 Adrien Broner, 29, is cutting up after Manny Pacquiao, 40, defeated him by a unanimous decision after their Pay-Per-View fight that went down at the MGM Grand Garden Arena in Las Vegas last weekend. The 40-year-old boxer is still the welterweight world champion.
However, Adrien doesn't seem to think so.
Although Pacquiao beat Broner by a unanimous decision, the outspoken boxer feels like he STILL won, despite the outcome of the fight.
"I beat him," he said in a post-fight interview in the rink with Showtime sportscaster Jim Gray. "Everybody out there know I beat him. I controlled the fight. He was missing. I hit him clean more times. I beat him!"
Jim Gray brought up the fact Broner averaged less than 8 punches per round.
"It already sound like you were against me. Let me talk something. Let me let y'all know. I want to thank the whole hood who came out here. I love y'all. I did this for the hood. Y'all know I beat that boy. Y'all know I beat that boy! What they're trying to do is, they're to get that money again with Pacquiao and Floyd [Mayweather], but it's cool. I ain't worried about it. I'm still that n*gga. I'm on top."
After his rant, Jim Gray threw some shade before ending the interview. Check it:
Hall of Famer Jim Gray conducting a powerful post-fight interview. #PacBronerpic.twitter.com/y1P7jACXwY

— SHOWTIME Boxing (@ShowtimeBoxing) January 20, 2019
During the post-fight media conference, Broner reitterated that he won the fight:
What the hell is Adrien Broner talking about? pic.twitter.com/IU8jWMEycY

— FootBasket.com (@FootBasketcom) January 21, 2019
Ha!
Just look at him: 
This guy.
While he may have taken an "L," he's going to run through the money he made in Vegas:
By the way, it was reported Pacquiao's home was burgularized after the fight. TMZ reports:
Law enforcement sources tell us they got a call Sunday from someone on Pacquiao's team regarding the crime. We're told there were signs of forced entry and the home was ransacked. Pacquiao was not home at the time ... he was still in Las Vegas. Pacquiao beat Broner by unanimous decision Saturday. At this time, it is not known what all was taken from the boxer's home. Cops do not have any suspects.
Yikes.
Photo: Getty