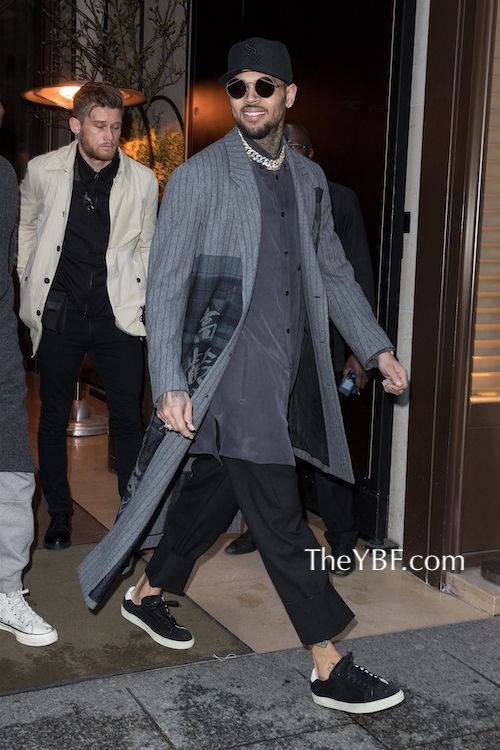 New details have emerged surrounding what Chris Brown's accuser now describes as an alleged "brutal, violent" rape.  See what she's saying inside, and Chris' latest response...
French magazine Closer claims to have spoken to Chris Brown's unnamed accuser in her first interview since the rape allegations were made public. 
The 24-year-old woman, who is NOT the falsely identified IG personality Kimberley Forddespite rampant rumors, goes into detail about how the alleged incident occurred inside the pop star's Mandarin Oriental hotel room.
Closer (via Google Translate) calls the woman by the pseudonym "Karima" during the interview.  "Karima" says the day before the incident, a friend invited her to meet Chris Brown at his hotel, and she obliged.  After meeting him there, the group - consisting of about 15 girls - all went to the club in the same vehicle (which is likely translated to "the box").


"...Through a friend who works at Crystal (a Parisian nightclub, Ed). This friend asked me what I was doing the next day and if I would like to meet Chris Brown. I said yes and the next day, on Tuesday, I had an appointment at 23:30 at the hotel Mandarin Oriental to meet the rapper. At the reception of the hotel, I found myself with friends of him and other girls. We went up to his suite to pick him up and we all left in the box called "The dock"."
She says someone from Chris' camp took her by the arm at the club, and convinced her to leave with his group:
"Everything is going well. Around 4:00 am, they decide to return to the hotel. I wanted to go home , but someone around Chris Brown, took me by the arm and said: " Come we'll have a good evening ." Leaving the [club], there were two Mercedes vans that were complete. So I said, " There is no place, I'm going home. " There they said, " No, come! ", And I was put in Chris Brown's car with a another girl."
She claims Chris' bodyguard took everyone's phones upon entering back into the singer's hotel room:
"Before entering the suite, the bodyguard took everyone's cell phones. It did not seem surprising given the artist's notoriety and I did not worry ... Once in the suite, we were offered to drink. There was cocaine, shit. There were about fifteen girls, Chris Brown's friends. The music was loud people were coming out ... It was a bit of a mess."
"Karima" described the alleged rape as a violent & brutal attack that took place in the dressing room of the hotel room, after Chris pulled her in while she was walking to the bathroom.
"At one point, I go to the bathroom. Chris Brown follows me and catches me by the right arm. He makes me enter a sort of dressing room. He closed the door .... It lasted 25-30 minutes."
....
"It's still too difficult for me to explain in detail what he did, but it was brutal and violent . He was threatening and aggressive. I was very afraid. Once it was over, he opened the door. I told him that I wanted to pick up my cell phone and go home. Chris Brown went to see one of his friends. I thought this person was going to accompany me to the bodyguard for my cell phone, but that's not what he did."
She also accuses at least one of his friends of abusing her as well.  She also claims she was let go only after Chris "saw her crying" while pleading to leave:

"He took me to his room, he locked the door and he abused me too. It's been the same with the bodyguard ... (She starts to cry). The only wish I had was to go home. I was too scared. It was three muscular men, aggressive and menacing. I could not do anything. I am traumatized, I can not overcome what happened to me and resume my habits. It's horrible, I'm lost."
"Karima" says she went to the cops 2 days later out of fear, and because she didn't want the star doing this to any other girls. 
We also know Chris Brown's girlfriend, Ammika Harris, has been with him in Paris.  The accuser claims Ammika and around 20 others were actually in the room when the alleged rape occured.  TMZ reports:
"Someone connected to Brown tells us the singer was never alone with the alleged victim and says Chris' girlfriend, Ammika Harris, was in the hotel room the whole time. He says there were more than 20 people in the room "hanging out" and listening to music Brown was playing on his iPhone."
Chris was seen all loved up with Ammika at Parisian hotspot Cirque Bonheur this weekend.  They were spotted there days after the alleged incident, but before the rape report was filed.
Chris has spoken up on his Instagram page, accusing the woman of lying:
His lawyers and publicists have yet to comment.
Photo: Backgrid