Nipsey Hussle wants y'all to know he's NOT engaged to Lauren London, despite  the talk and that all white (engagement-esque) photoshoot they just shot for GQ. Deets inside...
Engagement rumors sparked after pictures of Nipsey and Lauren dressed in all white snapping pictures in the street with a horse in LA for GQ magazine.
Nipsey Hussle and Lauren London Have Engagement Photo Shoot For GQ https://t.co/pB3myfwiu3

— TMZ (@TMZ) January 14, 2019
The flicks do look real engagement-like. Hmm...
TMZ reported people from the GQ production team spilled tea that Nipsey and Lauren are already engaged, but they want to keep it underwraps. It's reported the photos the couple snapped on Saturday were "definitely engagement photos."
Well, Nispey says otherwise. (Lauren said a few weeks ago as well they're not engaged when a post of hers sparked confusion.) He hopped on Twitter to announce there's no wedding bells (at least not yet):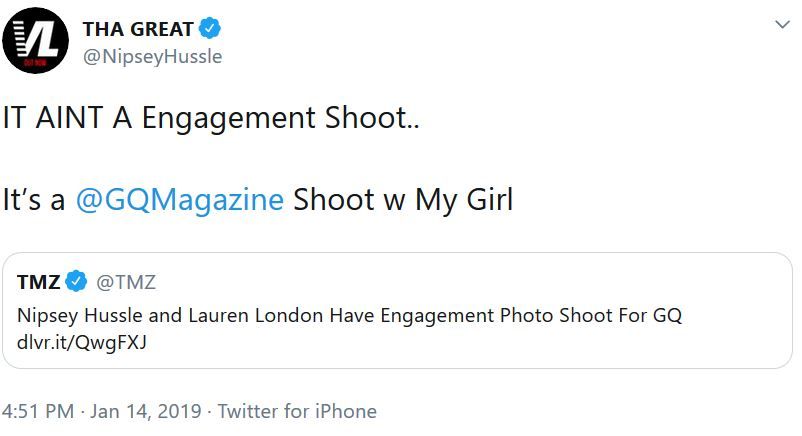 "IT AINT A Engagement Shoot..It's a @GQMagazine Shoot w My Girl," he tweeted.
As of the time of this post, Lauren hasn't responded to these particular rumors.
Somebody's lying.
Guess we'll just have to wait and see...
Photo: Splash