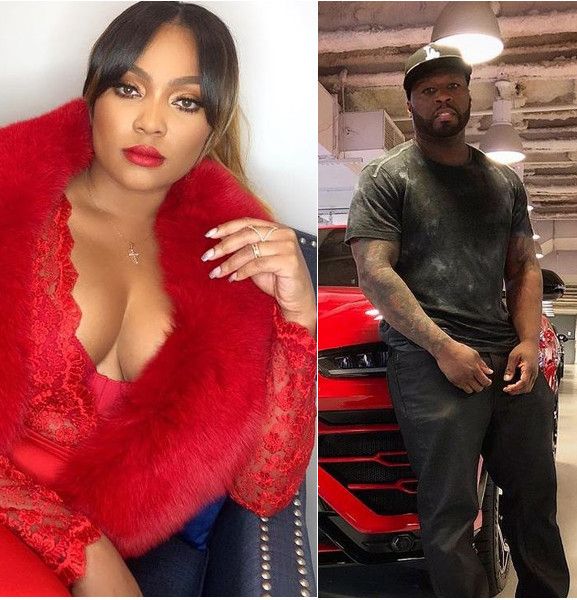 A judge ruled in 50 Cent's favor in the porn revenge lawsuit Teairra Mari brought up against him. She now has to pay him hella cash and he's clowning her over it. More inside...
In May 2018, "Love & Hip Hop: Hollywood" star/singer Teairra Mari conducted a press conference to announce she was suing her ex-boyfriend Akbar Abdul-Ahad for allegedly posting "revenge porn" that featured her during intimate moments and 50 Cent who shared the content on his Instagram account.
A judge has ordered the reality star to pay the rapper $30,000 after he caught a victory in her revenge porn lawsuit.
According to court documents obtained by The Blast, a Los Angeles judge has dismissed all claims against the rapper. The "Power" star/producer wanted T. Mari to pay the entire $161,660.15 legal bill, but the judge ordered her to pay $30,618 to cover his legal fees for having to fight her in court.
During the press conference, T. Mari fought back tears as she explained how graphic pictures of her made it to the Internet. She said her ex-Akbar had her password and after she broke up with him for cheating, he logged into her account and posted a sex tape and an obscene photo of her as payback. And, of course, to humiliate her.
"He had my Instagram password, so he posted them on my Instagram to make me look terrible. Of course, I was horrified."
The former Rocafella singer said she deleted the material, but 50 grabbed the picture, posted it on his account (with 18 million followers) and captioned, "Get the strap." She said IG took the images down and that's when the "Power" star/producer posted another photo and "complained that IG was censoring him."
She continued, "I have to stand up for myself or it looks like I did it. That's why I'm going full pursuit." Later, Lisa confirmed they would file the police report later today along with the lawsuit.
See the full press conference HERE.
After the verdict, Fif was full of petty, per usual. He clowned T. Mari after nabbing the victory. He posted up a screenshot of a headline about the case with the caption, "Now Teairra you can cough up the money or you can go with R.Kelly and sh*t in a bucket. LOL #lecheminduroi."
Ugh.
Check it:
THIS guy...
Photos: Teairra's IG/50's IG