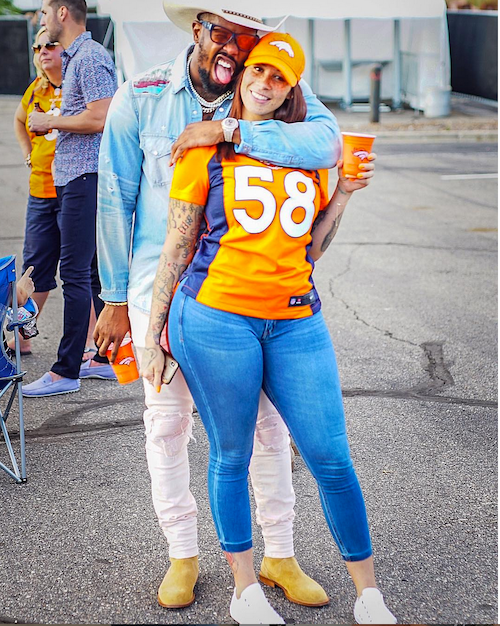 NFL baller Von Miller seems to be about 5 minutes away from gettting another ring - one that comes with a wedding.  He and girlfriend Megan Denise have been extra boo'd up all over IG, and nothing says locked down more than tatting your boo's whole face on you.  So we know it's real.
Cowboy hat wearing, chicken coup owner, Texas native, Super Bowl champ Von Miller found himself a curvalicious, freckled, heavily tatted girlfriend.  And they're extra in love, based on their social media at least.
The Denver Broncos baller's girlfriend Megan Denise showed off her newest tatt of her man - his face on her back, right next to Tupac and Malcolm X:
Oh.
Chick got inked by Tulsa tattoo artist Mister Kito and showed it off earlier this week. Obvi, Von loves it.  And now wants to put a baby in her:
It's not her only tattoo saluting her NFL boo either:
A few months ago she got "Vonnie" written across her boobs.
We wonder how many tatts he has of her....
Regardless, it seems like they're super close and possibly living together. She often posts pics from what looks like his closet and she's got plenty of PDA pics to show off too:
Good luck to 'em. Photos: Instagram