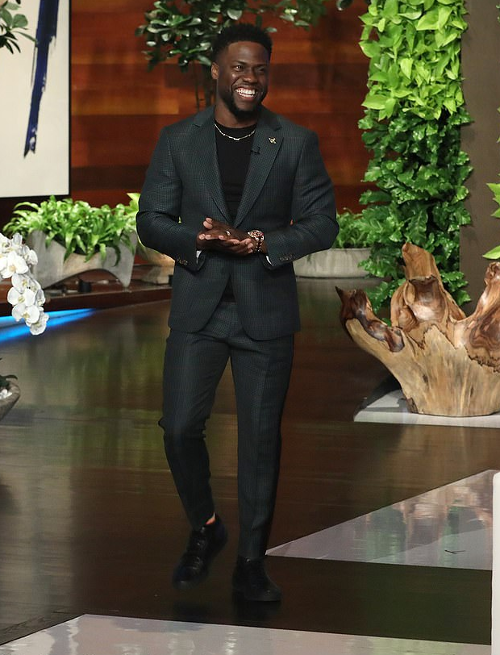 Kevin Hart is having a change of heart about hosting the 2019 Oscars. The "evaluation" comes after Ellen DeGeneres called up the Academy to champion for Kevin to return as host. More inside...
Will Kevin Hart hit the stage to host the 91st Annual Academy Awards next month? Last month, Kevin announced he was stepping down as host after 10-year-old homophobic tweets resurfaced. Now, it's up in the air as to whether or not the comedian will host the ceremony.
Appearing on today's episode of the "Ellen DeGeneres Show," the Night School actor revealed he was "evaluating" whether he should host the show. The daytime host has been championing for the comedian to host this year's Oscar Awards after he stepped down. Ellen - who hosted the Oscars in 2014 - called up The Academy to ask them if they would consider reinstating Kevin.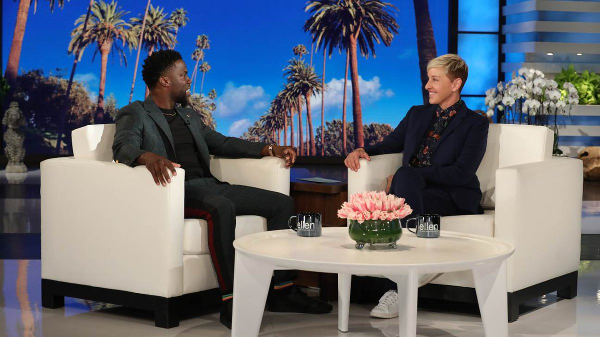 You'll recall, when the resurfaced tweets began making headlines, Kevin revealed the Oscars asked him to apologize and if he didn't, then they would have to find another host. The Jumanji actor decided to apologize, but he stepped down as the host as to not overshadow the Oscar winners.
"I called the Academy today because I really want you to host the Oscars. I was so excited when I heard that they asked you," Ellen told Kevin. "I thought it was an amazing thing. I knew how important it was and how it was a dream.

She continued, "So I called them, I said 'Kevin's on. I have no idea if he wants to come back and host. What are your thoughts?' They said 'We want him to host, whatever we can do, we would be thrilled. The Academy is saying what can we do to make this happen?"
Later, Kevin said he would "assess" whether he was interested in returning as host.
"Leaving here, I promise you I'm evaluating this conversation," he told Ellen. "This is a conversation I needed to have. I'm glad that I had it here. ... Let me asses, just sit in a space and really think and you and I will talk before anything else."
Ellen is fiercely defending the comedian.
"As a gay person, I am sensitive to all of that," she said. "You've already expressed that it's not being educated on the subject, not realizing how dangerous those words are, not realizing how many kids are killed for being gay or beaten up every day. You have grown, you have apologized, you are apologizing again right now. You're done it. Don't let those people win — host the Oscars."
The global superstar said the recent attack against him is BIGGER than just the Oscars...it was an attack against his livelihood.
"There's a flip side. To any attack, there's another side. There's a 'B' side. On my side, openly, I'm wrong for my past words. I said it. I understand that. I know that. My kids know when their dad messes up, I'm in front of it because I want to be an example, so they know what to do. In this case, it's tough for me because it was an attack. This wasn't an accident. This wasn't a coincidence. It wasn't a coincidence that the day after I received the job that tweets just somehow manifested from 2008. I'm on social media every day. I have over 40,000 tweets. To go through 40,000 tweets to get back to 2008, that's an attack. That's a malicious attack on my character. That's an attack to end me. That's not an attack to just stop the Oscars. That's an attack to end me."
He continued, "This was to destroy me. This was to end all partnerships, all brand relationships, all investment opportunities, studio relationships, my production company and the people who worked underneath me. This was to damage the lives that have been invested in me. It's bigger than just the Oscars. It's about the individuals who are out there now that are finding success in damage. Defining success damaging your quote-unquote celebrity."
By the way, the instances where Kevin addressed his problematic statements were not necessarily apologies for his past sentiments.  He simply says how he thinks NOW about the lives of the people in the LGBTQ community.  And that he doesn't tolerate hate.
Peep the clips below:
The 91st Annual Academy Awards are set to go down February 24th and no host has been named as of yet. It was previously reported producers were considering using multiple hosts or not having a host at all.
During his daytime appearance, the 39-year-old comedian also talked about getting turned up on New Year's Eve and his new movie, The Upside. Check it:
Kevin's episode airs today. Check your local listings for the time.
The Upside hits theaters hits theaters next Friday (Jan. 11th).
Photos: Michael Rozman/Warner Bros