We've been asking chicks like Kelly& Ciara to give us the prayer they prayed for these ridiculous bodies & amazing husbands and kids.  They may have finally led us to water y'all! Find out what fitness goodies they have inside...
It's a new year, which means everyone has set new fitness goals. This year, our girls Ciara and Kelly Rowland are here to help with getting our bodies tight and right. And they're the perfect duo to do so since they're both #BodyGoals (and #everythingoals, tbh).
Ciara is kicking off 2019 as the new face of Equinox, a luxury fitness company. The 33-year-old mother-of-two is featured in the brand's new Nick Knight-directed campaign. CiCi and stuntman Chase Armitage are intended to represent elements such as "soul" and "energy" in the new clip titled, "It's Not Fitness. It's Life." CiCi brought the soul, obvi
Check it:
Along with her new fitness campaign, the Crunk 'N B Queen also shared her top 5 fitness tips to "level up" your fitness goals this year. Here are the fitness gems she dished to VOGUE:
Target a Muscle Group or Healthy Goal—And Make It Your Personal Mission

"I have diastasis recti, which is when your stomach muscles split post-pregnancy. I had it after my first pregnancy, and could feel a difference compared to my abs before I ever had a child. But the second time it was really noticeable because my muscles were actually laying differently. Immediately, I changed my workout to focus on that and the gap between my muscles began to get tighter and tighter. It was a tried-and-true testament to the [benefits of honing in] on a specific area. And at the moment, I'm all about the glutes [laughs]."

Stay Balanced and Consistent

"Consistency has been game-changing for me because you realize when you stay on top of it, you don't have to work as hard. If you're maintaining, as opposed to playing catch-up and overexerting yourself, it really is easier—mind and body. It can be difficult because my life is a real balancing act from my career to being a mom and wife, so I have to have a health plan that's fit for my lifestyle. Especially when I travel, I try to plan in advance as much as possible—from knowing where the nearest Equinox is to trying to keep up with more health-conscious decisions."

Keep Building a Diverse, Nutritious Diet

"Especially when you're traveling and not getting enough sleep, food can be a comforting thing. I mean, I'm a Southern girl, so I have to work even harder at my food choices because I love the things that are so good but so bad for you. I want to continue challenging myself to be more in tune with what my body needs because if you're really listening, it tells you what it wants and what it doesn't want. For example, I want to make sure I'm moving away from the foods that make my body feel more weighed down at certain parts of the day, as well as focus on being more open-minded and leaning into lighter protein options, like fish, and definitely eating more vegetables. There are a lot of great greens out there beyond broccoli, like beets, which I never used to eat! I've been trying to experiment and explore more with food. It's fun when you're trying to be health-conscious because you get to mix it up and be creative."

Pencil In More "Me Time"

"I've become a big believer in scheduling time for yourself because I've realized that sometimes your daily schedule, especially mine as it pertains to my career and family, can [consume you]. So I try to maximize self-care time by unplugging. If you have your cell phone in your hand during moments that are supposed to be for yourself, there's going to be a text or email that comes that you have to respond to. It's never not something, right? So I really try to carve out time for those moments as best I can. And then going to the gym [gives me that] feeling of, I'm working on me, working towards being my best self."

Make Wellness a Family Matter

"There's a lot of athleticism in our household and [Russell and I] do a lot of things together. We find even more ways to be motivated because we can work towards our individual goals together. When I was losing my baby weight, it was so amazing having my partner right there beside me, cheering me on. And it's cool [because] your kids get to see you in action, and in turn, they really have a better shot at practicing better health habits because they're exposed to it. Our household is always on the same page health-wise—and we want to keep leveling up on our choices in the New Year."
Take notes!
Now that CiCi has given you tips implement a healthier lifestyle, Kelly Rowland wants to make sure you slay on your fitness journey:
The former Destiny's Child singer turned MILF has teamed up with Fabletics for her own limited-edition activewear capsule collection.
EXCITED to share my limited edition collection with @Fabletics! #KellyXFabletics was designed to help YOU feel empowered and ready to conquer it all! Shop online (link in bio), in stores, or @fableticsEUpic.twitter.com/JJwxIjzPBt

— KELENDRIA ROWLAND (@KELLYROWLAND) January 1, 2019
Kelly wanted to empower women as they work up a sweat to a healthier life, so she designed a line of activewear that's comfortable and sexy. You can surely find something cute to scoop up from her 16-piece collection. Unfortunately, Kelly's designs aren't included in plus sizes, however, we wouldn't be surprised if a plus-size line is in the works as well. We all know Kelly is all about body positivity.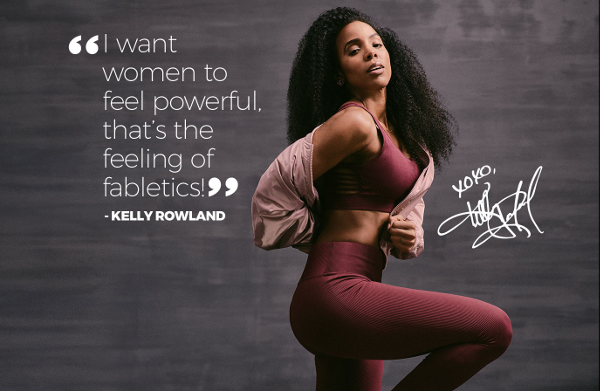 "Kelly Rowland represents the epitome of powerful femininity, which is why we are so proud to be able to collaborate with her!" the site writes on it's official website. "This capsule collection was designed to empower women to stand tall and feel strength in their everyday with pieces that are made to move and make big moves in. The whole collection represents her own brand of personal style, complete with athletic silhouettes with an edgy attitude and a touch of sexy."
The prices listed are super cheap, but be careful. You have to have a VIP membership to the site for the dirt cheap price. Be sure you agree with all the terms of the VIP membership before you start spending your coins. You can check out her collection here.
Kelly also hopped on Instagram Live to show off some of her new pieces: 
Congrats Ciara & Kelly!
Did you make any fitness goals for 2019? Tell us in the comments (we need all the inspiration we can get)!
Photos: Screenshot/Kelly's IG/Fabletics