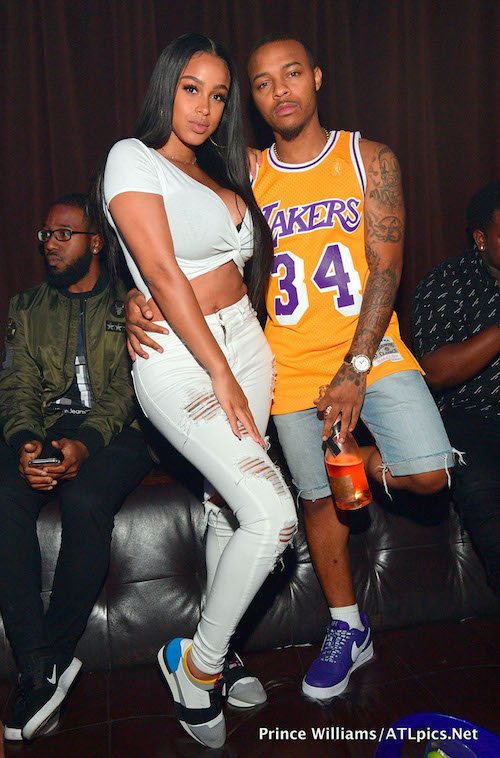 Looks like Bow Wow pushed his "pride" to the side and got his girl KiyomiLeslie back. More inside..
We guess what's understood doesn't need to be explained.
Bow Wow lost his chick by the end of the "Growing Up Hop Hop: Atlanta" season finale ended that aired last week. Now, they're seemingly back together.
Throughout the entire season, fans watched Bow Wow (aka Shad Moss) and his girlfriend Kiyomi Leslie go through it. Shad was drinking uncontrollably, Kiyomi was ready to square up against Lil Mama, and co-star Masika Kalysha was all up in the mix, posing as a threat to their relationship. Now, it seems the couple has hashed through their issues and are giving their relationship another try.
After taking a short social media hiatus as he battled a stomach virus, Bow Wow popped back up on the social media scene with some news.
He shared a video of himself and his girl Kiyomi heading out to grab a bite to eat together. Check it:
We kinda saw this coming. During the season finale episode, Shad professed his love for Kiyomi in a series of tweets on Twitter, dubbing her "bae for life."
I love @Thee_Kiyomi TILL THIS DAY!!!!

— Bow Wow (@smoss) December 21, 2018
Love her https://t.co/Lztunsghpi

— Bow Wow (@smoss) December 21, 2018
I dont have a new bae! @Thee_Kiyomi is my bae for life! She know im crazy she know she got the title RELAX https://t.co/Yj3pCLR1eY

— Bow Wow (@smoss) December 21, 2018
Kiyomi seems to be on the same wave as well:
It's easy to lay down with any man or woman... the hard part is finding a person to mesh with on a higher level then flesh.

— Lil Mexico (@Thee_Kiyomi) December 29, 2018
We wonder if they'll continue couple's therapy to keep their relationship on a healthy track.
Also...
Bow Wow might be starting a new chapter in his life for 2019. He posted up a picture of himself with an inspirational quote and we noticed he used hashtags for Howard University and HBCU (Historically Black Colleges & Universities). Hmm...do you all think he's taking a page from Nick Cannon's back-to-school blueprint and will be joining him at the HBCU soon? It would def make for a good "GUHH" storyline.  Time will tell...
Photos: ATLpics.net