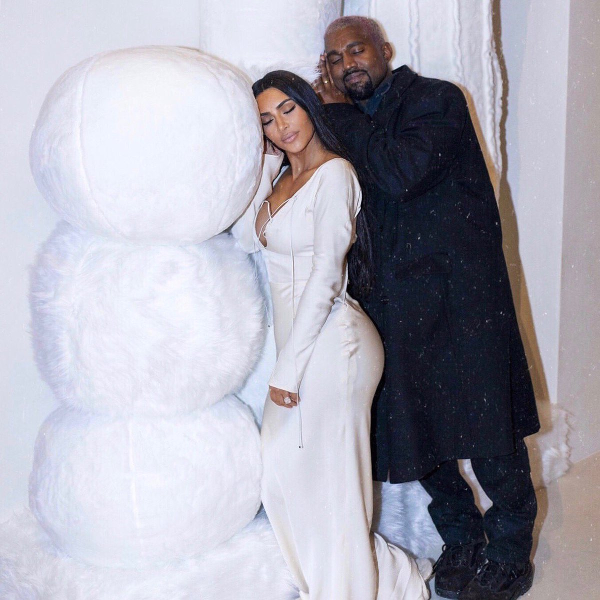 The Wests are headed East! Kanye West has reportedly copped a $14 million condo in Miami and surprised his wife Kim Kardashian West with the news on Christmas. Deets inside...
The Wests had one hell of a Christmas this year.
After partying at their super lit Christmas Eve party, Kanye West came through with bomb Christmas gifts for his wife. According to reports, the PABLO rapper gifted Kim a $14 million condo in Miami. Well, it was more like him letting her know he secured the deal for the place as they were reportedly spotted checking it out earlier this month while they were in town for Art Basel.
Of course, he copped the most luxe condo you can get in Miami. 'Ye made a deal to buy a mega-unit in the exclusive Miami Beach beachfront tower Faena House, dubbed the "Billionaire Beach Bunker." The luxury pad is 4,700 square feet with 4 bedrooms, 5 1/2 baths, and a sick terrace. The 18-story building also features a gym, pool, spa, and more.
A source told Page Six the deal is expected to close next month. The unit was originally listed for $15.5 million.
"Kim and Kanye have been spotted viewing the property in the last month, and they are now in contract to buy it for $14 million," the source told the site. The sale is expected to close in January."
It's unclear how much of a surprise it was to Kim. Page Six reported she visited the property earlier this month, but TMZ said "Kim had never even seen it."
Either way, we know she's already taking mental notes on where she can take her best selfies.
Speaking of their Christmas Eve party (that reportedly cost $1.3 million)...
Kim K suffered a nip slip when she hit the hill to go sledding. The Wests brought the North Pole to their Hidden Hills mansion, complete with real snow for sledding. After coming down the hill, she told Spaghetti Boys founder Kerwin Frost (who was dressed as Santa Claus) that she was on the hill and "it all came out" so she had to adjust herself. 'Ye responded, "She had a nip slip at the Christmas party. I was waiting for the nip slip and now I'm satisfied." Oh.
Check it at the 21:25 mark above.
Photos: Kim's Twitter