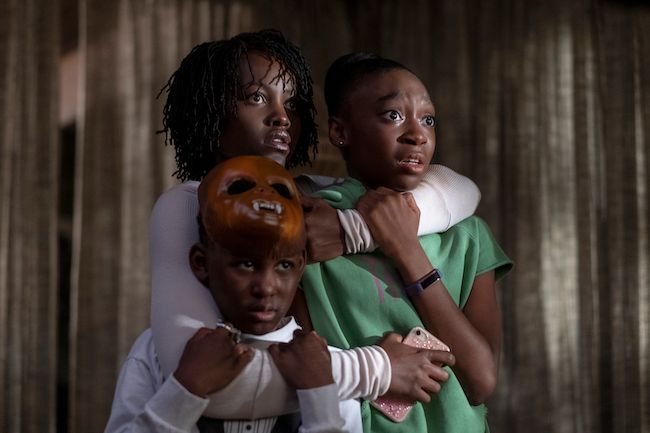 Jordan Peele had twitter in a frenzy on Christmas day with the trailer for his new horror flick "Us".  And in a matter of hours, ALL thee think pieces have come out the woodwork.  About.A.Trailer.  #KingIsh  Get into it all inside...
Oscar winner Jordan Peele is def trying to tell us something.  First he had us thanking the LAWD for that one conspiracy theorist black friend we ALL have with Get Out, and now, he's got us like "Oh hell naw!" with creepy a** kids and families who look like us.
The blackness kicks off with Lupita Nyong'o and Winston Duke's characters listening to the hood classic "I Got 5 On It" in the car with the kids, then the track flipped in an epic way, and all hell breaks loose on a hellish family vacay.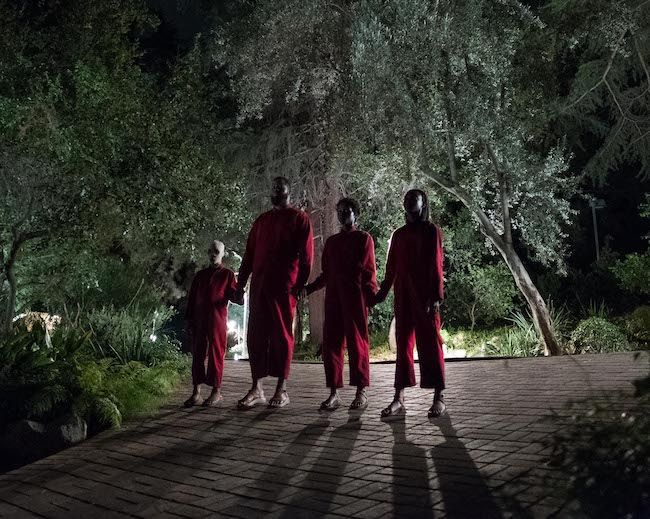 Jordan wrote, directed and produced the original nightmare that's hitting theaters March 19th, 2019.  Here's the low down:
Set in present day along the iconic Northern California coastline, Us, from Monkeypaw Productions, stars Oscar® winner Lupita Nyong'o as Adelaide Wilson, a woman returning to her beachside childhood home with her husband, Gabe (Black Panther's Winston Duke), and their two children (Shahadi Wright Joseph, Evan Alex) for an idyllic summer getaway.

Haunted by an unexplainable and unresolved trauma from her past and compounded by a string of eerie coincidences, Adelaide feels her paranoia elevate to high-alert as she grows increasingly certain that something bad is going to befall her family.

After spending a tense beach day with their friends, the Tylers (Emmy winner Elisabeth Moss, Tim Heidecker, Cali Sheldon, Noelle Sheldon), Adelaide and her family return to their vacation home. When darkness falls, the Wilsons discover the silhouette of four figures holding hands as they stand in the driveway. Us pits an endearing American family against a terrifying and uncanny opponent: doppelgängers of themselves.
Check it below:
Now, everybody's got a FULL take on the meaning of all the terrifying creeptasticness in the 2.5 minute sneak peek:  Wokeness, the meaning of having 5 on it, yourself being your biggest enemy, and whatever else people have already figured out.  Black Twitter black Twitter'd it all the way up:
Not just a song. Or now a movie anthem. A diaspora expression that speaks to a basic African principle. Nobody rides for free. It ain't about what you got "five on" Its about you putting your resources in on whatever we fixing to do. "Us" indeed. Word. #IGotFiveOnIt#UsMovie

— Greg Carr (@AfricanaCarr) December 25, 2018
this abt matching on a gram of weed https://t.co/gxvLGSl8cf

— mavi (@mavi4mayor) December 25, 2018
— (@sos_pwa) December 26, 2018
LOL
I haven't watched the Luniz video in ages. Hearing "I Got 5 On It" in the #UsMovie trailer this morning took me *all* the way back to the 90s, so I made myself a Spotify playlist of songs whose music videos I directed, co-directed, or produced. pic.twitter.com/4JwzMfSq1W

— Eric Haywood (@EricHaywood) December 25, 2018
For the record, I think the way Jordan uses "I Got 5 On It" in the trailer is fucking genius, and I hope the Luniz have a big fat paycheck coming their way because that song is about to blow up all over again. pic.twitter.com/Ui8yEsrT0S

— Eric Haywood (@EricHaywood) December 25, 2018
"Y'all done thinkpieced and overanalyzed a trailer to death and the movie doesn't come out for months!"

Exactly. Which is just what Jordan intended. The man had a HORROR movie with BLACK leads trending for most of CHRISTMAS Day. You think this is a game? #WatchYourselfpic.twitter.com/DJUPHAlfuI

— April (@ReignOfApril) December 26, 2018
so dope that @JordanPeele used the Luniz "I Got 5 On It" for his US trailer.

Streams going way up on this + introducing a classic record to a new generation

(also the remix is 10/10) pic.twitter.com/QeL04DGkV0

— Andrew Barber (@fakeshoredrive) December 25, 2018
Jordan himself has already given more deets via his inspirations for the flick and homework for Lupita.
To prepare his leading lady, Lupita Nyong'o, for Us, Peele assigned the actress a list of films to watch in order to create, as he told Entertainment Weekly, "a shared language." These films included: The Birds (1963), The Shining (1980), Dead Again (1991), Funny Games (1997), The Sixth Sense (1999), A Tale of Two Sisters (2003), Martyrs (2008), Let the Right One In (2008), The Babadook (2014), and It Follows (2014).

In making this list public, Peele also creates an opportunity for audience members to seek out these films and also be a part of this shared language. Some of these films' influences are readily apparent in the trailer. A family traveling to an isolated location only to find the supernatural, along with a parent giving into the dark side of the themselves, is reminiscent of Kubrick's The Shining. Michael Haneke's Funny Games explores what happens when strangers prey upon an unsuspecting family. David Robert Mitchell's It Follows centers on an evil that was inescapable, something the trailer suggests with doppelgangers who act and think like our protagonists do. And the imagery of Pascal Laugier's Martyrs, particularly its first act, is all over a particularly chilling moment featuring a grinning Nyong'o.
Well this should be interesting....