It was a whole blended family situation for Sofia Richie, Kourtney Kardashian, and Scott Disick. Meanwhile, Boosie tried to get all of his kids for Christmas, but it didn't go as he planned. Everything inside...
The holidays always seem to bring people closer together.
Days before Christmas, Sofia Richie went on a family vacation with her boyfriend Scott Disick, his children's mother Kourtney Kardashian, and the kids - Mason, Penelope and Reign - in Cabos San Lucas, Mexico.
The 35-year-old "Keeping Up With The Kardashians" star hopped on his Instagram account to share a picture of himself lounging out in the sun sitting between his 20-year-old girlfriend and his 39-year-old ex-girlfriend and mother of his children. He captioned, "What more can a guy ask for. THREE'S COMPANY."
This guy...
The trio was also spotted having dinner together (you can't see Sofia in the pictures below, but she was there as well) in Mexico:
A fan tweeted this is how co-parenting is done right, and Kourtney's sister, Khloe Kardashian, approved:
Beyond proud of all of them!!!! This is LOVE!! Your children before anything else!! All amazing adults right right!!!

— Khloé (@khloekardashian) December 23, 2018
Earlier, Scott shared a picture of his eldest child with Kourtney, Mason, on a plane, surrounded by birthday decorations. He just turned 12. Their youngest son, Reign, also celebrated a birthday last week. He turned 4.
Photogs even nabbed pics of Sofia and Kourtney laughing and talking while looking down at their cellphones. Peep more flicks here.
After soaking in some sun in Mexico, the trio headed back to LA and made it back just in time for Kris Jenner's annual Christmas party:
Looks like Sofia has officially been accepted by the Kardashian Klan for going from Kendall & Kylie's bestie to Scott's girlfriend.
While the Kardashian-Disick-Richie family were able to come together for the holidays, rapper Lil Boosie wasn't as lucky...
Right before Christmas, the "Wipe Me Down" rapper hopped on social media to BLAST his children's mothers for not letting them come to his house to spend Christmas with him this year. He even threatened NOT to send them money for being petty:
Lordt.
Some of them still didn't send the kids, however, he did get to see some of his children on Christmas Day: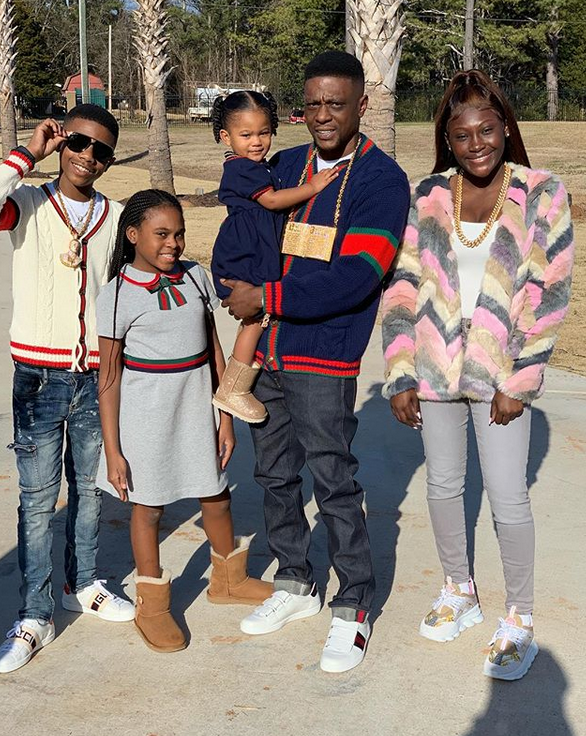 "#SPECIALTIMES #familyovereverything #blessedkids YALL DOWN BAD NOT LET ME GET MY BABIES #sad mfs," he captioned on Instagram. As you can see, he's still pissed, but he tried to make the best of it.
Maybe he should have thought about this before...nevermind.
Photos: Scott's IG/Boosie's IG