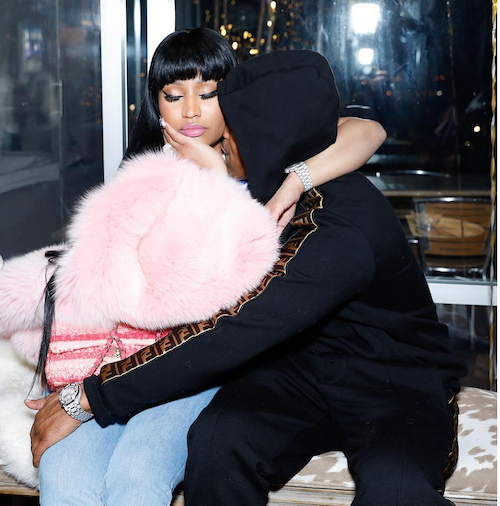 We're not sure what type of magical punani Nicki Minaj has, but another boyfriend of hers went and tatted her name BIG AS DAY on his body. She says she loves him, despite these new details that just leaked bout his manslaughter conviction...
Nicki Minaj & Kenneth "Zoo" Pettyhave been dating for a few weeks now, even though they've known each other since childhood.  But chile, some things (and people) may need to stay in the past.
Nicki's been defending her man since the day folks found out about his criminal background and dozen arrests.  But these details about his manslaughter conviction...they're a doozy.
Back in April 2002, Kenneth pulled up on Lamont Robinson on a street corner in Queens and shot him in his stomach.  He served 7 years after taking a manslaughter plea in exchange for a 2nd degree murder conviction.  Here's what happened, according to TMZ:
 

We're told Petty drove to the crime scene with a group of cohorts, hopped out of the car, walked across the street where Robinson was hanging out, pulled out a gun ... and shot him in the stomach 3 times. Our sources say he then fled in the vehicle with the group. 

We're told police who investigated the crime at the time did not believe robbery was a motive -- they suspected it to be a targeted hit over a gang beef. One investigator who was on the OG case told us he could only recall the shooting was over some "bulls***."

According to court docs, obtained by TMZ, Lamont -- who only survived for a short time -- ID'd Kenneth in a photo lineup when police went to question him in the hospital. The docs say he nodded his head to confirm Kenneth had shot him, as he couldn't speak. He died soon afterward.
Sheesh.  Still, Nicki is standing by her man.  She posted up pics from their recent beach vacay where she expressed her love for him in the sand:
Well isn't that special.
Over the weekend, Kenneth also did this:
Lawd. He should have asked Safaree Samuels if this was a good idea since he has some experience with this.
Photos: Instagram