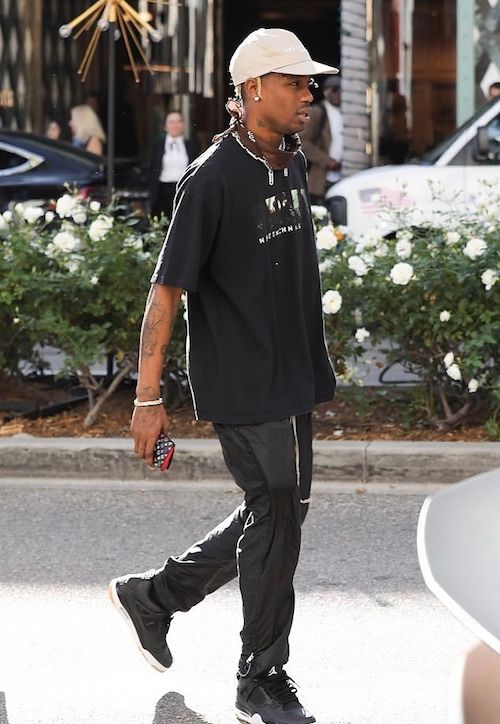 Travis Scott went and got a fresh silk press and allegedly signed on the dotted line to perform at the upcoming Super Bowl. Meek Mill and allegedly Jay-Z aren't having it.  Plus, Travis reveals when he's popping the question to Kylie Jenner.
Fresh silk press FTW.  After he was spotted doing some Christmas shopping at the Gucci store in Beverly Hills yesterday (above), just before his second night performing at The Forum, Travis went "Sicko Mode" for Rolling Stone magazine: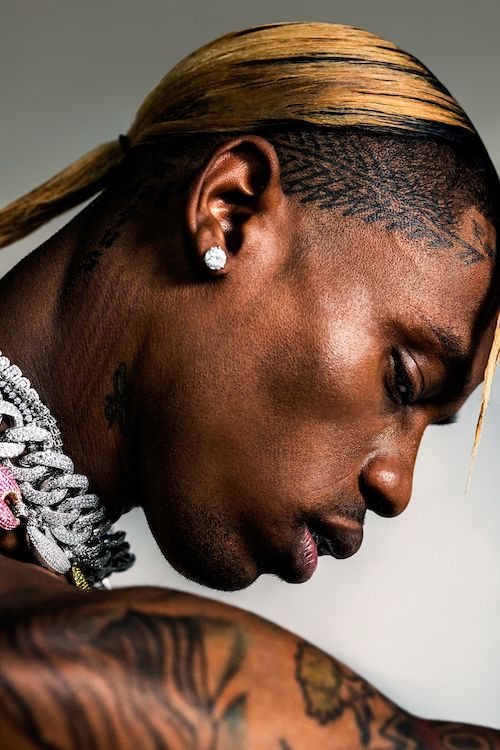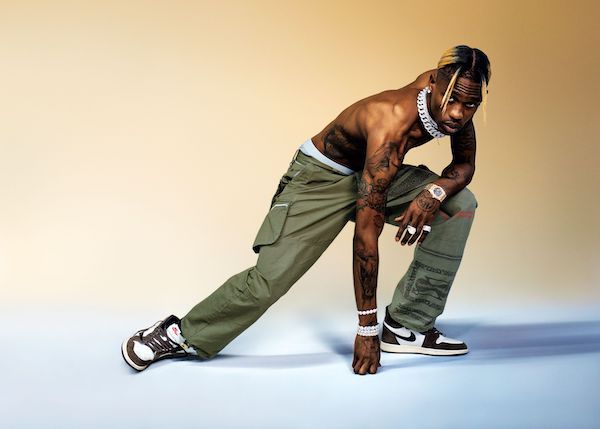 He talked about proposing to his baby's mama Kylie Jenner, how misunderstood she is, and more about her.  Chile...
Shout out to the queen who's killing the photography though.
This little excerpt should tell you just how this profile went:
Back in Scott's SUV, we approach Southeast Community Church, where Scott used to worship. He hands his blunt back to Nate: "Put this out, bro — I can't be smoking in front of the church." Religious faith is one of the things Scott and Kylie Jenner have in common. "We both believe in God," he says, and so, when she told him she was pregnant, "we felt like, 'This is something special.' And kids are something we kind of talked about when we were getting busy." He describes their bond as rock-solid, the speed of their courtship notwithstanding. At first, Scott says, "we was just two kids, fucking around. Maybe, like, the first week, you don't know if it's real or a fling. Then the second week you're like, 'Whoa, I'm still talking to her, she's responding, I'm responding. We ain't run out of a thing to say.' And it got to a point where I was like, 'I need her with me to operate. She's that one.' " He adds, "We'll get married soon. I just gotta sturdy up — I gotta propose in a fire way."
Sigh. Some black folks have such low basic standards for those who lack melanin but wish they had some....
And by basic standards, we mean rarely ever standing for anything.  We don't know for a fact if Travis is the #AllLivesMatter type, but we certainly get that vibe.  So when it was announced that the Super Bowl finally found a simp to use as their hip hop act to attract even more of an audience, said simp was revealed to be Travis.
TMZ reports he will be performing alongside Maroon 5 after countless black artists turned down the offer.
Meek Mill took to Twitter to express his confusion: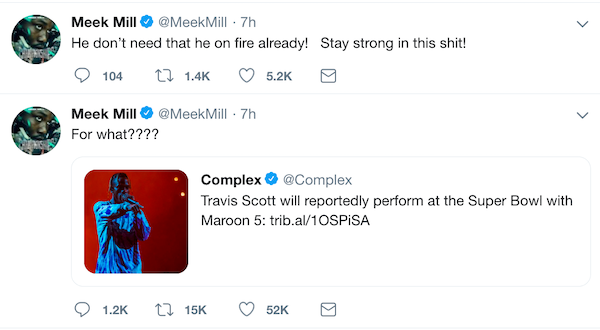 But he's still his homie:

Reportedly, Jay-Z is also disappointed and is actively trying to Travis out of it.
Two sources also tell Variety that Jay-Z — who has been highly critical of the NFL over its treatment of former San Francisco 49ers quarterback Colin Kaepernick— is attempting to talk Scott out of performing, although reps either declined comment or could not immediately be reached.
While the Super Bowl is going to get NUMBERS that day, regardless of who is performing, we're not sure the bump on iTunes charts and money from that is worth the repercussions and not taking a stand.  It clearly all is for Travis though.  Also, Travis and Maroon 5 share the same management, so, yeah.
While even Maroon 5 hasn't been confirmed by the Super Bowl to be their performer, we're hearing rumblings of other folks still in talks to join them.  Cardi B. (who supposedly previously changed her mind about wanting to do it) and Big Boi from Outkast.
Karrueche Tran, who's dating former NFLer Victor Cruz, isn't feeling it either, with their nonchalant vibe toward domestic violence and all.
But Travis did get support from another rapper: Yung Joc.
Thoughts?