The #TakeOffsetBack saga continues. This time, Offset had the nerve to interrupt Cardi B's Rolling Loud headlining performance to beg her to take him back. However, she wasn't impressed in the least bit. See the clips, plus find out why Offset fans are PISSED with the NYC raptress inside...
Here we go [insert eye roll].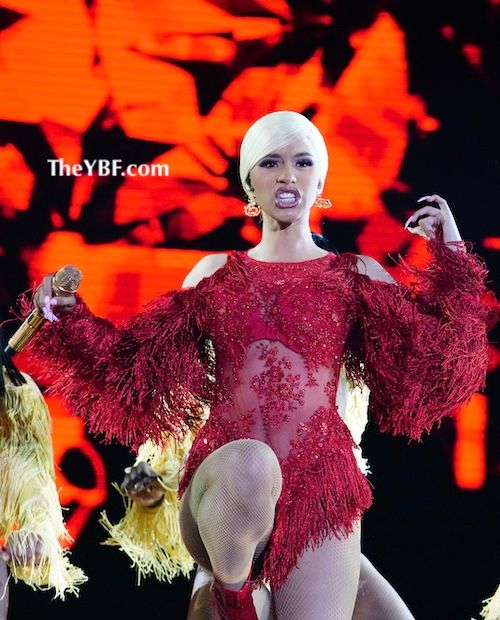 After Offset took to his Instagram account to publicly apologize to his wife Cardi B for "entertaining" other females, he's back at it again. This time, he took it up a notch.
Last night, the Migos rapper crashed Cardi's headlining set during the Rolling Loud Festival in LA. It's the first year in the festival's history that a woman headlined.
He popped up on stage carrying a bouquet of white roses as the production crew rolled out flower arrangements that spelled out "Take Me Back Cardi."
The two share the same management, so that may be why it was so easy for him to interrupt her set and be given a mic.
The 27-year-old rapper, who celebrated his birthday on Friday, hopped on the mic and said, "I just want to tell you I'm sorry bruh...in front of the world. I love you."  Bruh?
The "Bodak Yellow" rapper didn't look the least bit impressed and seemingly cursed him out and kicked him off stage.  Likely because he's putting in FAR more work on this manipulative, very public apology tour than he put in to not cheat multiple times.
Check it:
BAD BITCH ALERT‼️‼️ Cardi B rejected Offset in front of 50,000 people then performs like a bad bitch! #RollingLoudLApic.twitter.com/VvszxVecIk

— Naads Syann (@pinkpeace_nadia) December 16, 2018
She looks unhappy and unenthused. And has for the last few weeks. We're sure it's all wearing on her because she was head over heels in love and divorce is hard on anyone.  Especially a brand new mom in the public eye.
Offset thought he was going to bring out those flowers, which she JUST posted a couple days ago were her fave, and everything was going to be peachy keen. Nah, bruh. Remember the flower arrangements she shared on her IG that she was gushing over? Try again, Set.
Folks are pissed at Offset for doing this, and rightfully so: 
Cardi B was the first FEMALE headliner in Rolling Loud history! Honestly, it's so fucked up that he even did that. Like, you really gonna be out here taking up her spotlight and making her set about you? Nah bro.

— Romario Bautista (@coquihanii) December 16, 2018
This video makes me uncomfortable af. Offset should of take the hint and stop apologizing to Cardi. At this point Cardi dont wanna hear his apologies. Offset need to lay low for a while and think about what he has done. Nothing working at this point.

— Pretty Eye Hustler (@PretyEyeTrapper) December 16, 2018
This is getting out of hand. He's interrupting her work now https://t.co/YMV1ncYvM9

— Ivie Ani (@ivieani) December 16, 2018
Offset disrupting Cardi's performance is like your ex running up on. you at your job in the middle of a meeting. This is not acceptable or cute. Or romantic. It's creepy and unstable.

— Demetria L. Lucas (@demetriallucas) December 16, 2018
The day before, rapper 21 Savage brought Offset out on stage and had the crowd chant for Cardi to take him back. Sighs...
As celebs continue to chime in on the #TakeOffsetBack train, rapper The Game just recently hopped on the bandwagon. Here's what he had to say about it all: 
Where was everyone when Offset was out here doing Cardi dirty for the last couple years? Are any of them posting videos on their social media accounts telling HIM not to cheat?! And telling HIM how important it is to "keep a marriage together"?  Nope. Move around, folks.
Constant public begging is manipulative, whether he realizes it or not, because the public often sides with a man.  And when Cardi's response isn't what they want, she will soon become the bad guy.  Even men see this:
Offset's first public apology was necessary and enough.  Leave her be to take her time - as much as she needs - to figure things out.
Since the cheating allegations were brought to light and the "I Like It" rapper announced they were breaking up, fans have been dragging Offset, but Cardi isn't with it. She encouraged her fans to stop coming for the "father of my child."
Check it:
In music news...
OOOOPPPSSSS!!!

— OFFSET (@OffsetYRN) December 14, 2018
Offset was supposed to drop a solo album on Friday (his birthday), but that never happened. Now, folks are blaming Cardi - of all people - for the album not being released:
Offset album was suppose to drop today and it didnt. Guess who they blaiming. Yep (cardi)

— Kordon Bleu (@kordon_bleu_) December 14, 2018
Offset Aint Drop The Album Yet Because He Probably Had a Lot Of Cardi b Lines He Had To Fix On The Album !! #ALLIKNOW

— DreadHeadYung (@YungstaBaby1) December 14, 2018
This Nigga Offset Too Worried About Cardi B, He Forgot He Had An Album To Drop..

— Ma$a (@Tha_Real_MaSa) December 14, 2018
Offset canceled the album? Thanks alot Cardi B

— (@FredSmackHeeeem) December 14, 2018
@iamcardib it's your fault offset didn't drop his album

— Nathan Surplicd (@surplicd) December 14, 2018
So annoying.
Photos: @justnjames_/Splash