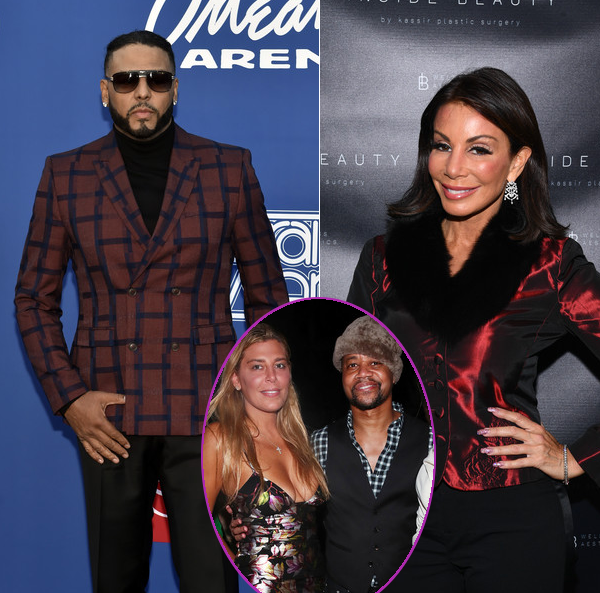 Everyone's getting all boo'd up... with not-so-all-the-way-single, but single, partners? Tea inside...
We didn't see ANY of this ish coming.
It's almost been a month after the death of Kim Porter, so it seems folks are paying more attention to her exes, specifically Al B. Sure.
Word on the curb is that the singer-songwriter has been cozying up to "The Real Housewives of New Jersey" star Danielle Staub, who's currently getting a divorce from her estranged husband Marty Caffrey.  They JUST got married, by the way, and their wedding is currently airing now on ths season of "RHONJ".   Sources told Page Six they spotted the "Forever My lady" singer getting kissy with the reality star at Aloft hotel in Harlem over the weekend. Oh?
The site noted the reality star attended Teddy Riley's "The Kings and Queens of New Jack Swing" concert, where Al also performed, at the Apollo.
"They were making out at the bar. He hugged up on her, and they looked very cozy. They didn't care who was there," the source claimed. "It wasn't a packed lobby either . . . nobody was there. She stood out like a sore thumb. It didn't seem like their first rodeo."
While the source claims they were closer than close, Danielle's rep released a statement saying it's not what it appeared to be. Mmhmm...
Danielle's rep said the twosome has "been friends for a very long time and someone probably misconstrued what they saw."
Seems like that's their story and they're sticking to it.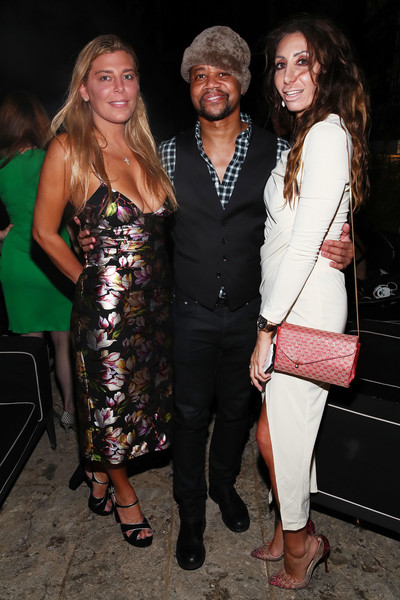 "American Crime Story" actor Cuba Gooding Jr. is also supposedly "hooking up" with a kinda single lady.
Folks have been spilling tea to Page Six about the Oscar winner - who filed for divorce from his wife of 20 years Sara Kapfer last year - messing around with Claudine De Niro - the estranged wife of Robert De Niro's son, Raphael. Oh?
That's Cuba all smiles alongside Claudine (pictured on the left) at the "What Goes Around Comes Around" party inside The Versace Mansion in Miami during Art Basel last week. The name of the party tho....
"I wouldn't say they are dating, but they are hooking up," a source told the site.
It's said Cuba - who just starred in "Chicago" - and Claudine were all over each other during Art Basel in Miami recently.
"She was on his arm," a source described when they saw Cuba and Claudine at celeb hotspot Kiki on the River. "They looked to be very much a couple."
They were reportedly watching the Cowboys vs. Eagles game together on Sunday, "sipping drinks and high-fiving each other."
"They had a waterfront table for two by candlelight," the source added.
It's reported Claudine and her estranged husband Raphael filed for divorce in 2016, but it's still pending.
Interesting. Cuba surely has a type.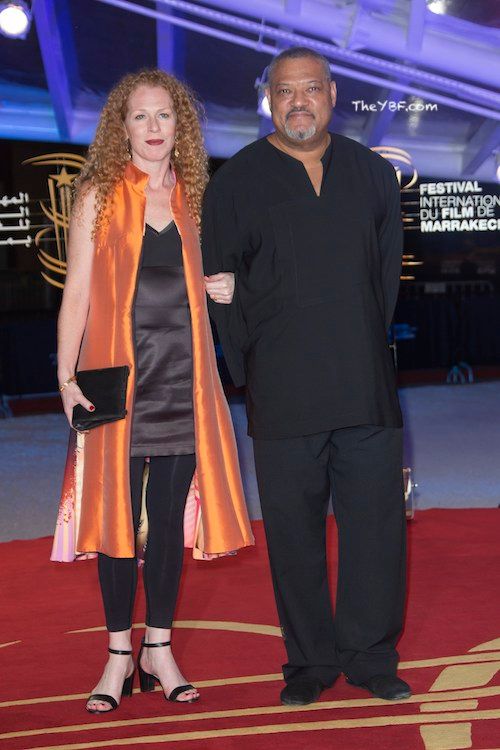 "black-ish" star Laurence Fishburne split from his wife/ "Suits" star Gina Torres under the radar. Remember when she was caught kissing all up on another man and she basically told folks to mind their business because they divorced early fall 2016? We do. Catch up HERE, if you missed it.
Yeah well, it seems Laurence has found a new love of his own. Yet, there's drama.
According to RadarOnline, the 57-year-old actor "stole" the wife of a minister. Chile...
He's now dating 44-year-old Bronwyn Anne Moylan and they made their first appearance at the Green Book premiere during the Marrakech International Film Festival earlier this month (pictured above).
The site claims Bronwyn has allegedly been cheating on her 81-year-old hubby of 15 years, Rev. Richard Dannenfelser. Not First Lady!
Oh, and he's talking too.  Allegedly.
RadarOnline reports:
"At least take care of me if you're going to steal my wife!" Rev. Richard Dannenfelser had told his family.

The cast-aside clergyman has been married to Bronwyn for 15 years.

Their divorce is yet to be finalized, as she's threatened to take him to the cleaners, according to our sources. "He's put his whole life into helping other people," a family member told Radar exclusively. "He's a man of the cloth, now he needs a little help back."

Bronwyn met her new Hollywood squeeze decades ago at an acting class, and after they recently reconnected, their friendship blossomed into something bigger — leaving the passed-over pastor heartbroken!

Sources spilled Richard — a Vietnam veteran who specializes in post-traumatic stress disorder counseling — wanted to confront Laurence man-to-man, but was ultimately "too chicken" and hid behind his lawyers, who made threatening phone calls to the backstabbing actor.

What's more, an insider close to Richard who's gone to help the holy man at his home in Rhode Island said Bronwyn feels regret for leaving her husband!

"I am on a guilt trip and I'm so worried about him when I leave," she spilled to our source.

"He can't even take care of himself — but I love Laurence, and I have to do what's right for me."
#TeamTooMuch!
Photos: Getty/MEGA