Lenny Kravitz reveals he hates changing clothes and often wears the same outfit for a month! Get those deets, plus see Lenny and his ex-Lisa Bonet's husband Jason Momoa's cute bromance inside...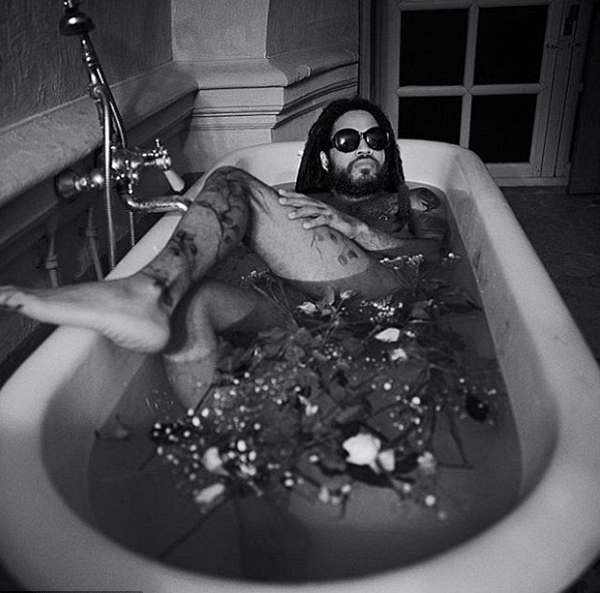 So, we knew Lenny Kravitz rides a boho vibe, but we didn't know he hates changing clothes so much that he just...doesn't.
The Grammy Award winning rock star, who recently released his new album Raise Vibration, stopped by "Late Night with Seth Meyers" where he revealed he rocked the same outfit for 30 days straight. While talking about recording his new album in a small town in the Bahamas, he confessed how he goes a month without changing his clothes. Oh?
"I will be quite honest with you, I get into this thing because when you're on tour and when you're doing all this stuff you change clothes every night, you can't wear the same suit you wore last night, you have to always change," he said. "So, I get there and I'm like, 'Screw it, I'm not changing clothes. I don't want to change clothes.' I wore the same jeans and jean shirt for 30 days."
Likely the outfit you see him in below:
"When it gets to the point where I can't stand myself, I get out a hose and get my bottle of Dr. Bronner's soap, and I wash 'em, wring them out, throw them on a rock, let 'em dry for an hour, put them back on, wear them for another 30 days."
Gags!
Peep the clip below:
Oh, Lenny. 
In other news...
Lenny has the best relationship with his ex-Lisa Bonet's husband Jason Momoa. These two have a bromance like no other. They call each brothers and recently, Jason copped matching skull rings to gift to Lenny. Ha!
"I'm a huge fan of the artists I meet on instagram love spreading the aloha. I got @lennykravitz a present made by @leroyswoodentattoos amazing bone skull ring. Check him out insta. Mahalo lenny for coming to support me on @nbcsnl aloha j," Jason captioned on Instagram with a picture of him and Lenny rocking their new rings.
The Aquaman actor hosted "SNL" last weekend and Lenny was there to show love:
Loves it.
EXTRAS:
1.  Two nuns who diverted almost $500,000 to overlooked accounts within the Catholic school they served in, likely spent the money on casino outings an trips.   STORY
2.  A Florida man has died in a nursing home due to gross negligence and genital rotting. STORY
Photos: Lenny's IG