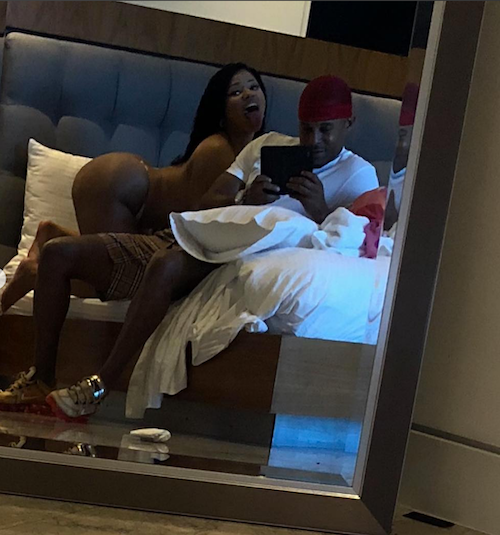 Nicki Minaj's "New Boy" has her Barbz in a frenzy, mainly because he served several years in prison, has over a dozen mugshots, and rape is on his wrap sheet.  He planned Nicki's birthday baecay, and she's doubling down on why she doesn't care about y'alls opinion.
Nicki's got a new boo to console her after getting shut out at the Grammys.  She celebrated her birthday with an island ting of her own - a new man who is actually her old ting.
Nicki and Kenneth Petty - who she first posted on her IG weeks ago - dated back when she was 16 and he was 20.  Now, they've reconnected after Nicki was back in Queens shooting a video.  And he's made his way into her bed.
The raptress has been posting for the last several days pics and videos of the twosome, along with her girlfriends, chillin' on an island somwhere.  She's been kissing all over him, posting him on her timeline, and extra boo'd up. 
But when his wrap sheet came to light, Nicki has been busy popping back at folks, defending him despite his past.
Oh.
Kenneth's been arrested 12 times over 3 years, with the most recent arrest driving with a suspended license happening this past September.
She loves a hood dude, doesn't she?  He has a few other charges that he served at least 7 years for that def make you pause for the cause.   One in particular, according to the New York State Division of Criminal Justice Services, happened in September of '94 when the New York City Police Department Sex Offender Unit arrested Kenneth for "sexual intercourse" with a 16-year-old female.
Radar Online reports:
Kenneth was allegedly charged with two infractions and one misdemeanor for "operating an unlicensed vehicle," "failure to stop at a stop sign," and "operating a vehicle while license is suspended or revoked." He appeared in the Nassau County First District Court on Oct. 25 for an arraignment hearing, and his next court date on the case is scheduled for Jan. 8, 2019. This offense pales in comparison to his arrest in 1995. When Kenneth was just 16-years-old, he was busted for attempted first-degree rape of a 16-year-old-girl. Kenneth, according to official records, used a "knife/cutting instrument" during the attempted rape, and was sentenced to spend 18-54 months in prison. In addition to that prison term, Kenneth is now a registered sex offender.
Doesn't sound like a statutory situation.
Nick commented back at an IG commenter who questioned why she's even dealing with this man.  She said:
"He was 15, she was 16…in a relationship. But go awf, Internet. y'all can't run my life. Y'all can't even run y'all own life," she blasted.
So 15-year-olds are absolved of rape after a certain time?  Oh, ok.
The site also says he caught a murder charge that was reduced to manslaughter:
He also served time for his involvement in the shooting death of a man named Lamont Robinson, according to a criminal complaint obtained by The Blast. On April 27, 2002, Kenneth – according to The Blast's documents – shot Lamont "with a loaded handgin (sic) multiple times thereby causing his death." Officials reportedly charged Kenneth with murder in the second degree, but he was able to get it reduced to manslaughter after cutting a deal. He pled guilty in March 2006 and was sentenced to 10 years in prison, for which he served 7.
Chile...
She doesn't seem bothered because this is what she's been posting:
Somebody from her camp is defending the relationship to TMZ saying:
"...she's confident he's matured since his time in NY state prison in the late 1990s. Nicki believes in second chances and has faith he'll be good to her ...

Sources close to Nicki say the full context of the crime is Kenneth was dating the victim -- and her mother filed the charges because she didn't approve of him....

Our sources say Nicki and Kenneth still have great chemistry, despite all the years between their relationships. We're told she was very stressed out before they got back together, but she's much happier since rekindling their romance."
We don't know girl.  We're all about getting what you need from a man.  But this one aint it.
EXTRAS:
1.  Charges have been dropped against the Brooklyn mother, Jazmine Headley, who was arrested and baby ripped from her arms by NYPD after she refused to get up from sitting on the floor at the local Human Resources office.  The video of the scuffle went viral. She's still in Rikers as she also had a warrant out for her arrest for alleged credit fraud in New Jersey.  STORY
Photo: Instagram/Courtesy of NY Sex Offenders