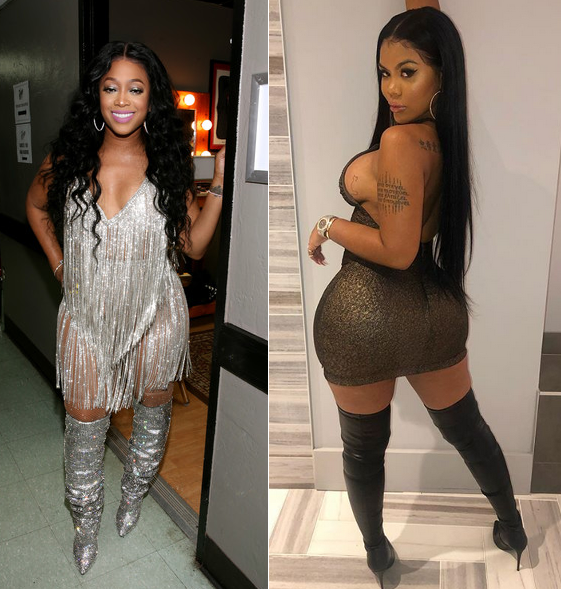 Trina had time to pop back at Chinese Kitty for starting a rumor that she smashed Meek Mill. Watch the Diamond Princess check the aspiring rapper/reality star, plus see what Teyana Taylor and Angela Simmons were up to at Art Basel 2018 inside...
Trina is NOT the one. Okurrrt?
"Love & Hip Hop: Miami" star/aspiring rapper Chinese Kitty made accusations that the Diamond Princess once slept with Nicki Minaj's ex-boyfriend Meek Mill while explaining how her beef with the QUEEN rapper stared during a recent radio interview.
In the interview, she said Nicki hit her up in her DMs asking her if she had ever slept with Meek after people started hitting her up saying she looked dumb posting pics with Chinese Kitty since she smashed Meek. She hinted that Nicki was worried about Meek cheating on her during a time when she allegedly had trouble with her butt injections and was unable to have sex.
While Chinese Kitty denied ever having relations with the Philly rapper, she revealed that Nicki told her (oh lawd) that Trina said she smashed Meek, and they were still cool with each other, so she just wanted Kitty to be real with her. Kitty denied sleeping with Meek, but she did say she knows someone else who did.
Dry snitchin' like a mug.
Check it at the 3:05 minute mark below:
Well, the Baddest B*tch, who also stars on "LAHH: Miami," caught wind of her comments and checked ol' girl without even mentioning her name during an interview.
"She spoke about me but doesn't know me," Trina said in a clip she posted to her Instagram account. "First of all, I'm not a gossiper. I do not play with these girls out here at all. Period. Don't not call my name. Do not mention my name. Do not say my name. If you're drunk and over 21, handle your alcohol or do not drink. I do not play that sh*t."
Check it:
Oop.
Chinese Kitty then hopped on Instagram Stories to clear up - or at least try to - what she meant when she dragged Trina's name into her Nicki Minaj drama:
"And for everyone saying I threw Trina under the bus," she wrote. "I was in the heart of the moment on top of not realizing this was new people ain't know about. Sincerely wasn't involving her something that was told to me and I was only explaining a situation how it was told to me. No harm intended."
We're sure she won't do that again.  Also, repeating reckless second hand rumors about somebody in YOUR industry aint ok girl.
After gathering Chinese Kitty, Trina hit the stage to perform a few of her hits during Art Basel 2018 in Miami:
As for a few other YBFers living it up in Miami during Art Basel...
Today is Teyana Taylor's 28th birthday. Happy Birthday to the sexiest MILF in the game.
Day 2 of #Artbasel with @revolttv at the super dope #RevoltHouse featuring our queen of GOOD music @TEYANATAYLORpic.twitter.com/mw8DoXUzJF

— Jupiter June (@JupiterJuneArt) December 8, 2018
Before the birthday festivities, Teyana was tapped to perform at the Revolt House event during Art Basel and she killed it, like she always does. Peep a few clips from her performance below:
Teyana also linked up with Cardi B over the weekend: 
The "Look Back At It" rapper also hit the stage at Revolt House:
Fire!
Meanwhile...
Thirst trap queen Angela Simmons was in Miami cutting all the way up serving bawdy and hitting the party scene:
After showing off her banging bod, the bikini-clad "Growing Up Hop Hop" star posted about what she calls "body issues":
Folks have been coming for her over her behavior in Miami following the death of her son's father, Sutton Tennyson last month. People must have forgotten she and Sutton had broken up way before his death. In case you missed, get the latest in the murder trial HERE.
Also at Art Basel...
DJ Khaled is living it up with his rap friends Swizz Beatz, Fabolous, Jeezy, Fat Joe, Jadakiss, Busta Rhymes, Norega, Meek Mill, 21 Savage, Roc Nation exe Lenny Santiago, and more. Peep their pics below:
Fun times.
Photos: Getty/Teyana's IG/Angela's IG/Khaled's IG