Mel B spent time in the hospital after she broke two ribs and severed her hand, however, the bizarre incident had nothing to do with drugs or alcohol despite what the rumor mill may say. Get the deets, plus read Omari Hardwick's emotional response to a "Power" crew member losing his life on set inside...
Mel B ended her weekend on the wrong foot. No pun intended.
On Sunday, the Spice Girl - seen above leaving LA for London with her best friend Gary Madatyan - endured a three-hour opertation after she severed her right hand and suffered two broken ribs. The 43-year-old entertainer hopped on social media to reveal her injuries in an Instagram post Monday morning, thanking the hospital staff and her fans for their support.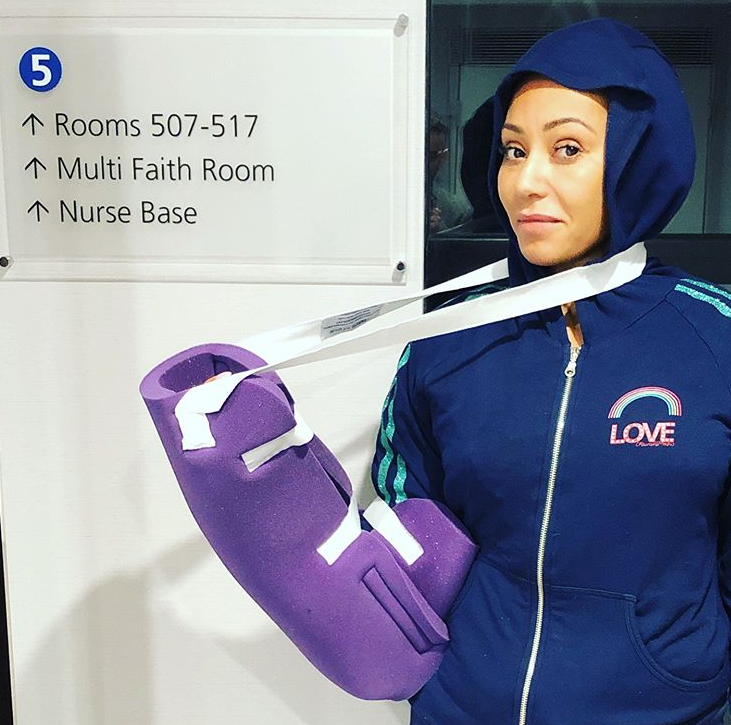 "For now my right arm/hand is all stitched up and I'm trying to keep still to heal my broken ribs, ohhh the pain," she wrote. "But I'm in super safe hands with the care of everyone here at the hospital!!!!! Thank you all for understanding, I love you all."
Mel was scheduled to fly back to LA on Sunday to take her court-ordered drug and alcohol test. She was also scheduled to do a book signing for her new book, Brutally Honest, in NYC, which she had to cancel, but she assured her fans she would reschedule. Mel was also set to co-host on "TODAY" with Kathie Lee Gifford and Hoda Kotb, but she had to cancel for obvious reasons.
In Mel's explanation about her injuries, she never confirmed what exactly happened, which caused the rumor mill to go into overdrive speculating that her injuries could be drug or alcohol related. However, that doesn't seem to be the case.
So, what happened?
According to E! News, she fell down the stairs. Sources revealed the "America's Got Talent" judge stayed at a friend's house in London over the weekend. She woke up and decided to go downstairs and that's when she slipped and fell down a narrow staircase. Yikes.
A source shared a few more details to The Sun:
"She lost her footing, slipped and cut her hand on some framed glass picture frames. Mel is totally in control at the moment because she has to regularly take stringent drug and alcohol tests as part of her custody battle."
Since she missed her court ordered drug test in LA, the doctors in London gave her one and she passed. Here are the results (via The Sun):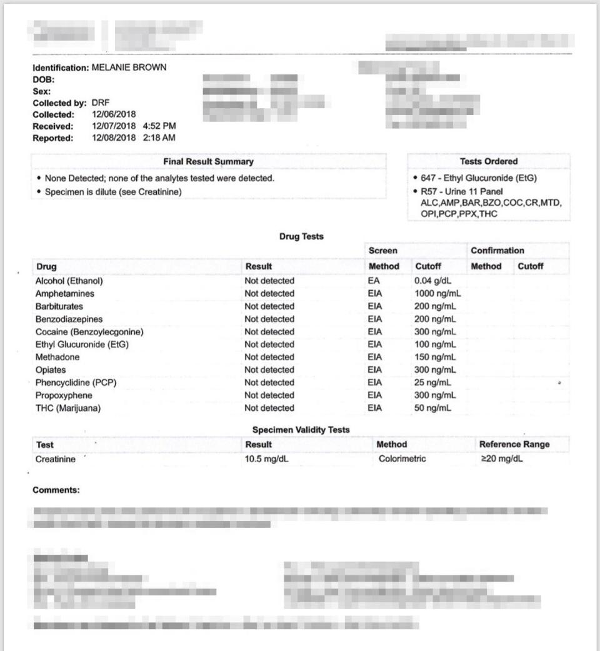 Mel had good company around her following her three-hour surgery. Her Spice Girls bandmates, who are going on tour next year, stopped by to make sure she was OK:
Get well soon Mel!
Speaking of accidents...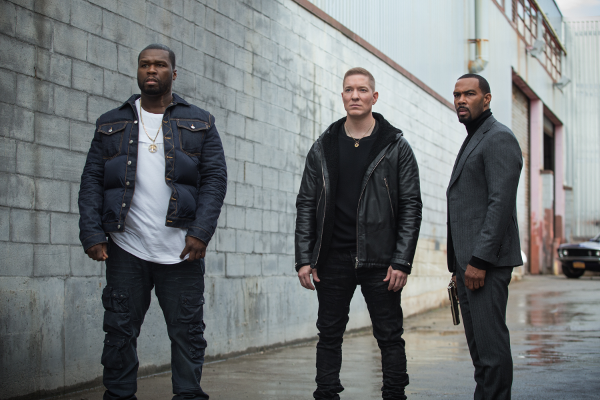 A horrible accident happened on the "Power" set in NYC this morning, resulting in a crew member losing his life.
According to Deadline, longtime production assistant - Pedro Jimenez - was fatally struck by an SUV around 4:30AM EST Monday morning while he was setting up parking cones for a Brooklyn location shoot as they were gearing up to film scenes for the sixth season of the hit STARZ show. NYPD is investigating the incident. They spoke to the driver - a member of the "Power" crew - who hit Pedro with their 2006 Ford Explorer.
Executive producer 50 Cent and showrunner/creator Courtney Kemp decided to temporarirly halt production out of respect for his grieving family and the cast.
The 63-year-old production assistant worked on the series since it debuted in 2014.
"We are deeply saddened by the loss of one of the members of our Power family," a Starz spokesperson told Deadline of the death. "Our thoughts are with Mr. Jimenez' family as we work to fully understand what has happened."
None of the talent was on the scene as of yet since their call time wasn't until 7AM EST.
Following the incident, lead star Omari Hardwick hopped on Instagram to pay tribute to the production assistant who lost his life.
"On this 'just another work day,' we all were & faced with the harshest realities that a wife has lost her husband, children their father & friends...their beautiful hardworking GRACIOUS Pedro," Omari wrote in part." As the QB of this show & as the face of the network, this has of course affected me. But as a person in communication & exchange of spirit as much as I was with good ole Pedro...I'm rocked. NO team ever imagines losing a teammate. Let alone this. On behalf of ALL of us here at Power, we send our deepest condolences to the entire Jimenez family & God, we ask that you warmly receive our goold ole Pedro."
Read his full tribute below:
So sad. Prayers up for everyone involved and affected by this tragedy.
Photos: Backgrid/Mel's IG/The Sun/STARZ