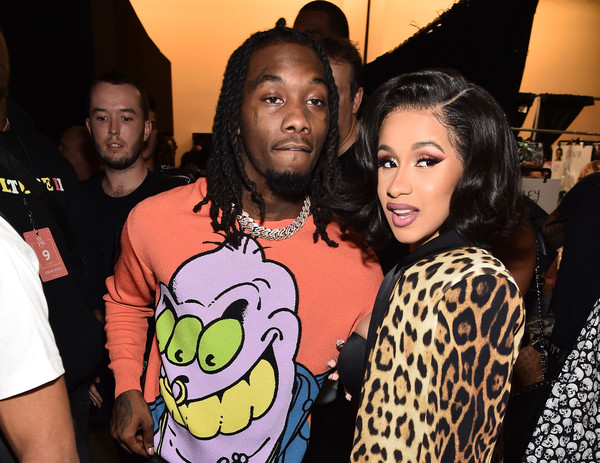 We've got the latest drama following Cardi B and Offset's uncoupling. Everything inside...
Last week, Cardi B announced she and Offset were broken up and that they were getting a divorce, which set social media on fire being that days before the announcement the two were all loved up and kissy on stage.
Since the announcement, folks have been chiming on about the breakup and a lot of people feel like it's a publicity stunt, especially since she made the announcement a week before the Migos rapper releases his new album.
Well, Bardi says that's the farthest from the truth because she would NEVER put out bad press about her family for publicity.
The "I Like It" rapper hopped on her Instagram Live to chat to her fans and haters to clear up some things following the breakup announcement. The 26-year-old rapper said she REALLY hates how people are accusing her of using her relationship to make headlines. 
She posted the video after Offset broke his silence about the split and new details about how he was trying to keep the threesome news on the low came out. More on that in a few.
In the video, Bardi addressed the rumors that the split is all a PR stunt:
"I really don't like how people are saying me and my husband - or whatever he is right now to me - are doing it for publicity," she said. "I wouldn't put my family in a bad name for no f*ckin' publicity because at the end of the day - 10 years from now - my daughter, she's going to be looking at these type of things and she's going to be asking me about these type of things. There's a kid involved, so ain't no type of publicity that I would ever want that will have my daughter looking at me crazy when she gets older. I don't even give a f*ck about publicity, so why would you f*ckin' think I would put my family in some bullsh*t?"
She then added, "I feel like I'm handling it pretty well. I'm doing pretty good."
The "Bodak Yellow" rapper then addressed the rumors about how their whole relationship was fake from the jump. She said she met this man, he was on her a**, she gave him a chance, and then "we fell in love with each other." She admitted things weren't always gravy, but they really did love each other.
"People do fall in love. We never did anything for f*ckin publicity b*tch. You think I would get pregnant for publicity? Think we want to put our life out there for what? What we gain from publicity? Nothing. People fall in love, people get married, people have kids. I don't regret anything. At the end of the day, I don't regret anything. I have my daughter."
As a newbie in the industry, she said Offset taught her alot about the business and she's grateful for that.
The "Be Careful" rapper also addressed her recent court appearance after two strip club bartenders accused her of ordering people in her camp to beat them down. She ended up copping misdemeanor reckless endangerment and assault charges.
Bardi said court this week "was pretty cool" and that it's nothing like the blogs make it seem. She said she doesn't think the court thing is really that serious. She said she's from the hood, so this is nothing to her. Oh, ok.
Also, she addressed chicks who keep coming for her on social media. SHe said she has been seeing females subbing her on social media and she wants it to stop if they really don't want no smoke.
"Stop throwing subliminals if you don't want to throw the hands with me or my bitches because I hate that sh*t. Everybody want to sub me, but they don't want no smoke."
Maybe not the smartest statement to make at this time.
She went on to say she's not going to be subbing females back and forth. If they don't like her, she encouraged them to hit her on DMs and pick which one of her friends they want to fight because she has a lot of friends that like to throw hands. She said she's scared to throw hands now because "b*tches be wanting to sue me."
Ha.
In music news, she said her "Money" video should be coming out this week. And she also said she would like to work with Lil Kim. Not even on some petty mess, but she has always had love for Kim and would love to hop on track with her. Check it:
Before Bardi hopped on Instagram Live, her estranged hubby Offset was all in his feelings, saying he misses Cardi. And even had the nerve to blame everyone else...again:
The first comment tho! 
If you've been keeping up with the Cardi/Offset drama, then you know some text messages leaked where the "Stir Fry" rapper was arranging a threesome with two women - neither of them being his wife. After they leaked, it's reported Offset was working overtime behind-the-scenes, trying to get the screenshots whipped off the Internet.
The Blast reports:
Sources close to the situation tell The Blast a call was placed with Offset to alleged mistress, Summer Bunni, and the woman responsible for posting the messages, shortly after they were exposed and Cardi B announced a split with the Migos star.

During the call, Offset desperately pleaded for the leaked screenshots to be removed, and claimed the girls were "messing with my family." The Migos member claimed he did not have anything to do with the girls involved, and "somebody needs to clear my name," adding that the situation looked very bad on him.

We're told the rapper may have gotten caught up in ongoing beef between Bunni's friend, Cuban Doll, and the girl who posted the messages. Offset's marriage was unfortunately collateral damage.
Somebody give this guy the F**kboi of 2018 crown.
Offset's alleged mistress - Summer Bunni - apologized to Cardi on her Instagram because she thought the rapper really had feelings for her. She even hopped on Facetime with TMZ, crying about the situation, and apologizing to Cardi. Check it:
Summer Bunni - a 20-year-old aspiring rapper - also released a track titled "Don't Matter," detailing her relationship with Offset. You can listen here. 
BONUS:
Cardi appeared on "CBS This Morning" over the weekend where she talked about her rise to fame. She also talked about her feud with Nicki Minaj boiling over during New York Fashion Week. Check it at the 5-minute mark above.
By the way, the Bronx queen has been nominated for 5 Grammys this year. Find out which categories she'll be competing in HERE. 
Photos: Getty/Summer's IG