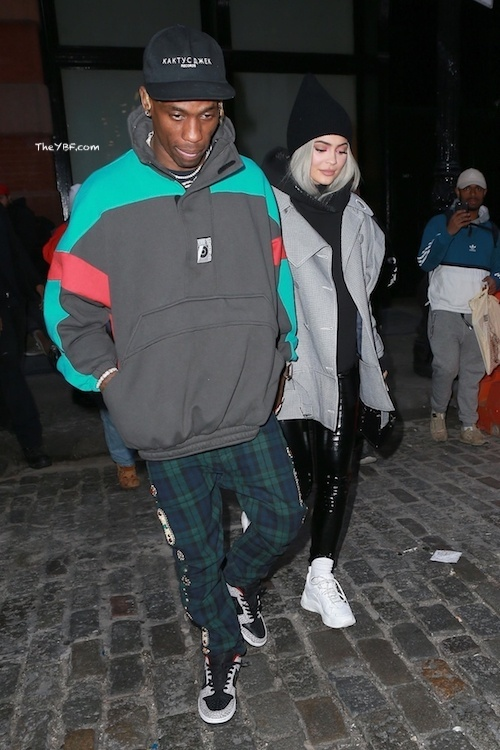 A picture of Travis Scott cozying up to a mystery chick made its rounds on social media, suggesting he's cheating on his girlfriend Kylie Jenner. Now, the rapper is speaking out. Deets inside....
Travis Scott said he doesn't usually respond to rumors, but THIS one got up under his skin and he had to address it.
Recently, a picture of what appears to be the ASTROWOLD rapper - who's currently dating Kylie Jenner - cozying up with a mystery chick on a balcony started making its rounds on the Internet. You can't see either person's face in the picture, but the man in the shot definitely resembles the "Sicko World" rapper and the woman in the picture doesn't look anything like his daughter's mother, Kylie.
They done caught my boy Travis Scott slipping smh Kylie ain't phat like dat pic.twitter.com/0WtwfN25cz

— Treyski (@Treyskii) December 3, 2018
It's unclear when the pic was taken, but Travis did have blonde hair back in September.
Well, the picture made its way on Travis' timeline and now, he's speaking out. He hopped on Instagram to clap back at the cheating accusations. He hopped on his Instagram stories to explain, writing,
"Trolls always wanna create some fake sh*t to destroy real love. GOING OVER BOARD TO MAKE SH*T LOOK LIKE IS NOT IS EVIL. I hate acknowledging sh*t. But quit try to take joy from shit that's good. I pray god blocks out all evil. BACK TO CELEBRATING!!!!"
By the way, Travis - who's currently on tour - is celebrating his No. 1 album and his new No. 1 single "Sicko Mode" featuring Drake.
He also hopped in IG comments to respond to the cheating allegations, revealing he only has love for his "wife."

Kylie has also seemingly responded: 
Everything appears to be good on their end.
As of late, Kylie and their daughter Stormi Webster have been traveling the country with Travis on his ASTROWORLD Tour (pictured above in NYC recently). In case you missed, see baby Stormi cutting up backstage HERE.
if an artist you stanned were that close to having their first # 1 and they did all that they could in their power to get it (and they got it), you'd be celebrating it's an exciting feeling. love u.

— Ariana Grande (@ArianaGrande) December 3, 2018
By the way, he now has the #1 album on Billboard.  He knocked Ariana Grande's Sweetner out of the spot, and her fans went off saying he cheated by lowering the price of his album to 69 cent and bundling it with a single and other things.
Photos: Backgrid