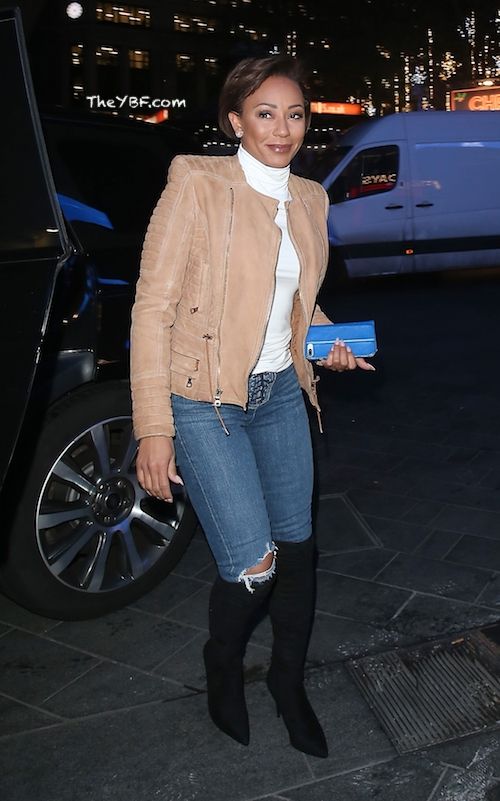 Mel B is opening up like never before about her feelings towards her daughter's father Eddie Murphy, doing 6-lines of coke a day to cope with her abusive relationship with her now ex-husband Stephen Belefonte, and why she keeps her surgically removed skin with her ex's name on it in a jar. Everything inside...
Mel B is getting brutally honest in her new memoir fittingly titled, Brutally Honest, following her tumultuous 10-year marriage to Stephen Belafonte. We all watched the "dirty divorce" play out in the media. Now, Mel is ready to share her story.
The 43-year-old entertainer, above arriving at Global Radio, is hot on the promo trail for her new book and the Spice Girls reunion tour (sans Posh Spice), set to kick off in May 2019 in the UK.
In the book, the Spice Girl gets candid about her suicide attempt, spiraling out of control on drugs, and details about how her ex-husband Stephen Belafonte allegedly abused her.
Before getting involved with Stephen, Mel B was in a relationship with Eddie Murphy. When folks found out she was pregnant with Eddie's baby, the news came as a shock since they kept their relationship under wraps. People went on to assume she and Eddie were a "one night stand" or "sex buddies," but Mel confirmed it was the total opposite. They were actually in a relationship that got as far as Eddie asking her father for her hand in marriage.
The "X Factor" judge, who shares 11-year-old daughter Angel with Eddie, never spoke about her relationship with the famed comedian, until now. She revealed he will always be the love of her life.
"He always will be," she said about Eddie when asked the "great love" of her life. "I mean, I've never really spoken about it before, so this book, I wanted to address it because a lot of people have a misconstrued thing of how everything actually did happen. And at the end of the day we have a beautiful daughter together, Angel, who is 11 years old, and she's actually staying with him right now whilst I'm here working," she shared during an interview on "Good Morning Britain."
Mel and Eddie dated for nine months in 2006 and she said it was like living a fairytale from the moment she met him.
"It was like a love story that didn't have a perfect ending," she said.
The "America's Got Talent" host had nothing but good things to say about Eddie. She said he was "very respectful and very old school." They "courted for quite some time before anybody knew." The fairytale didn't last long. She admitted she was the one who decided to end the relationship.
She opened up about hitting rock bottom during her 10-year marriage to Stephen Belafonte. She said he abused her, but she lied about it to protect their image.
"I had an unfortunate 10-year marriage, where I was in a very coercive, very abusive relationship, and it's something that we don't usually talk about – it's seen as being taboo," she shared. "So, I wanted to address all these different situations that I've been in, due to living such a life for 10 years. And, I wanted to own it and take back my power."

 
Check it:
Here's another interview she did with Loose Women where she talks about her relationship with Eddie Murphy:
After her relationship with Eddie, she got involved with Stephen and everything went downhill from there.
Mel's drug use got so extreme she was doing up to 6-lines of coke a day while she was a judge on "X Factor" just to cope with everything going on in her life behind-the-scenes.
Peep her interview with ET below:
After finalizing her divorce from Stephen in December 2017, she decided to surgically remove a tattoo she said he MADE her get. The "America's Got Talent" judge convinced a surgeon to slice his name off of her rib. The tattoo once read, "Stephen, till death do us part you own my heart" tattooed down her side.
'It was almost like a cleanse," she said about having the ink removed. "I just wanted to feel fresh and new again and untouched by that person."
She said it "sounds horrific, but what I went through was so horrific." It was easier for her to have the tattoo surgically removed rather than going through laser removal treatments.
So, what did she do with the skin? She kept it. She has it in a jar in her closet.
"I've saved it in a jar," she revealed. "It's at the top of my wardrobe. I know it's there."
Ew girl.  That ish can't be sanitary.
Peep the clip below:
Meanwhile, Mel B's ex-husband is speaking out against her abuse allegations, saying his ex-wife "manufactored" the abuse claims with "no proof" in order to gain "tactical advantage" in their divorce.
"Melanie has covered up her drug addiction time and time again and throwing me under the bus is kind of the way that she's done it," he told Daily Mail. "She said horrifically bizarre things - that I beat her, I ran a pornography company, I was a sex trafficker, I beat our dog, random things to garner some attention. I could not stop what Melanie started. She made these allegations to get a tactical advantage. She wanted everything, all the money and full custody of Madison."
In 2014, Mel said she was hospitalized after Stephen beat her, but he said that's a lie. He said she was in the hospital for a drug overdose. "I stand behind it 100 million percent. I would give my interest in the house to be sold 100 percent to Melanie - show the hospital records," he said.
He said her book is filled with lies and challenged her to produce the receipts.  The two continue to have blaringly different recounts of their marriage.
Photos: Backgrid