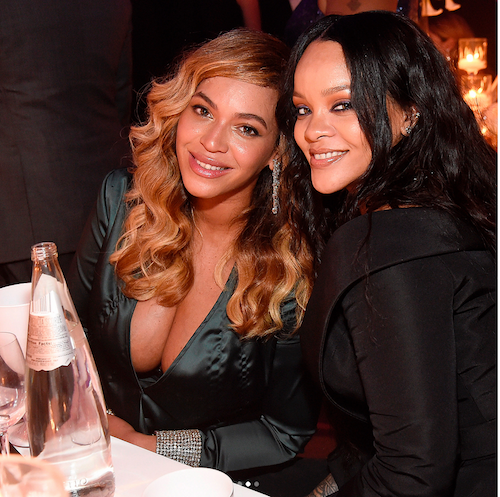 Beyonce and Rihanna land a spot on Forbes' list of Highest-Paid Women in Music. Woot! More inside...
Y'all better bown down and soak up all that Rihanna reign.
Two of our faves made Forbes' list of Highest-Paid Women in Music and honestly, we can't say we're surprised. Both Bey and Rih have been working their a**es off all year with huge tours, new music, new makeup, new clothing lines - they're doing it big and are a constant reminder of how magical black girls really are.
However, they didn't just make the list. They BOTH made it in the Top 10.
After topping the list last year making $105 million, Queen Bey comes in at the No.3 spot this year, raking in $60 million this year. Most of coinage came from her Coachella performances, a joint album with Jay Z, Everything Is Love, and their joint "On The Run II" Tour.
Meanwhile, the Bajan Beauty comes in at the No. 7 spot making $37.5 million, cashing in on Fenty Beauty and Savage x Fenty Lingerie. Fans haven't received any new Ri Ri music since 2016, but she has been hinting that she's back in the studio.
Jennifer Lopez also made the list as one of the 3 women of color, coming in at the No. 6 spot with $47 million.
Here's the full list below:
1. Katy Perry ($83 million)
2. Taylor Swift ($80 million)
3. Beyoncé ($60 million)
4. Pink ($52 million)
5. Lady Gaga ($50 million)
6. Jennifer Lopez ($47 million)
7. Rihanna ($37.5 million)
8. Helene Fischer ($32 million)
9. Celine Dion ($31 million)
10. Britney Spears ($30 million)
Photo: Instagram