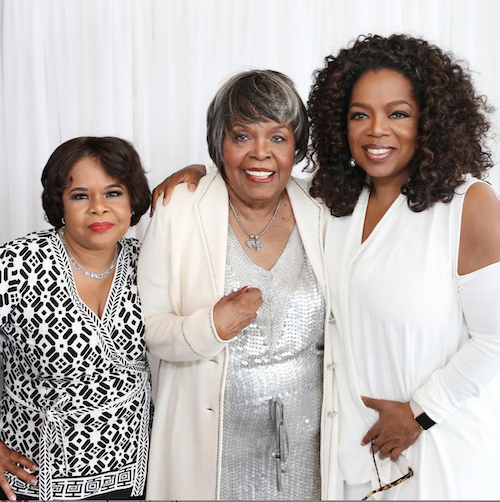 Oprah sadly lost her mother, Vernita, over the Thanksgiving holiday.  What she just said about her mom, inside.
While Oprah is usually serving up envy-worthy social media pics of her epic Thanksgiving feasts during this Holiday, this year, she was unfortunately grieving the loss of her 83-year-old mother.
Oprah's niece, Alisha Hayes, posted the news saying Vernita Lee had passed away on Thanksgiving Day. Reportedly, the family has already held a private funeral ceremony.
Oprah released a statement just a little while ago thanking everyone for their outpouring of condolences, and she says her mother is now at peace:
Oprah had a strained relationship with her mother for years, likely stemming from the fact she did not live with Vernita for the first 6 years of her life. Vernita took a job as a housemaid in Milwaukee and Oprah stayed in the south with her maternal grandmother. Once Oprah moved from her native home in Mississippi and up north with her mother, she says herself the relationship was rocky due to her mother being a stranger to her after the long separation.
She also experienced molestation by her cousin and abuse by an uncle while living with her mother.
Over the years, we saw Oprah work on her relationship with Vernita, who appeared on "The Oprah Winfrey Show" in 1990 for a makeover. 
Oprah reportedly had a strained relationship with her brother, Jeffrey, who died from AIDS in 1989.  Then learned she had a half sibling, Patricia, who was given up for adoption several decades prior.  They met each other for the first time in 2010.
TMZ reports:
There are reports Vernita retired from a hospital dietitian job sometime after she reconnected with O, moved into a luxury condo in Milwaukee and got a stipend from her famous daughter of $5k a month.
Our condolences and hearts go out to Oprah and all surviving family members and loved ones at this time.