We have a new queen to stan. Ellen Pompeo spoke out for inclusion in one of the most unlikliest places as Gabrielle Union looked on and agreed. Find out everything she said, plus deets on singing legend Marvin Gaye getting his own U.S. Postal Service stamp inside...
It's refreshing to witness a white woman speak up on Hollywood's diversity problem.
"Grey's Anatomy" star Ellen Pompeo sat down for a roundtable talk for Net-A-Porter with Gabrielle Union, Gina Rodriguez, and Emma Roberts. The ladies were talking about how racial conversations leave some people uncomfortable and that's when Ellen opened up about how it's white people's duty to call this ish out. And she did it quite boldly. She noted how there were plenty of women working behind-the-scenes at Net-A-Porter, however, there were hardly any people of color.
"This day has been incredible," she says. "And there's a ton of women in the room, but I don't see enough color. And I didn't see enough color when I walked in the room today. I had a meeting with the director of another endorsement project that I'm doing, and I said, 'You know, when I show up on set, I would like to see the crew look like the world that I walk around in every day. And I think it's up to all productions to make sure your crew looks like the world we see.
CALL.THEM.OUT.
"As caucasian people, it's our job," she continued. "It's our task. It's our responsibility to make sure we speak up in every single room that we walk into. That this is not OK, and that we can all do better. It's our job because we've created the problem."
This is a whole message. A message black women have shared for years, but it fell on deaf ears. Gabrielle Union shared how she sometimes doesn't like addressing the diversity issue to avoid appearing ungrateful.
Hopefully, the message resonates with other white people now that a white woman is speaking out about it.
Oh, and Latina actress Gina Rodriguez tried it. She then started adding her 2 cents, saying black women earn more than Asian and Latina women.
"I get so petrified in this space talking about equal pay especially when you look at the intersectional aspect of it, right? Where white women get paid more than black women, black women get paid more than Asian women, Asian women get paid more than Latina women, and it's like a very scary space to step into. Because I always feel like I fail when I speak about it because I can't help but feel already so gracious to do what I do and I feel like, culturally, I feel like I was raised to just feel so appreciative of getting here."
Umm...did she not know Sofia Vergara is the highest paid TV actress? Like girl, just stop. By the way, Sofia has been the highest paid TV actress for the past 7 years.  Given, one top-money-making Latina actress doesn't mean the whole group is banking out of control.  However, if you can't provide receipts that black women some sort of way have it the "best" out of other minorty groups, KEEP IT. The message is damaging and dangerous.
Peep the interview below, starting at the 16-minute mark:
In #BlackExcellence news...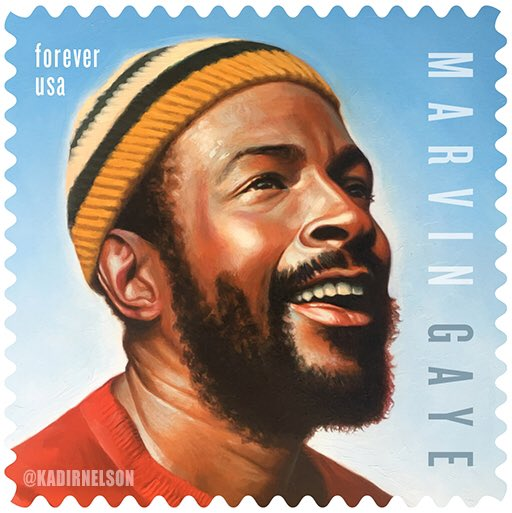 The U.S. Postal Service is honoring Marvin Gaye in a major way.
The iconic singer is getting his own commemorative stamp that will be issued in 2019. The stamp is part of the Postal Service's Music Icons series. The stamp features a portrait of the Grammy award winner, dubbed the Prince of Soul, designed by Kadir Nelson. The stamp pane is designed to resemble a vintage 45 rpm record sleeve. One side of the pane includes the stamps, brief text about Gaye's legacy, and the image of a sliver of a record seeming to peek out the top of the sleeve. Another portrait of Gaye, also inspired by historic photographs, appears on the reverse along with the Music Icons series logo.
Check out my new US Postage Stamp! Coming in 2019. Marvin Gaye.
With this new stamp in the Music Icons series, the U.S. Postal Service honors Marvin Gaye (1939–1984) — the "Prince of Soul" by @KadirNelson#marvingaye#kadirnelson#stamps#motownpic.twitter.com/PwXvqfDWeg

— Kadir Nelson (@KadirNelson) November 20, 2018
The "Prince of Motown" blessed up with classics like "What's Going On," "Sexual Healing," "Let's Get it On" and tons more. Along with his Grammy wins, he was also elected to the Rock & Roll Hall of Fame. He was killed by his father on April 1, 1984, one day before his 45th birthday.
Photos: YouTube Screenshot/Kadir's IG