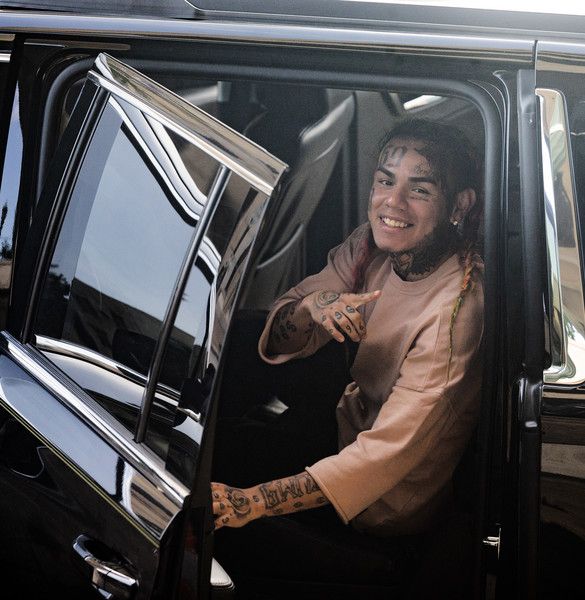 Tekashi just got a Thanksgiving blessing.  He's out of gen pop and in a "more neutral" unit...for prisoners who cooperate with authorities.  Deets inside, plus Nicki Minaj giving her vocal support to the alleged felon.
Wow.  Once again, rapper Tekashi 69 gets out of prison after being charged for umpteen felonious crimes once again.  This time though, he walked into another detention center after being locked up in a Brooklyn prison in general population. He's actually in a "neutral" unit known to house folks who are cooperating with authorities.  Apparently, snitches don't get stitches because he hasn't yet been harassed inside.  He's reportedly worried about his family, including his 2-year-old daughter, on the outside tough.
TMZ reports:
Tekashi 6ix9ine has been transferred to a federal facility that is regularly used to house witnesses who cooperate with the feds ...

Sources connected to the new detention center tell TMZ ... federal authorities facilitated the transfer Wednesday night. Our sources say 69 specifically asked to be in a unit away from the Crips and the Bloods.

69's attorney, Lance Lazzaro, would not comment on whether his client is trying to cut a deal in return for spilling the beans on others in his racketeering case ... he would only tell TMZ the transfer was for "security reasons." Lazzaro tells us 69 was getting threats from gang members at MDC.

Tekashi, who was behind bars until Wednesday night at the Brooklyn Metropolitan Detention Center where he was exposed to other inmates in general population, is now in a unit with "neutral inmates." Translation -- no gang members.
The rapper was arrested by the Feds Sunday night for alleged racketeering, and alleged involvement in conspiring to commit armed robberies, drug deals and shootings. While Tekashi went on Instagram a few days prior to make it KNOWN he's fired everyone on his team and is no way associated with any of them, authorities still believe 69 personally committed an armed robbery back in April.  That's not the only crime they're looking at him for either.
The self-proclaimed King of NY has pushed back his project that was due out this weekend:
Out of your control?  Ok guy.  You were LITERALLY arrested for alleged acts by you and your people over a span of 5 years.  You have some control in this.
He's getting support from his homie Nicki Minaj, though. She turned off comments on this post since folks have previously dragged her for supporting his actions, especially those pedophile chsrges.
BONUS:
Nicki went back to Queens to hand out food for the holidays. A queen of Queens.
Photo: Getty