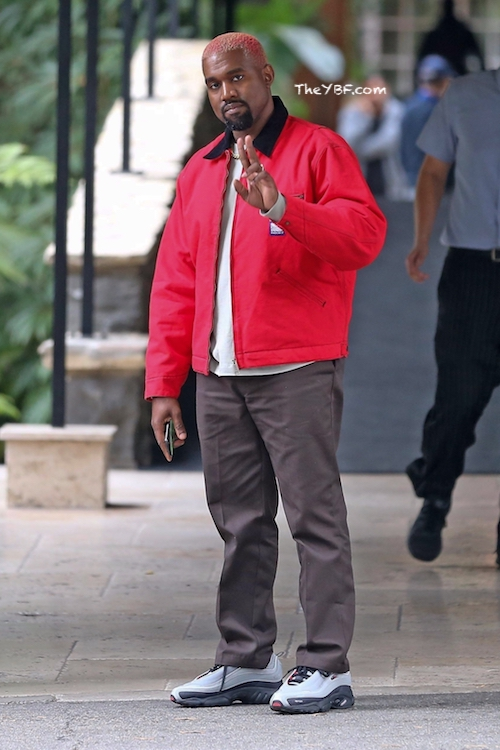 Kanye West is in the giving spirit right before the holidays. Find out how he's helping those affected by the Calirfonia fires, plus what his wife said about him and her near naked social media photos inside.
Also, peep Meghan Markle, Prince Harry and their cute baby bump making rounds in London inside...
Kanye West is REALLY in the spirit of giving back during these holidays.
Earlier this week, the PABLO rapper (above, leaving the Bel Air Hotel in a red Carhartt jacket) donated $150,000 to the slain Chicago security guard and he also pledged to donate all of the YEEZY Calabasas track pant profits to the California Community Foundation's Wildfire Relief Fund and the California Fire Foundation.
He isn't stopping there.
'Ye, in collaboration with Yeezy and adidas, are donating a total of $500,000 to help those who have been affected by the fires that are destroying parts of California. $200,000 is being donated to the California Fire Foundation, another $200,000 is going to the California Community Foundation's Wildfire Relief Fund. And they're donating $100,000 to firefighter Mike Williams after learning his home in Oak Park, Calif., burned down while he was saving others' properties.
Kanye's wife Kim Kardashian West made the announcement during a recent appearance on "Ellen."
"To know that you've lost your home, Kanye, Yeezy and Adidas wanted to donate to you guys $100,000," Kim said, "so you guys can pick up the pieces."
Peep the clip below:
The Wests were forced to evacuate their $60 million Hidden Hills mansion and hired private firefighters to protect their home.
"[The fires] got to our gate. Luckily, we had protection and firefighters right there who were helping us to get the fires out," Kim shared. "We're still not in our home now because the smoke smell is too intense, and we have these machines everywhere trying to blow out the smoke smell. We were lucky; we're blessed."
During the interview, Kim also shared how Kanye gets "bothered" when she posts damn near nude pics on her social media accounts.
"I go through waves," the "Keeping Up With Kardashians" star said. "Sometimes I'm like, 'OK, I'll be more conservative on my Instagram.' And sometimes I really have to get something out if I'm feeling good about myself for I've been working out really hard. And then I'll post something and he'll get upset. Then we'll just, you know...it's a cycle."
He may act like he's "bothered," but we're not totally convinced.  Especially since she was doing FAR more than this before and when he met her....
In Royal news...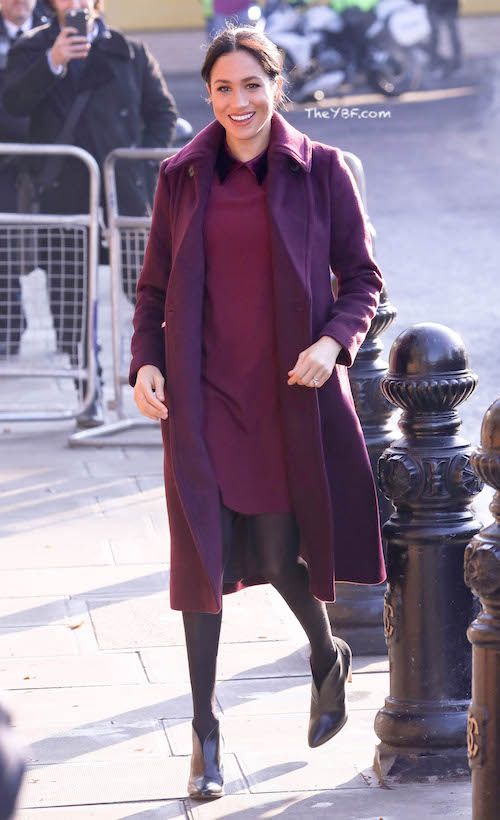 Royal baby bump alert!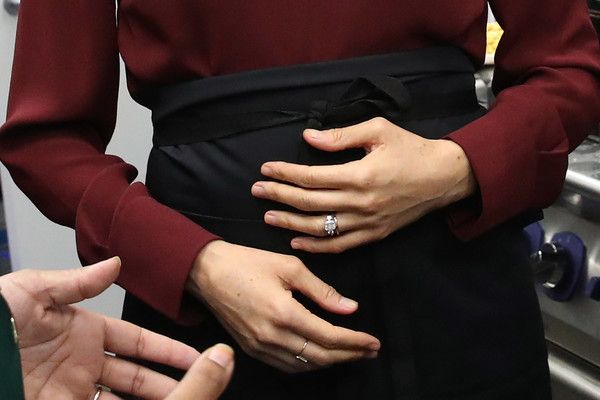 Aww! We love how she's embracing motherhood already.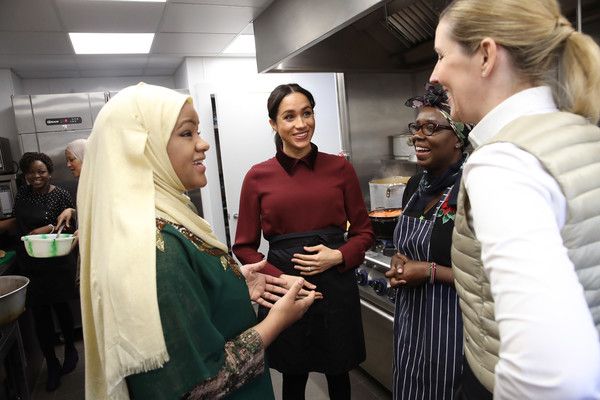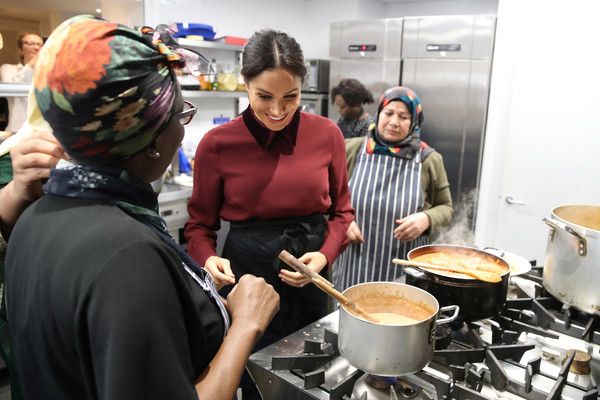 Meghan Markle is bumping along in London.
For her most recent solo engagement, the Duchess of Sussex went to the Hubb Community Kitchen. The mom-to-be was on hand to help prepare a meal with the women whom she created a cookbook to support their cause titled, "Together: Our Community Cookbook."
The mom-to-be rocked a burgendy collarded dress and matching coat by Club Monaco with ankle boots by Givenchy, the same designer who created her wedding dress.
The former "Suits" star rolled up her sleeves and got to work! She said it reminded her of how her grandmother used to prepare Thanksgiving dinner when she was a kid.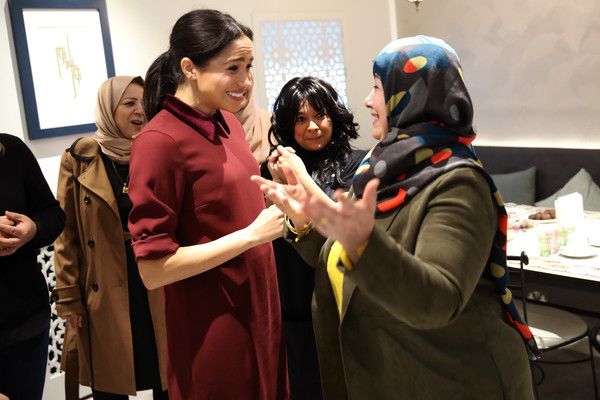 Over the weekend...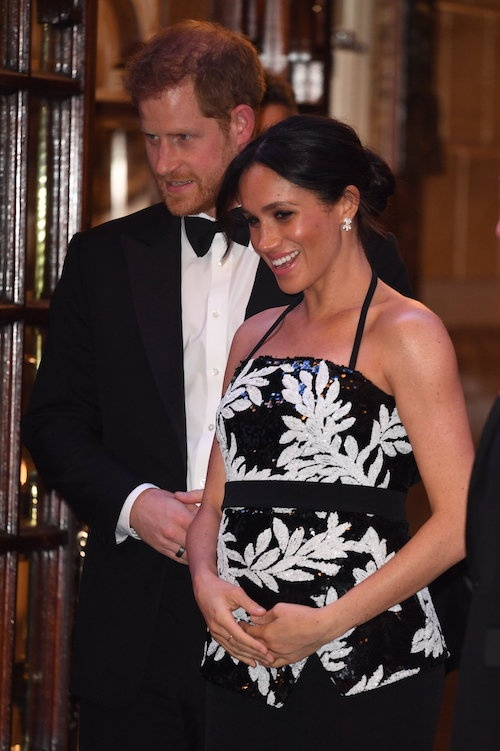 The Duke and Duchess of Sussex - and the Royal Baby - attended the Royal Variety Performance at The London Palladium over the weekend. Too cute!  Yes she's holding her bump at all times and NO we do not care.  Loves it.
Thank you to The Duke and Duchess of Sussex @KensingtonRoyal for supporting @RoyalVariety#Variety4Charity and to all those who gave their time @ITV today. pic.twitter.com/iOU6Lq3Iiu

— Royal Variety (@RoyalVariety) November 19, 2018
The Duke and Duchess of Sussex met performers on stage at the London Palladium following this evening's #RoyalVarietyPerformance, in aid of the @RoyalVariety Charity. #Variety4Charitypic.twitter.com/RoLSYCin1H

— Kensington Palace (@KensingtonRoyal) November 19, 2018
This evening The Duke and Duchess of Sussex are attending the 2018 #RoyalVarietyPerformance at the London Palladium. #Variety4Charitypic.twitter.com/Kw7Npz3TbG

— Kensington Palace (@KensingtonRoyal) November 19, 2018
The royal baby is expected to make his/her arrival in the spring.  Can't wait!
Photo: Backgrid/Getty/Instar