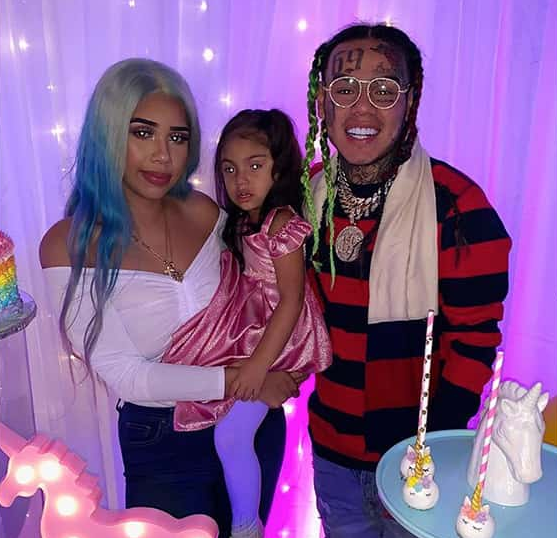 Whew, chile. Tekashi 6ix9ine is all up in the club with strip club bartender Jade (the one who accused Cardi B of having her jumped) following rumors involving his daughter's mother Sara's alleged assault. Everything inside...
As if Tekashi 6ix9ine doesn't already have enough ish going on with recently getting shot at during a music video and avoiding jail time from his 2015 arrest for the use of a child in a sexual performance.
His love life (if you want to call it that) is also in shambles. Allegedly.
Friday night, the rainbow haired rapper linked up with strip club bartender Jade for some fun. Jade is one of the sisters who accused Cardi B of ordering her squad to beat down her and her sister, Baddie Gi.
Last month, Bardi turned herself into police for questioning so cops could determine what role she played - if any - in the attack on two bartenders at Angels strip club in Queens, NY.
Back to Jade...
Chick was all smiles while bending over and shaking her a** in front of Tekashi in their VIP section in the club the other night.
Before that, Tekashi was on Instagram Live, showing off his new "girlfriend" Jade. In clips, Tekashia and Jade were all over each other where they kissed to show everyone they are more than just friends. Peep the clips below:
Before they made their way to the club, though, mess occured.
Someone from Tekashi's camp is spilling tea. allegedly, about his "situationship" with his daughter's mother Sara and his antics with Jade. Someone named "T" told a source about how everything is unfolding behind-the-scenes with Tekashi.
Tekashi was supposedly in LA with Jade and Sara found out, so she decided to move her things from the house she and Tekashi shares in NYC. Word got back to Tekashi, so he asked his manager to book him a flight back to NYC. After he made it there, he allegedly begged Sara to stay with him and she eventually agreeed to do so.
Later, Sara allegedly called Tekashi's "manager" T crying about how he's forcing her to stay with him and if she doesn't he told her he's going to make her life miserable.
Tekashi then goes to the club and parties the night away with Jade. When he came home (in NYC), he slept on the couch. That's when Sara supposedly secretly went through his phone. He allegedly found out.
Soon after, a video circulated online that is supposed to be Sara with a busted lip:
The source claims people, including Tekashia's team, are well aware of the incident.  We have yet to confirm this.
It gets worse...
After a trip to Dubai over the summer, the source makes even worse things happened that his team allegedly knows about.  You can use your imagination
The source is also making claims that threats to family members were allegedly made.
As of the time of this post, Sara's IG has been deleted:
It's unclear if she actually deactivated the account or if Tekashi pulled some strings to have it taken down so she won't blast him.
The source claims Sara is gearing up to speak out about how Tekashi has been abusing her in hopes of receiving protection from him.
Meanwhile....
Jade is living it up with Tekashi. She posted this clip of herself on Instagram. She's wearing the same outfit in the IG post as she is in the Instagram Live video she made with Tekashi (above). Chile....
Regardless, this is a MESS. If Jade isn't careful, she could end up in a "when clout chasing goes wrong" type situation.
Photos: Instagram