Cardi B gushes about Baby Kulture, revealing her baby looks "exotic" with a dash of Rihanna. Also, Masika Kalysha claims someone stole her wallet during Cardi's Fashion Nova Collection launch party. Get it all inside...
While a lot of new moms hit the gym to get the post-pregnancy weight off, Cardi B says she's trying to GAIN weight. In fact, her weight loss after giving birth to baby Kulture is causing her to feel "depressed" because she REALLY wants her curves back.
As Cardi was getting ready for her Fashion Nova collection party in LA this week, the 26-year-old mom hopped on Instagram Live to chop it up with her fans about how she can't stop losing weight.
"I've been very depressed because I cannot stop losing weight," she said. "And it's so crazy because when I first gave birth, I did everything to lose my baby weight. I was drinking Teami [tea] so it could curb my appetite and now that I lost all the baby weight...I don't like looking too skinny."
"I used to look too skinny as a teenager and I used to hate it and I hate it now," she said. "It's been really depressing me, making me sad. My weight. You know what I'm saying."
Sis, if you're only losing weight because of some tea, stop drinking the tea and EAT. We wish we had these problems.
Bardi said motherhood has caused her bobbs to become "saggy"
"Sh*t is so stressful, not having no appetite at all," she said. "I want to gain weight so bad."
"I just really want to gain my weight," she continued. "I'm really trying to gain weight ya'll and it's been hard and I don't know how. After I gave birth, I was so thirsty to lose all the baby weight and now it's so hard for me to gain weight and I hate it. Then my parents...the more they force me to eat, the more I don't want to eat."
After sharing her feelings about her weight loss, she then started talking about baby Kulture's features. She hasn't shared a picture of Kulture since her birth in July, but she explained how she looks to her fans. Bardi said Kulture looks "exotic," and that God used her "best egg" and Offset's "best sperm" to create her "gorgeous" daughter. She went on to say her lips are a mix of Offset, her sister Hennessy and....Rihanna. She joked that Kulture "might be Rihanna's baby."
"Yo, her lips is crazy...her lips is a mix of Offset, Hennessy and Rihanna's lips. This might be Rihanna's baby y'all. This might be Rihanna's baby.

"She's just so exotic looking. She just like...I don't know. She don't even look like me [laughs]. Then her eyes, they just so—wow! They so big. And it's like, what the hell? I don't got big eyes and Daddy don't have big eyes...she looks like a doll."
Check it:
At the party....
The "Be Careful" rapper changed into a red leather bodysuit and made her way on stage to perform at her Fashion Nova Collection Launch Party held at Boulevard3 in Hollywood.
Watch the "I Like It" rapper twerk it up on stage below:
The party looked LIT. However, there seems to have been someone there with sticky fingers...
"Growing Up Hop Hop: Atlanta" star Masika Kalysha claims someone stole her Chanel wallet! She hopped on Twitter in an attempt to get it back. Yikes.
Bardi changed it up again after the show and was spotted tip toeing around LA.
Back on stage...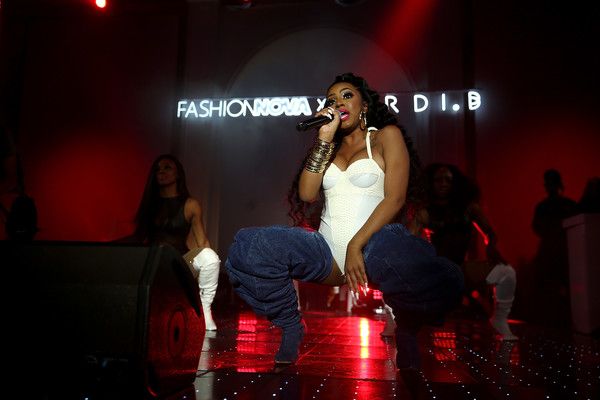 City Girls rapper Yung Miami"flewed out" to LA, sans her bandmate JT who's currently incarcerated, to hit the stage.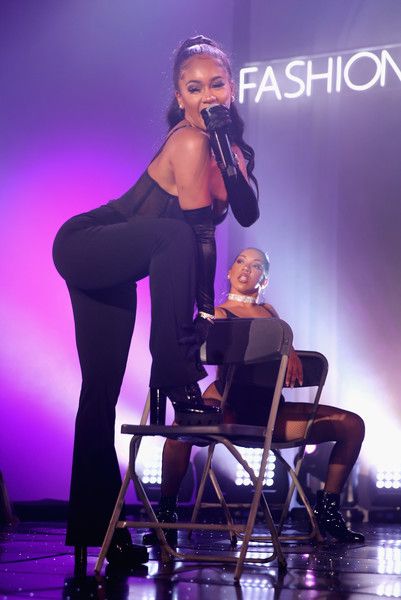 Rapper Saweetie, who's currently dating Migos rapper Quavo, made her way on stage to perform.  Brianna Perry and Dreamdoll also hit the stage. Cupcakke was supposed to hit the stage, but she decided not to after Fashion Nova allegedly cut her time short and gave other artists more time.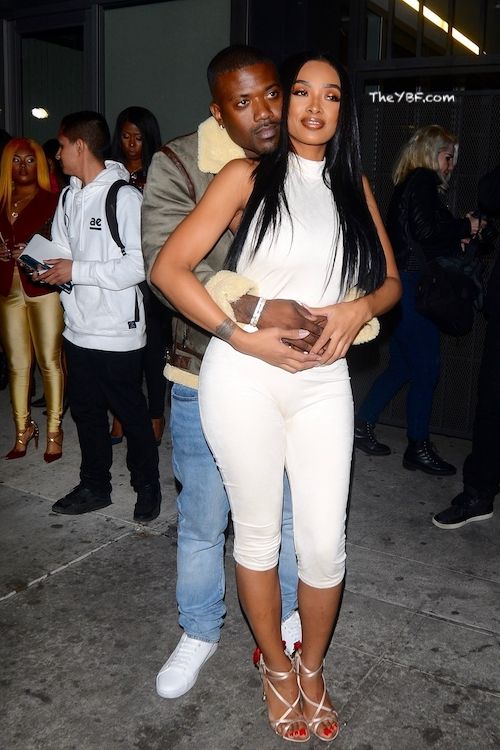 Several reality stars were in the mix as Cardi used to star on "Love & Hip Hop."
"Love & Hip Hop: Hollywood" lovebirds Ray J and Princess Love were all loved up before heading inside.
Looking GOODT Princess.
"Love & Hip Hop: Hollywood" parents-to-be A1 and Lyrica bumped along on the carpet.
Yung Miami and Dreamdoll were stunting on the carpet in their furs before hitting the stage.
"Love & Hip Hop: Hollywood" star Moniece linked up with Briana Perry for a photo-op.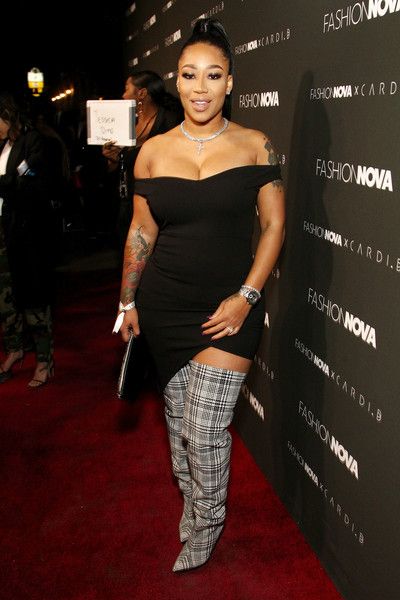 New moms Jessica Dime and Chanel Iman stepped out for some fun.
Dave East rolled up on the scene looking good AF.
"Love & Hip Hop" star JuJu kept it FAB on carpet.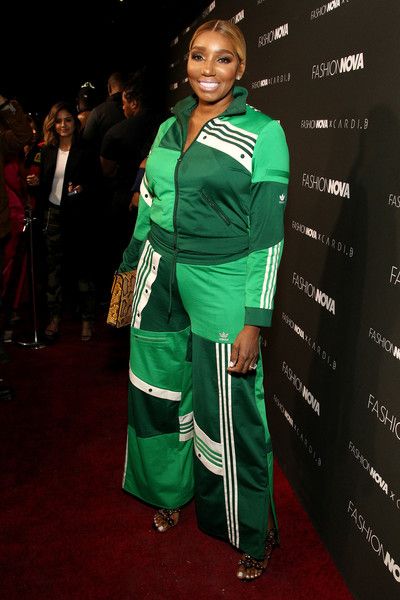 "RHOA" star NeNe Leakes took her mind off her husband's illness for some fun.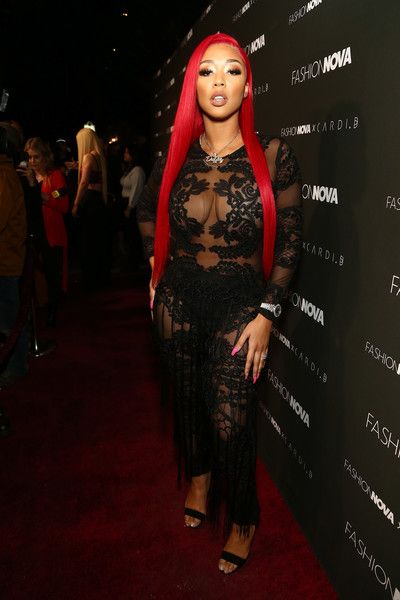 Actress Porscha Coleman and DJ Duffey hit the carpet before turning up inside.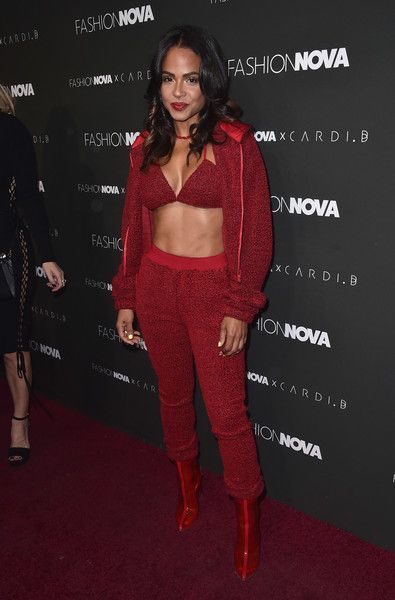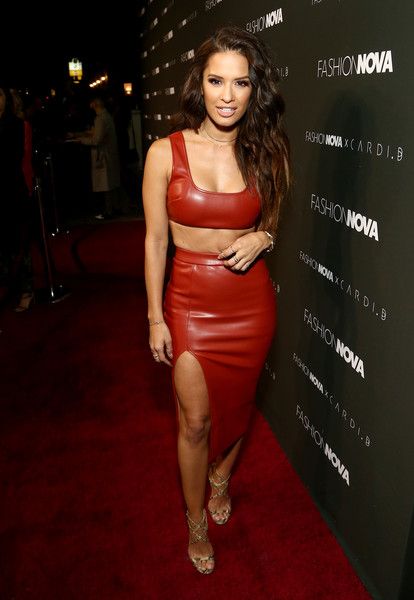 Friends Christina Milian, Rocsi  and Adrienne Bailon kept it sexy in their red 'fits.
"Love & Hip Hop" star DJ Self was on the 1s and 2s.
Peep more clips from the party below: 
By the way, Cardi's Fashion Nova collection is SOLD OUT. We checked. Everything is gone gone (as of the time of this post).
Photos: Getty/Backgrid/Instagram