NeNe Leakes is responding after she sent subtle shade aimed at new mom Kenya Moore. Oh, she's also about to appear on "Wild 'N Out." See her receipts, plus deets on Letitia Wright and John Boyega bringing a different kind of YBF love to the big screen inside...
During Sunday night's episode of "Real Housewives of Atlanta," there was plenty of social media activity going on between the show's stars and former co-stars.
NeNe Leakes is accusing former co-star/new mom Kenya Moore for trying to steal the spotlight from "RHOA" season 11 since she's no longer on the show. As you all know, Kenya decided to leave the show after getting married and pregnant with her first child.
In a now-deleted post, NeNe - above, leaving Crustacean in Beverly Hills - shared a pic of a laughing emoji on Instagram with the caption, "I can't with the calculations on Sunday's #thethirstisreal #weseeyou#wacksh*t."
Oop. The self-proclaimed "RHOA" HBIC put that shady post up right after Kenya shared the first glimpse of her daughter, Brooklyn Doris Daly, on Instagram:
Aww!
Although she deleted her initial post, she did put this up afterwards...still being shady AF:
"People be swearing your post is about them. Chile I know 13 dummies!," she posted. In the caption, she wrote, "Including you" with laughing emojis.
Yikes.
Not to mention, Kenya gave birth (early) to her baby girl on the same dayas the season 11 premiere. Ha! 
We're not surprised with NeNe's antics. She was up to no good when flicks popped up from Kenya's baby shower. In case you missed, check it out HERE.
In other news...
The reality star/comedian is set to make an appearance on Nick Cannon's "Wild 'N Out" soon. Chick said she's never scared and ATE all the jokes that came her way, along with dishing some of her own.
NeNe and Gregg's son Brennt Leakes will be joining her on the show. This should be good. No word on when her episode premieres, but we'll stay on the look out.
By the way, NeNe is filming the How High sequel in Atlanta, also starring Lil Yachty, DeRay Davis, and DC Young Fly. 
In movie news...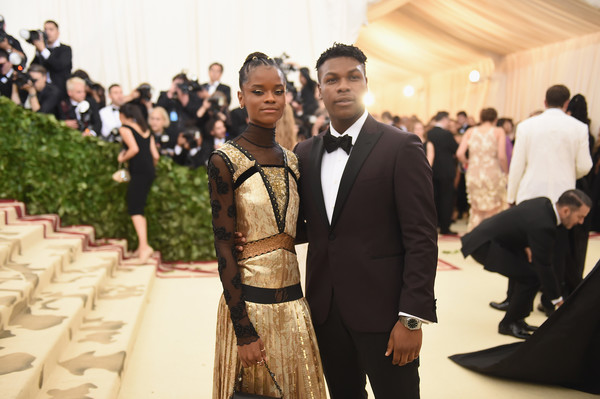 Black Panther star Letitia Wright and Star Wars star John Boyega are about to serve up a different kind of YBF love on the big screen.
The British buddies, above attending this year's Met Gala together, are set to star in a sci-fi romance that is already being billed as the Romeo & Juliet love story that meets gravtiy. Intergalatic love energy vibes? That could work.
Based on Katie Khan's novel, "Hold Back The Stars," Letitia and John will play a couple, who reminisce on their love and life together on Earth while they are trapped in the vast void of space with only 90 minutes of oxygen left. The film will have the same name as the book.
Well, I see that secret I was so anxiously keeping is out. Hooray! Some absolutely dream casting for my novel, Hold Back the Stars, here (BESIDE MYSELF WITH EXCITEMENT) @TransworldBooks@GalleryBookshttps://t.co/UvjLLcNIpq

— Katie Khan (@katie_khan) November 9, 2018
We can already feel the chemistry between these two on the big screen. They have been friends for a while now, so we know they're going to kill both of these roles.  And because they're just simply bomb actors.
Mike Cahill will reportedly direct a script by Christy Hall.
We're here for it!
Switching gears...
The 24-year-old actress was featured in Teen VOGUE where she opened up about her own battle with depression and why it's important to combat the stigma often associated with mental health.
"In the black community, it's something that happens, but we don't speak about it. We have to continue to talk about it and bring it straight to the forefront. And [that doesn't only apply to] the black community but different races as well."
The Black Panther breakout star said her relationship with Jesus is what helped her cope with depression.
"I speak boldly about [depression] because I struggled with it and I tried to find different ways [to heal], and it just didn't work. I had to look deeper to find what could hold me, and I found that what held me together was my relationship with Jesus and my relationship with God.
"Even to this day, I'll be at events and people will pull me to the side and tell me that they deal with the [situations] that I've dealt with. And I'm grateful because I want people to find a way out."
Good for her!
Photos: Backgrid/Getty