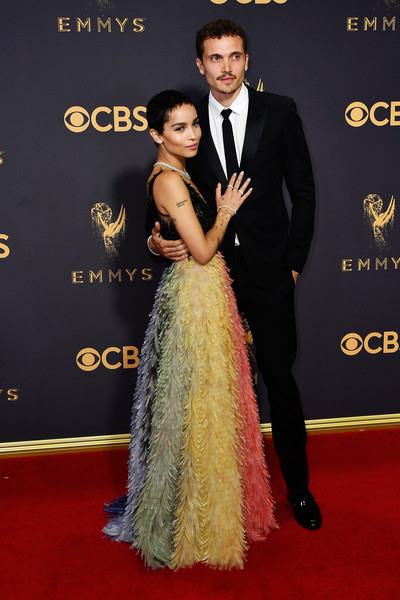 Who says you can't have privacy when you're a celebrity. Zoe Kravitz has been engaged to her longtime boyfriend Karl Glusman for eight months and no one knew. More inside...
When a celebrity really wants to keep a secret, it can be done.
Actress Zoe Kravitz is pulling a page from Beyonce's & Kerry Washington's books when it comes to keeping things under wraps...until they decide to spill everything.
The "Big Little Lies" actress has been secretly engaged to her boyfriend/actor Karl Glusman since February of this year! Not only that, she has been wearing her engagement ring (even at red carpet events) and no one suspected a thing.
The 29-year-old actress bares it all on the cover of Rolling Stones November 2018 issue (which is a tribute to her mom Lisa Bonet's 1988 nude cover). Not only did she show off her bod, but she also let fans in on her love life. And she dropped a huge bomb so nonchalantly.
"Oh yeah, I'm engaged," Zoe spilled to the publication. "I haven't told anyone yet — I mean, I haven't told the world. I wanted to keep it private."
We don't blame her either. She was able to announce the good news on her own time.
Zoe and Karl have been dating for two years. He popped the question about a year and a half in. He tried to surprise her in Paris, but work got in the way and he had to change it up.  And quickly! She shared how the romantic moment went down:
"I was in sweatpants," recalls Kravitz. "I think I was a little drunk." Glusman lit some candles and put on Nina Simone (her favorite), then laid down and started hugging her. "I could feel his heart beating so fast — I was like, 'Baby, are you OK?' I was actually worried about him!" Glusman dropped to one knee, and Kravitz said, " 'Yes, stretch! Stretch to calm your heart down!' "

But then he pulled out a box, and inside was the ring: the exact one she'd been fantasizing about. "He nailed it," she says. "And I love that it wasn't this elaborate plan in Paris. It was at home, in sweatpants."
Cute.
Like we said, Zoe hasn't hidden the fact that she was engaged. She wore her engagement ring on the red carpet at the 2018 Met Gala back in May as she posed it up in a black Saint Laurent lace dress. Check it:
Congrats to the couple!
Photo: Getty