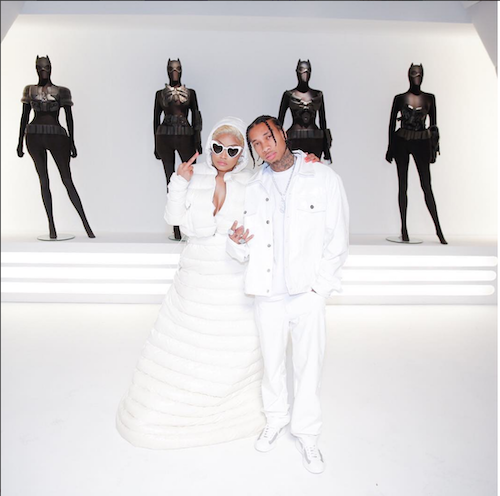 Tyga pulled up at Queen Radio today to drop his and Nicki Minaj's new track and video for "Dip".  Get it all inside...
Tyga and Nicki Minaj premiered their new video & track "Dip" today on Queen Radio.  Tyga sent Nicki two songs of his, and she chose to drop a couple verses on "Dip" because he already had the line"I got a black Barbie, she into menages..."
She said once she heard that she"knew it was meant to be."
Nicki revealed the whole aesthetic of the video was Tyga's idea, and compared him to Kanye West - who produced the track - when it comes to vision:
"I was supposed to be flying upside down and we were running late, and I think I was happy, on the low. The video is so fresh and clean, I love the song, I love the vibe.

 

We coordinated so well for the video. We put the colors together — you'll understand when you see the video. The video is clean and fly as f*ck. He sits behind the monitor and directs and really gets involved."
"He's extremely f*cking talented," she said about Tyga today on Queen radio.  And him sending her two full bags of Prada to say Thank You didn't hurt either.  She rocked the pink Prada sneakers he copped her in the studio today.
Nicki told him she never knew what all the hype about him was about and she never got "why would bad bitches like Tyga", but now she knows.  And if she "wasn't already a rich b*tch," her "pu**y would have tingled too."  Ha.
Peep the video below:
Next up for Nicki: She has a track on the upcoming Creed 2 soundtrack she says is "hard as f**k."  She's also headed to Spain for the MTV European Music Awards.  It goes down at the Bilbao Exhibition Centre November 4th.