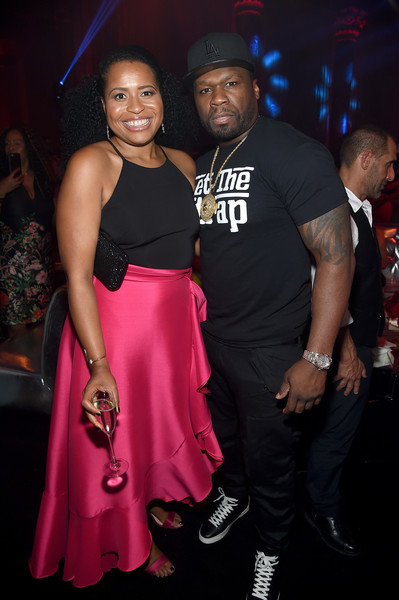 Courtney Kemp just inked a new deal with Lionsgate and a few "Power" spin-offs will come out of it. Who should they feature? Let us know inside, plus get the latest with Taye Diggs being sued by his former managers inside...
Get those coins, Courtney Kemp!
After bringing us one of the hottest cable series ever, "Power" creator Courtney Kemp is gearing up to bring us some more heat. She just inked a new 3-year overall wide-ranging deal with STARZ's parent company Lionsgate. And that means we're getting MORE "Power."
Deadline reports the "Power" franchise will be expanded into several spin-offs and the EMMY nominated producer will also be working on other projects that'll span multiple platforms. Nice!
The site reports:
Deemed as "one-of-a-kind" agreement by Lionsgate itself, the development and production deal launches Kemp and her End of Episode shingle to expand the Power franchise with potential spinoffs among a number of commitments by Starz. Additionally, the compact encompasses other projects for Lionsgate to take to market for Kemp on a multitude of platforms. While officially no one's offering specific terms for the deal, it is over a three-year period of time, I hear, with a very solid investment from Lionsgate.
"I'm incredibly proud of the success we've had with Power and I'm excited about expanding our banner and diversifying the types of stories we're telling," Kemp said. "Chris brings with her a depth of experience that will elevate End of Episode to a new level and I'm looking forward to exploring new ways of writing about my obsession: the intersections of violence, power, sex and romance."
Yassss! And we can't wait to see it all.
Heyyyyyyy there #powertv fans..... spinoffs coming atcha... and other series I'm really excited to bring to you.... And no I'm not telling you who survives Season 6! br>Thank you… https://t.co/ZOwgrPy7CX

— Courtney A. Kemp (@CourtneyKemp) October 25, 2018
Since 50 Cent's character Kanan died, we predict he'll get a spin-off. Which character would you like to see get their own show? Let us know in the comments.
In legal news...
Actor Taye Diggs is knee deep in legal woes.
It's being reported he's being sued by his former management company - the he fired - over unpaid commissions. Authentic Talent and Literary Management claims the "Empire" star still owes them money for working deals to get him on TV shows like "All American" and "Beauty and the Beast." Not to mention, they claim they were able to nab him "a slew of endorsement deals." Yikes.
Deadline shares the details:
The actor's Deep Down Productions also is a defendant in the suit filed today in Los Angeles Superior Court. Authentic says it is owed "substantial sums of money" and that "these sums continue to accrue." "Plaintiff has made repeated efforts to obtain payment from Diggs in order to avoid litigation," the suit says. "Regrettably, however, Diggs has failed and refused to abide by his obligations hereunder and to tender commissions and post-termination commissions and other payments due and owing Plaintiff."

The filing says Diggs hired Authentic to manage his career in June 2015 and that Authentic performed "exemplary" services until he fired the firm in late July. "Diggs has wrongfully failed and refused to abide by his legal obligations to pay Plaintiff commissions in connection with the numerous deals and employment obtained during the parties' management relationship, including but not limited to the following: the All American, Beauty and the Beast, Crossovers, 25 Words or Less and [multiple] endorsement deals."

The suit seeks unspecified damages and declaratory relief. Attorneys Mathew Rosengart and Michael Neighbors of Greenberg Traurig LLP in Los Angeles are representing Authentic in the suit.
More money, more problems.
EXTRAS:
1. Famed playwright Ntozake Shange (For Colored Girls) died in her sleep Saturday morning. The news was announced via Shange's official Twitter account. She was 70. STORY
Photos: Getty