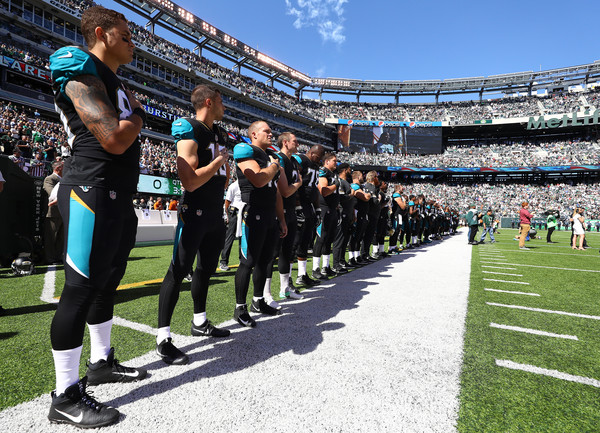 Four Jacksonville Jaguars players ended up in lock up ahead today's game against the Eagles. It's being reported there was a misunderstanding on a $64,000 (50,000 British pounds) bar tab. Deets inside...
Well, we're sure this isn't the way the Jacksonville Jaguars wanted to kick off their weekend in London ahead of their game against the Philadelphia Eagles this morning.
It's being reported players on the Jaguars team were detained early Saturday morning after an incident in a London nightclub. Four players were detained after a misunderstanding over a bar tab that totaled 50,000 British pounds ($64,000 U.S.) at London Reign Showclub that "features burlesque and circus performers."
A source told the UK's Sun newspaper a fight with the bouncers broke out when the players tried to leave without paying the tab.
"The total bill was in the region of £50,000 and some of the lads tried to leave the club but were prevented from doing so by security," the source explained. "Things got pretty heated and there was a lot of swearing and shouting and things became physical. In terms of preparation for their match, you couldn't think of anything worse."
Here's where the misunderstanding came in (via NFL.com):
The players went to a club on Friday night, were sent bottles of champagne and other high-end liquors and ran up a huge bill, sources told Rapoport. The players believed that the bottles were comped, but instead, they were on their bill. When the bill arrived, the players refused to pay it, believing that it was not what they owed. An argument ensued and local police made several arrests.
Following the altercation, four players were arrested "for fraud" by the Met Police. They were released nine hours later and it's reported the club dropped the complaint after the bill was paid.
ESPN identified the Jag players as safety Barry Church, cornerback D.J. Hayden, safety Ronnie Harrison, and safety Jarrod Wilson.
The Jags issued a statement addressing the situation, saying, "The matter is being resolved, and the players are with the team. Any discipline will be handled internally."
Church, Harrison and Wilson are active for Sunday's game. Hayden is inactive after being listed as doubtful with a toe injury leading up to the game.
Glad they were able to get this situated before today's game. What were they doing out partying before a game anyway?
EXTRAS:
1. Cleveland Cavaliers fire head coach Tyronn Lue after 0-6 start. STORY
Photo: Getty