Congresswoman Maxine Waters warned folks a while ago do NOT come for her because she's never scared. The FBI was able to arrest the #MAGABomber after tracing a fingerprint off the bomb he sent to Auntie Maxine. Get those deets and everything else we've learned thus far inside...
Congresswoman Maxine Waters, D-Calif., warned her haters and potential shooters that they better come correct if they're trying to get rid of her. And she made it known she isn't scared one bit. Well, the #MAGABomber thought he had a chance at taking her (and other high-profile Democrats) out, but apparently, he isn't as smart as he thinks he is.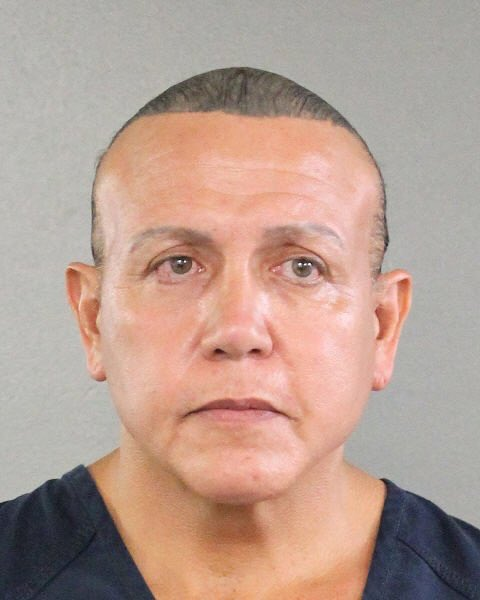 The FBI was able to track down the suspected #MAGABomber - 56-year-old Cesar Sayoc - by using a fingerprint found on the envelope sent to Rep. Maxine Waters, according to FBI Director Christopher Wray.
"Based on their initial analysis, they uncovered a latent fingerprint from one of the envelopes containing an I.E.D. That had been sent to Congresswoman Maxine Waters. We have confirmed this fingerprint is that of Cesar Sayoc," he said.
Sure Cesar Sayoc attended Trump rallies, wore MAGA hats, drove round in a van featuring Trump opponents with targets on their faces and sent bombs to individuals Trump had publicly criticised, but it's too early to speculate on his motivation #MAGABomberpic.twitter.com/9vM0gW5mQJ

— Rod Kelly (@rodkelly50) October 26, 2018
The FBI was able to track down the pro-Trump mail bomber -a Florida man with a long criminal history - since his fingerprints were already in the system for earlier arrests in Florida where he previously tried/threatened to bomb people. The privilege.
He has arrests that date back to the early 1990s, including a 2002 offense that was described as a "threat to bomb" and "threaten to discharge destructive device," according to Florida Department of Law Enforcement records. In addition to the DNA found, the FBI also used Cesar Sayoc's cell phone to track him down. He's currently being held at a federal detention facility in downtown Miami.
FBI Director Christopher Wray confirmed that there were 13 improvised explosive devices sent to individuals across the country, who are Democratic politicians and prominent anti-Trump critics. Some of them include, former president Barack Obama, former president and first lady Bill and Hillary Clinton, former attorney general Eric Holder, US Rep. Maxine Waters, Senator Cory Booker, Senator Kamala Harris, former VP Joe Biden, actor Robert De Niro, and more.
The #MAGABomber has been arrested and hit with 5 federal charges, which include, interstate transportation of an explosive, illegal mailing of explosives, threats against former presidents and other persons, threatening interstate communications, and assaulting current and former federal officers, according to attorney general Jeff Sessions.
He faces up to 48 years in prison. Wait, that's it? Def should be more.
Conservative commentator Candace Owens hopped on Twitter when news first hit about the bombs to share her ridiculous conspiracy theories. She made claims that the Democrats were behind the bombs to try and make Trump look bad days before the midterm elections: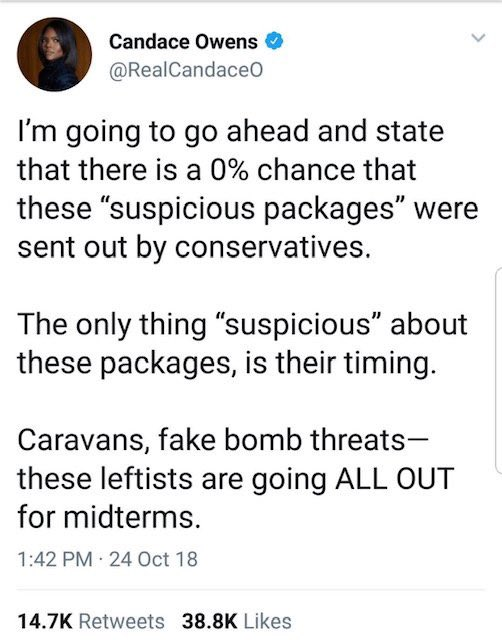 Needless to say, she has since deleted the tweet. Bloop.
FBI Director Christopher Wray said in a press conference today that the bombs were NOT a hoax in any way, shape or form.
"Though we're still analyzing the devices in our laboratory, these are not hoax devices," he said.
The devices consisted of "roughly six inches of PVC pipe, a small clock, a battery, some wiring and what is known as energetic material, which is essentially potential explosives and material that give off heat and energy through a reaction to heat, shock or friction," Wray said
While the suspected bomber has been arrested, it's not certain if there are more bombs making their way to potential targets.
"Today's arrest does not mean we are all out of the woods. There may be more packages in transit now," Wray said.
Former Press Secretary for Congress Rochelle Ritchie previously recevied death threats from the #MAGABomber and reported him to Twitter. They didn't do anything about it, and, here we are.
Hey @Twitter remember when I reported the guy who was making threats towards me after my appearance on @FoxNews and you guys sent back a bs response about how you didn't find it that serious. Well guess what it's the guy who has been sending #bombs to high profile politicians!!!! pic.twitter.com/xBY8FMbqnq

— R O C H E L L E (@RochelleRitchie) October 26, 2018
The #MAGABomber also threated Eric Holder on Twitter a few weeks ago before mailing a bomb to him:
"See u soon Tick Tock" — Cesar Sayoc to Eric Holder a few weeks ago pic.twitter.com/C5oPIm8sSk

— Ryan J. Reilly (@ryanjreilly) October 26, 2018
It's no secret Cesar Sayoc is an alt-right supporter, however, conservatives are trying to downplay his affiliation with the political party. They say the stickers on his van that showed support for Trump and put targets over the faces of prominent Trump critics were just placed on there and that it was just part of the left-wing conspiracy. Bruh. They have to stop this ish.
Look at him below:
This notion that the #MAGABomber was not influenced by Donald Trump is outrageous. He is the living, breathing personification of Trump-ism.

Everything about him shows he was directly and almost exclusively influenced by Trump & @BreitbartNews. pic.twitter.com/MKF9lvIQ4z

— Shaun King (@shaunking) October 26, 2018
He's clearly a TRUMP supporter.
#MAGABomber arrested for assassination attempts of Trump critics and here's a picture of his van. It's covered in stickers of @realDonaldTrump. This was not a false-flag operation. It was a Trump supporter targeting Democrats and Trump's 100% to blame for inciting this extremism. pic.twitter.com/7tWUzYhpJv

— Ryan Knight (@ProudResister) October 26, 2018
By the way, the #MAGABomber lived in his white sticker-covered van after his parents kicked him out of the house. It's unclear how long he has been living in the van.
Then the fact that Trump does a press conference about the mail bomber in front of a young, black conservatives group during the Young Black Leadership Summit ....just UGH!
Watch Trump react to the arrest of the mail bomber below:
A senior White House official confirmed Trump has no intention of calling Obama or anyone else that was targeted with the mail bombs. No surprise there.
During an interview with reporters on the South Lawn of the White House, Trump responded to the suspected bomber having his image on his van.
"I did not see my face on the van," he said. "I heard he was a person who prefers me over others, but I did not see that. There's no blame, there's no anything," he added.
But you see everything else? OK.
And then there's this:
I just asked @realDonaldTrump if he would pledge to tone down his rhetoric over the next few days ahead of the midterms. His answer: no.

— Cecilia Vega (@CeciliaVega) October 26, 2018
WATCH: When asked if his rhetoric and encouragement to violence could be toned down, Trump says "I could tone it up" implicitly threatening the assembled reporters. pic.twitter.com/GnWoniL8uk

— John Iadarola (@johniadarola) October 26, 2018
BIG sigh.
Maxine Waters, Kamala Harris and Cory Booker have responded to bombs being addressed to them.
In an interview with Blavity, Congresswoman Waters said:
"We have to keep to doing what we're doing in order to make this country right. That's what I intend to do, and as the young people say, 'I ain't scared. We must not be intimidated to the point that we stop advocating and protesting for justice." Peep the video here.
Tell 'em!
Kamala Harris' office released this statement today:
"Earlier today, Senator Harris' office was informed that a suspicious package, similar to those that have been sent to other elected officials, was sent to our Sacramento district office. Our understanding is that a trained postal employee identified the package at a Sacramento mail facility and reported it to the authorities. Fortunately, nobody was injured. Senator Harris is enormously grateful to law enforcement officials across the country who have worked so hard over the past week to keep our fellow citizens safe.
And Cory Booker took to Twitter:
Grateful for law enforcement's work to bring those responsible to justice & for their vigilance to keep Americans safe. Cowardly acts of terror will never silence or intimidate Americans—they will only strengthen our resolve to stand against fear & hatred. https://t.co/Xd2CYgXIHC

— Cory Booker (@CoryBooker) October 26, 2018
Thankfully, no one has been harmed and we're keeping our fingers crossed it stays that way.
Photos: Facebook/CNN