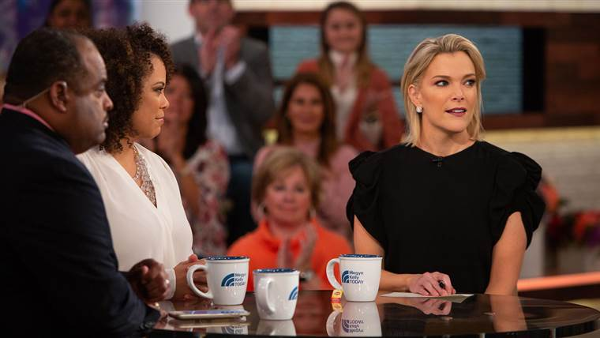 Megyn Kelly's TV life is seemingly crumbling right before our eyes amid the blackface controversy. Too bad so sad. Deets inside...
UPDATE:
It's being reported, Megyn Kelly is OUT at NBC! 
The Daily Mail reports:
This move comes just 48 hours after the embattled host made remarks in which she defended blackface on Today.

Kelly tried to deal with the scandal by delivering a tearful apology on-air and welcoming two black panelists to discuss the fraught and horrifying history of the practice, but it did no good.

"Megyn Kelly is done. She is not ever coming back," said an NBC executive with knowledge of the situation. "We are just working out timing of the announcement but mark my word – she is gone and will never be seen on NBC live again."

A spokesperson for NBC declined to comment at this time.
----------------------------------------------------------------------------------------
#Blackfacegate continues!
Megyn Kelly is feeling the heat after she defended the use of blackface for Halloween costumes during a recent episode NBC's "Megyn Kelly Today." The former FOX talking head tried to backtrack, bringing Roland Martin on her show to school folks on the origins of blackface. She also offered up an apology to her NBC colleagues and apologized at the top of her show yesterday (with Roland Martin), but that isn't enough.
She wasn't on the "TODAY" show this morning, she has parted ways with CAA, and the "House of Cards" guests backed out on an appearance.
Megyn was MIA for her 9AM show this morning and she won't be on there tomorrow either. Deadline reports she's looking to make a return to her "harder news roots," after the blackface debacle. The network aired a rerun of one of her show's that focused on sleep deprivation.
"Given the circumstances, Megyn Kelly Today will be on tape the rest of the week," a spokesperson told Deadline.
It's reported Megyn met with NBC executives to discuss the future of her NBC show.
The former Fox News primetime star is no longer a client of CAA and had planned to move to UTA, but that all went down the drain by her blackface comments. She left CAA and was looking to sign with UTA, but the agency doesn't want to proceed with bringing her on as a client. Bloop.
Since she's no longer going to UTA, she has instead retained leading Hollywood attorney Bryan Freedman as she is likely entering settlement talks with NBC, according to Deadline. This signals her show might (finally) be a wrap.
Adding fuel to the fire...
Netflix has confirmed some of the cast and EPs from "House of Cards" backed out for an appearance on her morning show amid the blackface backlash. "House of Cards" actor Michael Kelly and show-runners Frank Pugliese and Melissa James Gibson decided to skip out on promoting the show.
We're just going to leave this here: 
The Wall Street Journal previously reported that "the combined salaries of previous hosts Al Roker and Tamron Hall were less than half of Ms. Kelly's $23 million-a-year payday," for worse ratings. https://t.co/gJT7TrwD8k

— Irin Carmon (@irin) October 25, 2018
Welp. Let the white tears fall...
Photo: Today Show Screenshot