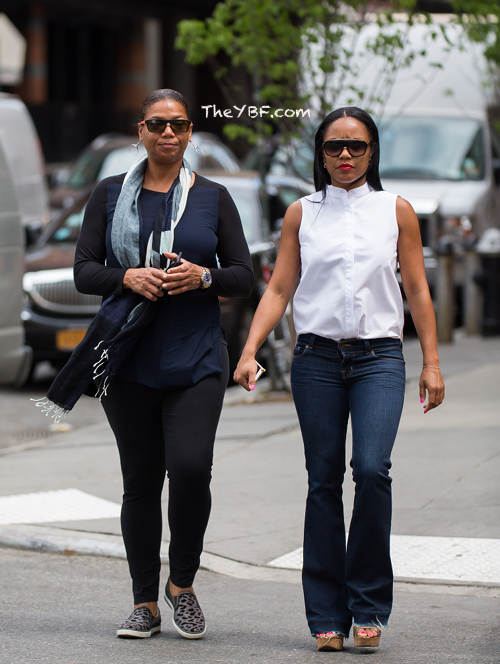 There are rumors that Queen Latifah and her rumored longtime girlfriend Eboni Nichols are engaged and are expecting a baby! Deets inside...
Well this is exciting, if true.
Word on the curb is that Queen Latifah and her rumored longtime girlfriend/choreographer Eboni Nichols are starting a family together. RadarOnline is reporting that Queen's girlfriend is pregnant and she was spotted with a full baby bump earlier this month.
Check it:
"This will be the first child for Latfiah," a source told the site.
While speaking on a panel at the Television Critics Association crowd in August 2017, she said she's ready to settle down and start a family. "I had to get a lot of partying out of my system early in life for about 40 years, you know what I'm saying," she said. "I'm good now. I think I'm ready."
Sources tell the site that not only are they expecting a baby, they're also gearing up to trek down the aisle. Eboni was spotted rocking a ring on THAT finger.
"Friends are saying Latifah and Eboni are finally engaged," said an insider.
While all of this is good news, RadarOnline has also alleged that Queen the Oscar nominated actress has been seen sneaking in and out of a cancer treatment center for almost a year. This report comes after the death of her mother, Rita Owens, who passed away in March after a decade-long battle.
Congrats to the couple! 
Photo: Splash