Y'all! ABC Nightline praised David Guetta for "bringing" house music to the U.S. and folks are reading them for columbusing. Get into the drag, plus Megyn Kelly being a basic white woman inside...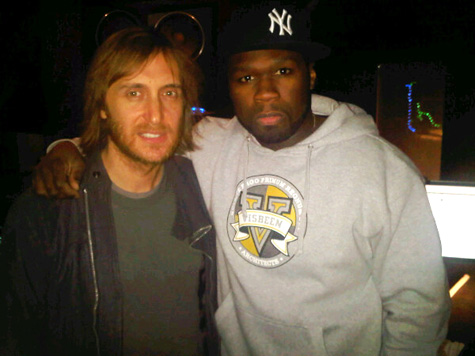 Columbusing, much? Sure looks and like it. ABC Nightline is receiving backlash after they dubbed David Guetta as the 'Grandfather of Electronic Dance Music,' while giving him credit for "bringing house music to the U.S." And he basically agrees.  Wait...whet?!
Peep the clip below:
.@davidguetta dubbed the "grandfather of electronic dance music." We're with the artist in Las Vegas talking his rise to stardom and his new album "7." pic.twitter.com/TmthRPN4Fc

— Nightline (@Nightline) October 19, 2018
So, they're just going to act as if house music didn't begin in Chicago back in the 80's or...
It's clear no one on the team did any REAL research about the origins of house music and it's popularity in the U.S. before crowning a white French DJ as the pioneer.
Well, folks aren't happy about ABC's ignorance and schooled the network via social media:
ABC News: David Guetta helped bring House music to the US.

Me: House music started in Chicago, created by Gay Black Americans and Frankie Knuckles is the Godfather of House music. Stop trying to steal our shit!

— Queen (@KStall93) October 21, 2018
"Yes, David Guetta. They called him the 'grandfather of electronic dance music,' officer. Yes, I found that concerning as well. Thank you." pic.twitter.com/mLO0rH1zqf

— @lorenacupcake on IG (@lorenacupcake) October 20, 2018
No one wants to pay journalists real money therefore you wind up being told that David Guetta brought us House music .

— JUBILEE (@JubileeDJ) October 21, 2018
Fuck David Guetta...... House Music originated in the Midwest !!!! my home town to be exact !! "Chicago stand the fuck up"

— DJ TRE TEKLIFE (@DJTRE1981) October 20, 2018
This doing the rounds but the problematic layers (from ABC) that David Guetta brought #housemusic to the US is beyond the pale. The race-washing and gay-washing of queer black and latinx US house here, its legacy and ongoing brilliance, erased by celebrity EDM monoculture pic.twitter.com/m64731941W

— Gary Needham (@gary_needham) October 20, 2018
Well said @djrogersanchez. For someone to even say David Guetta helped bring House Music to America is clueless. That headline is total nonsense. I'm not even sure he should be branded the Grandfather of Dance Music too. pic.twitter.com/pe2ocCTn62

— Gary Keelor (@GaryKeelor) October 21, 2018
Wow @abcnews really got this story wrong. #housemusic is from #Chicago! @davidguetta didn't bring or help bring it to the U.S. and he isn't the "grandfather" of house or electronic music. David should set the story straight. #correcttherecordhttps://t.co/wBkmond81s

— Jeremiah Seraphine (@jeremiahIMC) October 20, 2018
Chicago when @ABC said David Guetta brought house music to America pic.twitter.com/Ei5aoZnh9o

— Dani Deahl (@danideahl) October 21, 2018
Bloop!
David responded, but he still doesn't GET IT:
Bye.
In other white people being white news...
UPDATE: Megyn brought Roland Martin on the show this morning. He schooled everyone on the history of blackface:
------------------------------------
This show is still on?
So, Megyn Kelly did a segment on her "Today" show with panel of all -white people about inappropiate Halloween costumes and wearing blackface was brought up. Sighs...
The former FOX host said people SHOULD be allowed to wear blackface for Halloween and since she used to do it as a kid, it's totally OK.
"What is racist?," she asked in the clip above. "You do get in trouble if you are a white person who puts on blackface for Halloween or a black person who puts on whiteface for Halloween," she complained. "Back when I was a kid, that was OK just as long as you were dressing as a character."
Peep the clip above.
CNN's Soledad O'Brien had to check her (along with a ton of other folks on Twitter):
With a panel of white people. And pretending to not understand the historical roots of the issue (nor bother to raise them). On the Today Show. Interesting. https://t.co/XOnLkfpNv5

— Soledad O'Brien (@soledadobrien) October 23, 2018
Now, Megyn is backtracking and offering up an apology. Not to the public, just to the NBC colleagues she "may have offended."
Here is Kelly's apology to her colleagues at NBC:
Dear friends & teammates –

One of the wonderful things about my job is that I get the chance to express and hear a lot of opinions. Today is one of those days where listening carefully to other points of view, including from friends and colleagues, is leading me to rethink my own views.

When we had the roundtable discussion earlier today about the controversy of making your face look like a different race as part of a Halloween costume, I suggested that this seemed okay if done as part of this holiday where people have the chance to make themselves look like others. The iconic Diana Ross came up as an example. To me, I thought, why would it be controversial for someone dressing up as Diana Ross to make herself look like this amazing woman as a way of honoring and respecting her?

I realize now that such behavior is indeed wrong, and I am sorry. The history of blackface in our culture is abhorrent; the wounds too deep.

I've never been a "pc" kind of person — but I understand that we do need to be more sensitive in this day and age. Particularly on race and ethnicity issues which, far from being healed, have been exacerbated in our politics over the past year. This is a time for more understanding, love, sensitivity and honor, and I want to be part of that. I look forward to continuing that discussion.

I'm honored to work with all of you every day.

Love, Mk
*rolls eyes*
EXTRAS:
1. Police identify man filmed in a racist rant on Ryanair flight STORY
2. A woman claims a man grabbed the right side of her breast as she sleeping on a flight from Houston to Albuquerque. The man allegedly cited President Trump's past sexist comments about grabbing women by their private parts. STORY
Photos: Getty/Instagram