IG model Brittany Renner wrote a tell-all book that details her alleged sexual relationship with Colin Kaepernick. And she claims he made her pay for her own flights to visit him. Get the deets, plus find out what she said about Lil Uzi Vert cheating on her and Amy Schumer having Colin's back inside...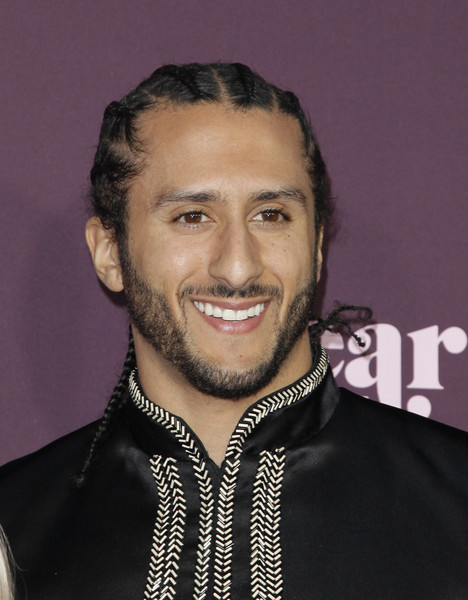 Everyone looking for their 15-minutes of fame huh?
IG model Brittany Renner just released a tell-all book, Judge This Cover, where she details her sexcapades with seven celebrities. She used code names in the book, however, Twitter has seemingly decoded the code names and connected a few celebrity men with whom she's referring to in the book.
Here's the breakdown of the possible potentials she mentions in the book:
Evan: Flag on the play (Colin Kaepernick)

Leon: Soul tie with a songbird (Trey Songz)

Frank: One and Done (Drake)

Ivan: Use your head (Tyga)

Solomon: Malpractice (Chris Brown)

Hector: Dancing with the Devil (Lil Uzi Vert)

Seth: Finding Oz (Casey Therriault)
Total Pro Sports released a summary of Colin's alleged chapter from the book that details her alleged interaction with the former San Francisco 49ers quarterback. She claims Colin told her to save her own money to pay her own flights to go visit him as a test to see if she was really there for him or if she was simply after his money.
The site reports:
"Colin was the rebound dude after Casey. According to her, she broke up with Casey because he was treating her wrong, but if I remember correctly, she broke up with Casey to be with Colin.

"They first met in person while he was staying with white CiCi & her family (if you read any of the old threads, you'll know who I'm talking about)

"She took an expensive Uber ride to their house to meet him. He told her that he had only slept with 25 gals in his lifetime & she said that was a lie.

"In true Colin form, he told her she had to pay for her own flights to see him. Convinced her that this was a test to gauge her true intentions and interest. Told her that if she was in it for the right reasons, she would save her money for flights.

"She was his best kept secret, he hid her away like a community whore, while she actually stayed with him for days & made his bed. Gave her forehead kisses before he left for practice.

"When it was time for her to catch her flight home, she asked when was she going to see him again. He said and she quoted "what I want to do and what I'm going to do are two different things. That's all I'm going to say". It went downhill from there."
Whew, chile. The thirst.
It's unclear if these hoe-tales went down BEFORE or after Colin started dating HOT 97's Nessa. Let's hope before.
As you can imagine, the Twitterverse clowned her for her THOTivities. But, she's taking it in stride. She made a joke about paying for flights recently on her Instagram:
It's rumored that Brittany once dated rapper Lil Uzi Vert. She apparently thought they were monogomous, but she was sadly mistaken
In the clip she posted to her Instagram below, she says in the recording, "You know what's really crazy… is that when I originally got invited, I was not even going to go but it was so crazy like we were in the same city and you really weren't that pressed to see me. He didn't really care to spend time with me, and he didn't even respond to my text the day that I had text you."
Check it:
Brittany's book is available for purchase on Amazon, but we're not sure it's worth it. There are several bad reviews, including one review that stated you can save your coins since the book her social media written out in words.
"This book is her social media in word form, to say the least. I finished it in about two hours because it was less than 150 pages, at a 4th grade reading level, and lacked any mental stimulation. She preached and preached about the content of the book for a year and all that was found was a very insecure attention seeking girl that released her diary, and to find validation from the rest of the world to prove she's not a 'whore'. Yikes. I'm sure some people out there found it relatable as they were/are as naive and unneducated, but it was definitely not a book worth purchasing."
Damn.
In other Kaepernick news...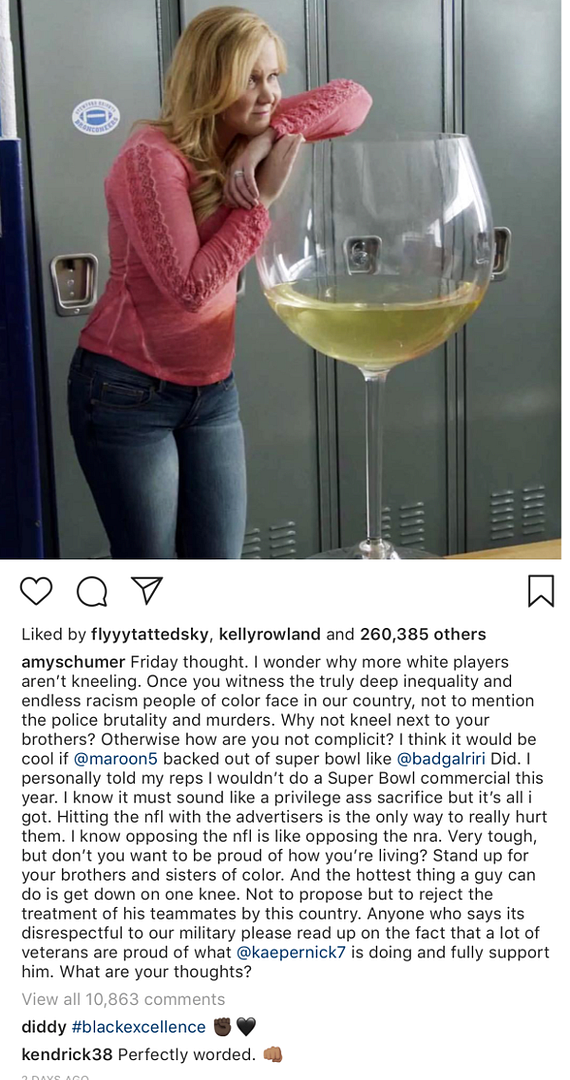 Comedian/actress Amy Schumer is speaking out about the NFL and boycotting the 2019 Super Bowl. She hopped on Instagram to call out her fellow white people on their privilege and revealed she wasn't doing any Super Bowl commercials.  Because, She's with Kap.
"Friday thought. I wonder why more white players aren't kneeling. Once you witness the truly deep inequality and endless racism people of color face in our country, not to mention the police brutality and murders. Why not kneel next to your brothers. Otherhow are you not complicit," she wrote.

"I personally told my reps I wouldn't do a Super Bowl commercial this year. I know it must sound like a privilege ass sacrifice but it's all i got. Hitting the NFL with the advertisers is the only way to really hurt them," the actress continued.
Thoughts?
Photos: Getty/Brittany's IG