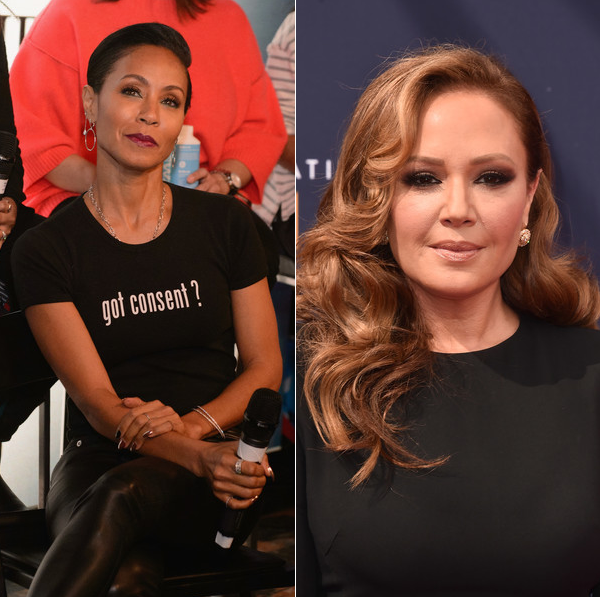 Jada Pinkett Smith and Leah Remini had "the talk" and have since squashed their Scientology beef. Find out how the ladies put their ongoing feud behind them inside...
Since launching her "Red Table Talk" show, Jada Pinkett Smith has been on a mission to squash old feuds and make amends with folks, i.e. Will Smith's ex-wife Sheree Zampino Fletcherand Gabrielle Union. Now, she's squashing a religious beef with Leah Remini.
Following a public feud last year, Jada and Leah have reportedly hashed out their difference and made amends on an upcoming episode of "Red Table Talk" Facebook Watch series when it returns on October 22nd.
"What was really emotional about it was realizing that there were two broken little girls in us that were abandoned by their fathers and turned into fighters who clashed," Jada told PEOPLE about her ongoing beef with Leah.
Jada revealed Leah reached out to settle their differences and how good it felt to let go of the feud.
"It was really beautiful and she reached out to me," Jada said. "She was much more bigger than me in that way. It was nice to reconnect and release ourselves from all that nonsense that doesn't matter."
You'll recall, the "King of Queens" actress made claims that Jada was a longtime member of Scientology during an interview with The Daily Beast.  She said then:
"I know Jada's in. I know Jada's in. She's been in Scientology a long time.  I never saw Will there, but I saw Jada at the Celebrity Centre. They opened up a Scientology school, and have since closed it. But Jada, I had seen her at the Scientology Celebrity Centre all the time."
In her book, Leah talked about a time when she was at actor Tom Cruise's house and he wanted to play "Hide And Seek" with a group of adults…literally. The "King of Queens" star said there were three Scientologists there that night which included her, Tom Cruise and Jada Pinkett Smith.
As for Jada's husband Will Smith, Leah said he doesn't seem to be apart of the religion.
The tea she spilled caused friction between Jada and Leah. After the interview, Jada hopped on Twitter to clarify where she stood when it comes to religion.
"I have studied Dianetics, and appreciate the merits of Study Tech," she tweeted, referring to practices developed by Scientology founder L. Ron Hubbard. "But I am not a Scientologist. I practice human kindness, and I believe that we each have the right to determine what we are and what we are not."
She continued:
"I recently lit Shabbat candles with Rabbi Bentley at Temple Sinai… but I am not Jewish," she tweeted. "I have prayed in mosques all over the world… but I am not a Muslim; I have read the Bhagavad Gita… but I am not a Hindu; I have chanted and meditated in some of the most magnificent temples on earth… but I am not a Buddhist; and I have studied Dianetics, and appreciate the merits of Study Tech… but I am not a Scientologist."
Good for them for getting to the bottom of this face-to-face.
Meanwhile...
Jada is enjoying some time with her hubby Will in Dubai following both of them skydiving and bungee jumping to celebrate his 50th birthday.
Photos: Getty