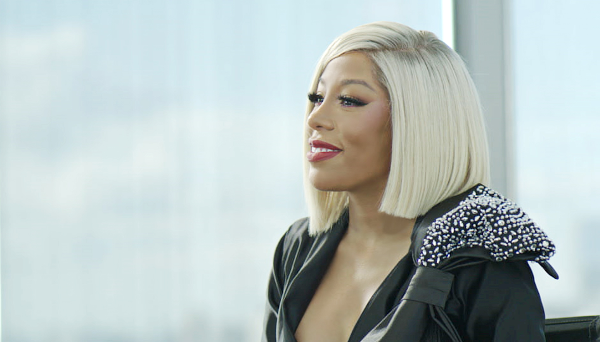 K. Michelle won Miss FAMU, but pregnancy got in the way of her enjoying it. Get into her "UNCENSORED" episode, plus the joggers Sheree Whitfield has coming down the pipeline inside...
Since K. Michelle popped up on the music scene, she has never really been one to sugarcoat ish and keep things a secret.
She's pretty much an open book and the longer she stays in the game, the more transparent she gets. We know about her dating history with British hottie Idris Elba, her battle with lupus, getting an abortion in 2016, and removing her butt injections. Now, she's sharing candids tidbits about her past.
K. Michelle (real name Kimberly Pate) appeared on TV One's "UNCENSORED" where she disclosed she got pregnant after winning the Miss Famu title.
The "Love & Hip Hop" star won the Miss Florida Agricultural & Mechanical University election during the spring semester of 2003. However, she was unable to serve in the position and ended up having to take time off from school. The reason? She got pregnant.
K said it was a HUGE scandal and everyone was all up in her business.
Peep the clip below:
K eventually welcomed a son, named Chase, and copped her degree in psychology.
In another segment, K opened up again about how her former boyfriend/former SONY executive MempHitzphysically abused her, leaving her outside naked once.
Check it:
K's episode premiered October 14th. You can catch it out via On Demand if you missed.
Y'all asked for these joggers!
SHE's arrived.
Visit https://t.co/wYFfBP6WAu to see the full video and sign up for the official launch of the SHE by Shereé website. Video credit: Jamil "Aries" Purnell pic.twitter.com/AlpQNsfXjX

— Shereé Whitfield (@IamSheree) October 15, 2018
Former "Real Housewives of Atlanta" star Sheree Whitfield is no longer on the show, so chick has to keep those coins coming in to pay for Chateau Sheree. 
The former reality star's She by Shereé joggers are almost here. Sheree hopped on social media to give fans a sneak peek at her long-awaited fashion line that she has been talking about forever.
"SHE's arrived. Visit shebysheree.com to see the full video and sign up for the official launch of the SHE by Shereé website," she captioned alongside a promo video.
Sheree is featured in the promo clip, alongside her model son Kairo Whitfield and daughter Tierra Fuller. Peep the clip above.
No word on the official launch just yet. You'll have to sign up to her email list for the release date.
Well good for her. Are y'all copping some She by Shereé pieces or nah?
Photo: TV One