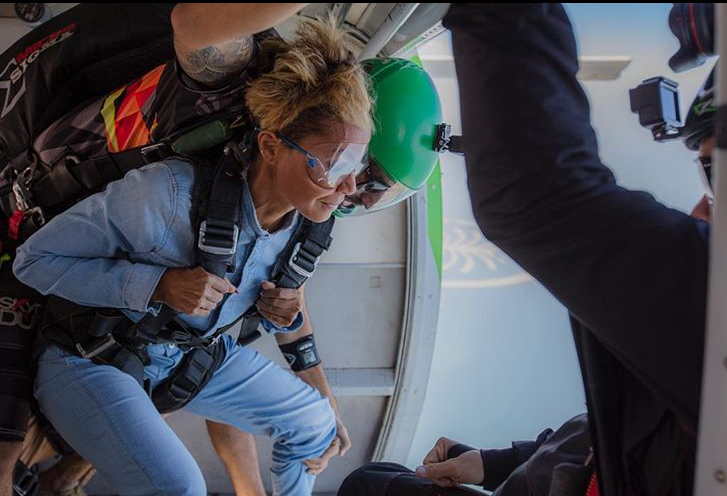 Jada Pinkett Smith jumped out a plane thanks to her husband Will Smith. In other news, Will is going to be opening up like never before about failing at his marriage and Meek Mill has signed on to star in Jada's new coming-of-age movie 12 O'Clock Boys. Everything inside...
The 47-year-old actress jumped out of a plane and it was all for her hubby Will Smith.
Apparently, Will asked Jada to jump out a plan in Dubai as a gift for his 50th birthday and she accepted. She jumped on the daredevil opportunity following Will bungee jumping out of a plane over the Grand Canyon.
"He said this is my birthday gift to him. He was like, 'I want you to come to Dubai and I want to see the two of you skydive That is what I want for my birthday,'" Jada told PEOPLE. "I was like, 'Really bro?' I haven't done a damn thing Will has wanted me to do in seven years!" she continued.
Well, that all changed recently:
"I'm probably going to be really pissed off at him going up in the airplane and seconds before I'm thrown out of the plane, I'm going to be so freaking mad at him and then I'm going to be so happy when I hit the ground," she said.
Ha!
"I'm not really adventurous in that way and he has been having his adventures and I told him, 'These are the years — you're turning 50, so this is the year of yes for me to you because I'm always telling you know,' so this one year is a yes," she said.
In case you missed, here's a clip of Will bungee jumping out a plane over the Grand Canyon last month to celebrate his 50th birthday:
The Hollywood veteran live-streamed the jump on his YouTube channel and it was hosted by his friend/"Fresh Prince" co-star Alfonso Ribeiro. The live-stream was used to help raise awareness and donations for Global Citizen's education campaigns.
The next episode of Jada's "Red Table Talk" show is going to be extra good. Will is joining as the special guest and he's going to get real candid about the struggles he has endured during his 20+ year marriage to Jada. Peep the sneak peek above.
Will spills the tea October 22nd. You be tuning in?
Speaking of tuning in...
Rapper Meek Mill is gearing up to hit the big screen! And it's his first studio feature.
He'll be joining Teyonah Parris (Chi-raq), Jahi Winston ("New Edition Story") and Will Catlett ("Love Is_") in a feature adaptation of 12 O'Clock Boys, a 2013 documentary by Lotfy Nathan. Jada will be producing the film under her Overbrook Entertainment banner along with Sony.
Deadline reports:
Barry Jenkins penned the initial draft for the script, with rewrites from Sherman Payne. The pic centers on Mouse (Winston), a young boy who wants nothing more than to be a part of the Midnight Clique, a tough group of Baltimore bike riders who rule the summertime streets. As he navigates the challenges of coming of age in a complicated world, he learns the hard way that the choices you make early on can change your life forever.

Mill plays the leader of the Midnight Clique and a legend in the eyes of Mouse.

In addition, Meek, who has his own battles with the justice system, has teamed with Amazon Prime Video and Jay Z's Roc Nation for a six-part documentary series that will follow his fight for exoneration while exposing flaws in the criminal justice system.
The film is currently in production. We've seen the documentary and it was pretty good. Does it sound like something you'd watch?
Photos: Jada's IG/@alansilfen/Meek's IG