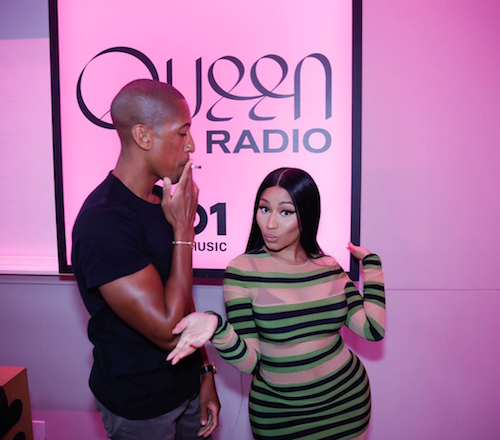 Nicki Minaj returned to Queen Radio today with tea, shade and a snatched new look (thanks to her appetite suppressants).  Everything she got into inside...
After hitting 5 cities in multiple countries in 5 days, Nicki took a little break over the last week or so.  So the well rested self-proclaimed Queen was ready with smoke for today's Queen Radio episode.
She dished on Milan Fashion Week, where she was dripping in Versace daily and had dinner inside Gianni Versace's home.  We found out about her new fitness kick that she says helped her lose weight recently, since she told us she was mad they put the dessert trays right next to her.  We feel you girl.
Nicki reminded us that THEY still don't want her to be great, throwing subliminals at certain female rappers and the sans of said rappers. 
"There's definitely a narrative they're trying to create about Onika Tanya Maraj but it won't ever work because you'll never be bigger than God."
During a surprise call with the imprisoned Taxstone - a grittier Charlamagne Tha God who had a popular podcast - they referenced how gatekeepers of the culture have been paid off to talk trash about Nicki or not talk about her at all. He co-signed saying even behind bars, he sees how folks have been coming for her neck, and it's a problem.
Oh?!
They also discussed Kanye West's publicity stunts, with Nicki saying he's listening to the culture and trying to appease both sides.  His Make America Great hat, sans the Again that offends black folks, is proof of it, she says.
Nicki had UK pop group Little Mix call in for a mutual love fest since they just dropped their new collabo "Woman Like Me."  By the way, Kelly Rowland is responsible for putting the "X-Factor" made group together.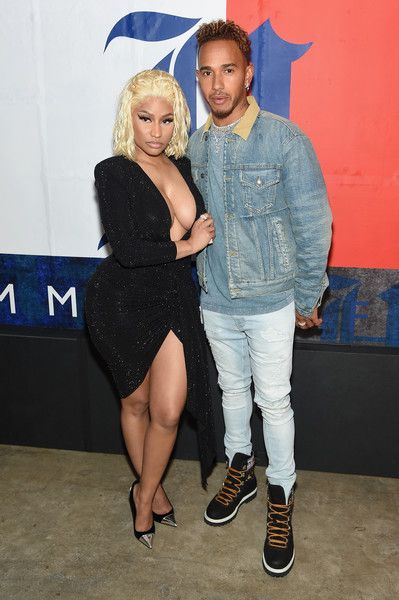 She avoided spilling tea about her alleged relationship with Lewis Hamilton when asked.  But it sounds like we'll get more in her upcoming documentary.  She did reveal about the F1 race car driver:
"We're chillin'.  I vowed I'm never giving away my personal life anymore….I'd rather let people feel what they want to feel while I just live my life."
OK girl...
Since singer Kehlani was trending, Nicki called her up to chat about her big pregnancy news.  And likely to show they're still cool despite Kehlani's hit song with Cardi B.
Kehlani dished on her blackness (she said she IS black, despite what y'all say) and bisexuality when Nicki asked how and when she made this baby when folks thought she was still in a relationship with a woman.
The "Ring" singer revealed she broke up with her ex-girlfriend a few months ago, but the love of her life is indeed who we thought.  And the pregnancy was absolutely planned.  Oh, and she says the sex was absolutely fire. More on that HERE.
Nicki revealed she does want kids, but is fearful she won't have them.  She doesn't want to bring a child into a toxic environment due to seeing her mother and father's toxic relationship.
"It'll happen, but I'm glad that I didn't start a family just to post it on the 'Gram. A lot of people are so caught up in the social media era just to impress people that don't even know them."
Oop.
Rapper Asian Doll, who just signed with Gucci Mane, called in to talk about her So Icy Princess album dropping next week. Nicki asked both her and her apparent nemesis Kash Doll if they would both call in to squash their beef over the Doll name and other drama, but Kash said 'Nah.'
Asian Doll said 'Yup,' and dished on why she uses her platform to address colorism in the industry, something Nicki also co-signed does exist.  Asian Doll said she realized her platform was inspirational to dark skin girls, so she speaks up about light skin girls who get more privilege.
"it's a lot of light skinned girls that are more privileged but I don't want us to cry about it....we're black, we're beautiful, we're strong."
When it came to addressing Detroit rapper Kash Doll, chick threw all the shade.  Apparently, Kash, who is brown skin herself, said she never experienced colorism and it's not really a thing in her world.  Asian Doll said:
"That's because she was a stripper and her sh*t was always in a n*gga face. "

"She's just childish and always wants to disagree with me just because. She knows it's true."
Lordt.  She said she sees people making colorist comments about Kash, so she knows and just chooses to use her platform differently.
As for who started this Doll name - seeing that there's umpteen chicks in the game using the name - Asian Doll threw more shade.
"Kash Doll might have started the doll thing but she older than all of us, even though she claim to be 25, bu she's not."
Damn.
Nicki is set to return to Queen Radio tomorrow.  We're sure her Barbz's weekends have been MADE.
You can listen in full below: