Get into performances by Mariah Carey, Jennifer Lopez and Khalid at the 2018 American Music Awards inside...
Y'all know Mariah Carey isn't busting too much of a sweat ...ever.
Folks were busy tweeting, trying to figure out if Mariah Carey was lip syncing when she hit the stage at the 2018 American Music Awards to perform her recently released single "With You." The track will be featured on her upcoming album, set to drop later this year.
Donning a hot pink gown (in honor of Breast Cancer Awareness month), MiMi belted out her new track during her first AMAs performance since 2008.
I'm in love WITH YOU, @MariahCarey That #AMAs performance was amazing! pic.twitter.com/hTEG2qw90e

— American Music Awards (@AMAs) October 10, 2018
Mariah Carey Is Back On The American Music Award Stage And She Doesn't Sound Bad At All. Mimi Is BACK!!!!!!!!!!! #AMAspic.twitter.com/LZXy0IZqVF

— Jared Coalmon (@jared_coalmon93) October 10, 2018
However, folks accused her of using a pre-recorded vocal track.
Peep the tweets:
It's 2018 and people are still mad at Mariah lip syncing... gurl please!! pic.twitter.com/uHg2lLwrYw

— Darlan Bitencourt (@DarlanBtencourt) October 10, 2018
Mariah still lip syncing? stop inviting her and Britney to these events when they don't sing live #AMAs

— Stas (@MilaxLocamren) October 10, 2018
Me watching Mariah Carey's Lip singing performance #AMAspic.twitter.com/ALxq8EXXEh

— (@UWISHUWEREMELOL) October 10, 2018
Mariah Carey is 100% not singing and doing the worst lip synching I've ever seen. #AmericanMusicAwards2018

— Missy (@MISSYclarin) October 10, 2018
Nothing new here.
Also debuting new music...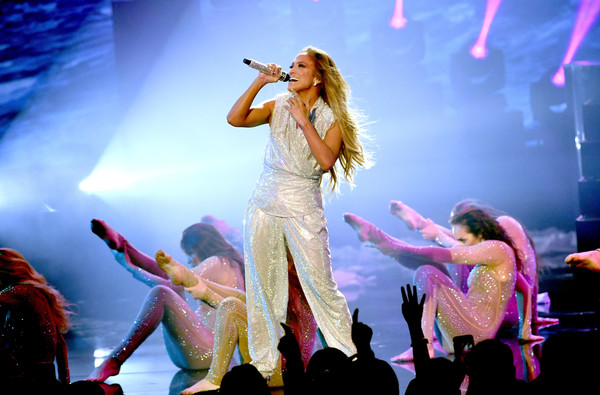 Jennifer Lopez debuted her new song "Limitless," a track from her upcoming film, Second Act, during the 2018 AMAs.
The performance opened with a clip from the movie before JLo began singing the tune. On the carpet, the actress/singer/dancer said she was excited to perform the single because she loves the song (which was written by SIA) so much and that it's empowering for the world right now.
She has NO limits! @JLo just delivered an epic #AMAs performance of #Limitlesspic.twitter.com/1KeQauAoGI

— American Music Awards (@AMAs) October 10, 2018
In Second Act, JLo plays a woman named Maya, whose lack of a college degree has left her with unfulfilled career dreams until her friends create a false identity for her, which lands her a prestigious job in New York City. Her bestie Leah Remini also stars in it.
Second Act is scheduled to hit theaters December 14th.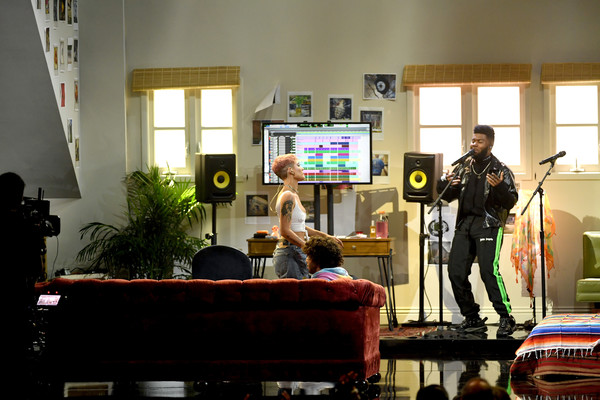 After copping the Favorite Soul/R&B Male Artist award, Khalid hit the stage alongside Benny Blanco and Halsey to perform their chart topping hit, "Eastside." The stage was transformed into a bedroom studio where the trio rocked out to their pop bop, which spent 12 weeks on the Hot 100.
Peep a clip from their performance below:
In case you missed, check out our red carpet coverage HERE, HERE, and HERE.
Photos: Getty