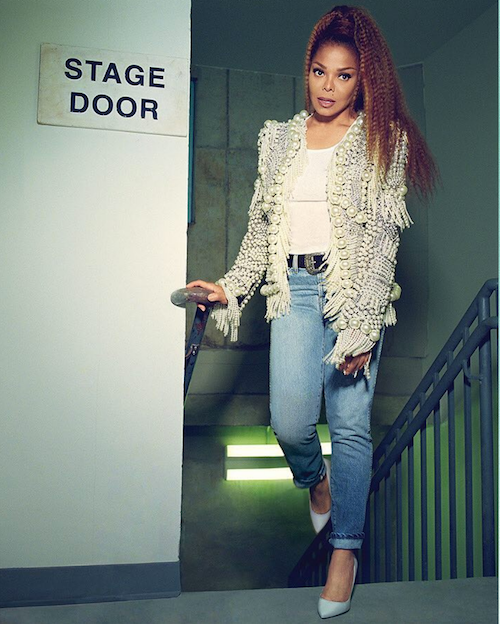 You can call her Living Legend if you nasty. Janet Jackson is up for the Rock & Roll Hall of Fame, and so are a few other folks who deserve their things. Details inside..
A pop queen, a hip hop pioneer and a soul godmother have all been nominated for the newest class to be admitted tot he Rock & Roll Hall of Fame. Yoossssss!
First name Janet, and that's all you need to know. Ms. Jackson has had an epic comeback - getting her flowers from Black Girls Rock & BMI Hip Hop/R&B Honors and more, all while dropping new hit music and a bomb State of the World tour. She's 50-something and still just as groundbreaking as she was when she went from little Penny to the Queen of our Rhythm Nation to Damita Jo to the sexiest velvet-rope-working-chick in the game.
The Rock Hall said:
"She has built a career so groundbreaking that she's immediately identifiable on a first-name basis. She explored social issues, themes of empowerment and self-confidence, and influenced generations with her stylized music videos with innovative choreography."
So it's only right she gets an official nomination into the 2019 Hall of Fame class. This is her 3rd attempt, and we hope the third time's the charm.
The Rock Hall gushed about LL saying:
Romantic ballads and hard hip-hop hits make up the storied career of @llcoolj who didn't just look out the door - he smashed it wide open.
LL Cool J had us needing love before we even knew what it was. The rapper turned tv host turned award nominated actor to Sirius XM mogul just landed his 5th nod, and he definitely deserves to win it this go-round.   And Rufus featuring Chaka Khan - that legend-steez speaks for itself.
Here's the rest of the nominees.You can get in your fan votes here before the 2019 Induction Ceremony on March 29 at the Barclays Center in Brooklyn:
Your #RockHall2019 Nominees are here. Who do you want to see inducted? Now's the time to make your voice heard: https://t.co/F4NQPnaZjbpic.twitter.com/UGkAN7MOsN

— Rock Hall (@rockhall) October 9, 2018
Give.Them.Their.Things.
Photo: Janet's IG