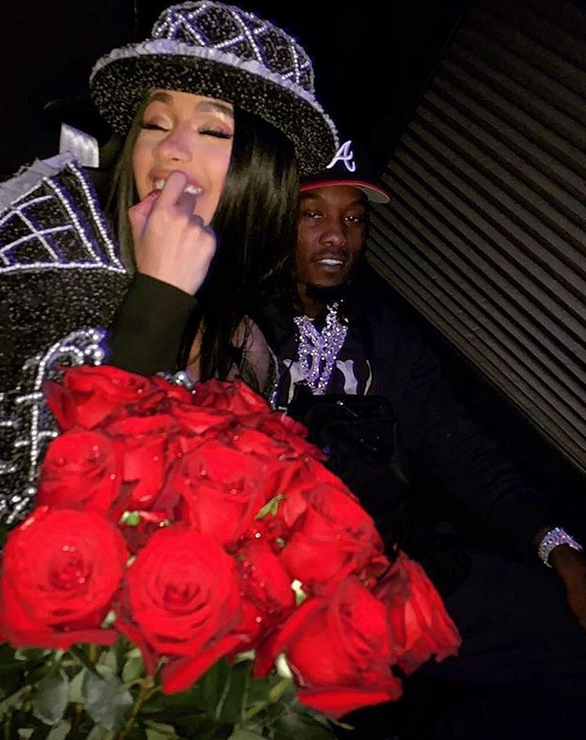 Cardi B and Offset took their love back into the strip club and made it rain on strippers. Go inside for flicks and videos of the lovebirds, plus deets on Quavo and Rick Ross coughing cash to get Uncle Sam off their backs...
Nothing like spending time in the strip club with the love of your life (we guess).
There's no secret Cardi B and her husband Offset love the strip club,so they returned to the scene of the alleged crime.  Cardi's been charged for being involved in two strip club bartenders getting beat up at work, but it's not stopping her from going.
Before she hits the stage at the 2018 American Music Awards, Kuluture's mom and dad hit up Crazy Girls strip club in LA for a night of fun. And they both were living it up in their VIP section:
Aye! Turn up. 
Offset also copped Cardi a new whip - a Lambo: 
Looks like that drama that unfolded with the two bartenders isn't spoiling Bardi's fun in the strip club. The "I Like It" rapper turned herself in to police after she was charged with two misdemeanors -- assault and reckless endangerment -- for allegedly ordering her camp to beat down two strip club bartenders/sisters.
The "Be Careful" rapper is scheduled to be arraigned on October 29th.
On social media...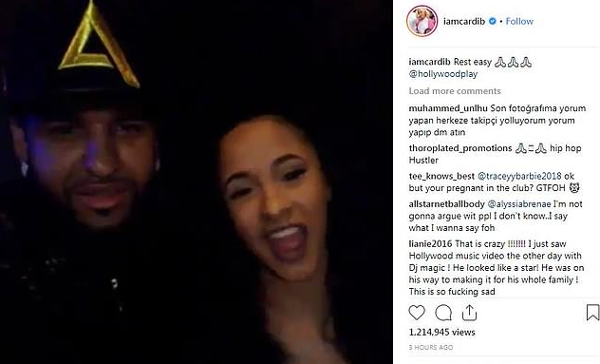 Bardi posted a tribute to her friend/NYC rapper Hollywood Play (real name Frank Snyder) after she was shot dead in front of a club in Queen. The 35-year-old rapper was reportedly hosting a birthday party at Tavern Lounge when shots rang out in the wee hours of the morning. It's reported Hollywood play was shot once in the neck and once in the leg. It's unclear if he was the intended target. We send our condolences to family, friends and fans.
In other news...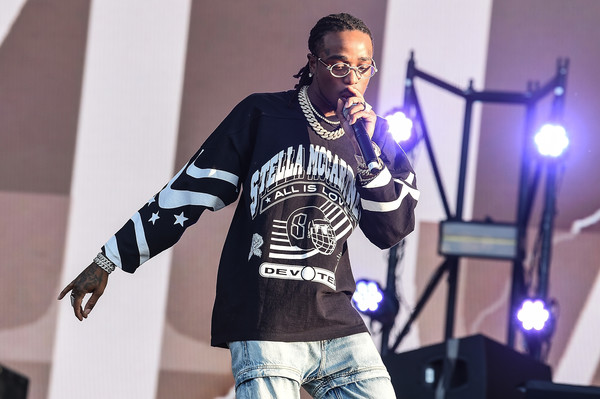 Migos rapper Quavo just settled his "beef" with Uncle Sam. He apparently owed over $14,000 in back taxes, which resulted in a tax lien against him by the Georgia Department of Revenue.
According to The Blast, Quavo was accused of skipping out on his state tax bill that totaled $14,055.06 owed from 2016. Since he paid it in full, the lien is now no longer enforcable. While Quavo has paid his debt, his Migos bandmate Takeoff is dealing with tax issues. He too was hit with a tax lien totaling $14,348.23 that hasn't been paid yet.
Another rapper paying off debts...
Rick Ross just coughed up some serious cash to settle his tax debt with the IRS.
According to The Blast, Rozay paid over $4,617,370.86, to settle a debt from 2012 that was never paid. The site reports:
The IRS originally hit Ross with the lien in 2016 and demanded he pay up or they would being the process to seize his assets.

The release of the tax lien means the IRS is no longer on the hunt for their money and Ross will not have to worry about any of his income being seized to satisfy the debt.
Now he can sip from his black bottles of Belaire in peace.
Photos: Cardi's IG/Getty