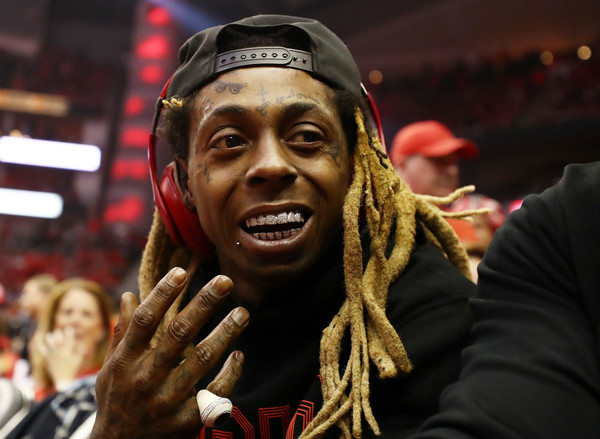 Chaos erupted during a Lil Wayne performance in Atlanta over the weekend. Get the deets, plus see how YBFers reacted to the brawl that broke out AFTER an official UFC fight inside...
Chaos was unleashed while Lil Wayne was performing over the weekend.
The Young Money honcho, who recently released his highly anticipated Carter V album, hit the stage during the A3C Festival held at The Georgia Freight Depot in Atlanta when his set was cut short after someone yelled out that bullets were being fired.
According to reports and witnesses on the scene, Wayne was half way into his set when someone declared there was a gunman in the midst of them and that caused folks to scramble as they attempted to get out of harm's way. However, it doesn't appear to have been a shooter at all.
While no one was shot, people did get injured as they tried to escape. Peep a few clips of the chaos below:
A3C LIL WAYNE CONCERT SHOOTOUT. pic.twitter.com/WAaOA2U6P4

— Keats the Geek (@KeatsTheGeek) October 8, 2018
First time seeing Wayne at @A3C and three songs in I had to run my ass off and hop over a dumpster and fence! #a3cfestivalpic.twitter.com/5ic5wDENOw

— poeticaboutjustice (@sweetboutbitter) October 8, 2018
At the Lil Wayne Concert. Just a brawl no shots fired!! #a3cfestival#LilWaynepic.twitter.com/MPUODSxTMa

— C4 (@c4kcg) October 8, 2018
Lordt. That had to be scary.
"There have been approximately 12 minor injuries reported to police such as ankle injuries and lacerations from attempting to jump fences," the Atlanta Police Department told PEOPLE magazine in a statement.
When people began rushing from the scene, bodyguards grabbed Weezy and hauled him off the stage
Here's a clip of Wayne leaving the venue below:
After the drama, Wayne hopped on Twitter, hoping everyone was OK
Hope everyone at A3C is safee!!

— Lil Wayne WEEZY F (@LilTunechi) October 8, 2018
A3C also issued a statement regarding the incident:
— #A3C18 (@A3C) October 8, 2018
Glad no one was seriously injured.
By the way, Wayne's Carter V has already gone gold, it debuted #1 on Billboard 200, which makes it his fourth #1 album. It's also the 2nd largest U.S. streaming album of the year, so far.
Speaking of drama....
So this happened at UFC 229...
Conor McGregor and Khabib Nurmagomedov were tapped to fight at UFC 229, which was promoted as one of the biggest fights in MMA history. Well, it certainly held up to all the hype.
Khabib Nurmagomedov got the best of McGregor and was ultimately crowned as the winner. However, after the fight ended, he wasn't done. Nurmagomedov ended up hopping over the fence and started a fight with one of the members of McGregor's team. McGregor was also attacked.
Eventually, both fighters were escorted away and Nurmagomedov never received his UFC belt.
Naturally, Twitter went into a frenzy and everyone had something to say about the brawl AFTER the actual fight.
Check out reactions from Mike Tyson, Reggie Miller, Pusha T and Damon Wayans Jr. below:
Watching the @TheNotoriousMMA vs @TeamKhabib fight. Unimaginable never thought it would go down like this. Crazier than my fight riot.

— Mike Tyson (@MikeTyson) October 7, 2018
Well finally something that surpasses Malice at the Palace.. Khabib vs Connor aftermath is a huge stain for UFC.. Disgusting!!!

— Reggie Miller (@ReggieMillerTNT) October 7, 2018
Great win @TeamKhabib sometimes u have to burn the whole house down...i understand.

— King Push (@PUSHA_T) October 7, 2018
WOWWWWW!!!! #ufc229 . Five rounds and then you hop the gate to fight some more?! Gangster. Unprofessional as hell tho

— Damon Wayans Yunior? (@wayansjr) October 7, 2018
Before the fight(s)...
Drake showed love to his homie Conor McGregor.  And he's getting meme'd all over the place for supporting dude.
By the way, Conor's already demanding a rematch.
Photo: Getty