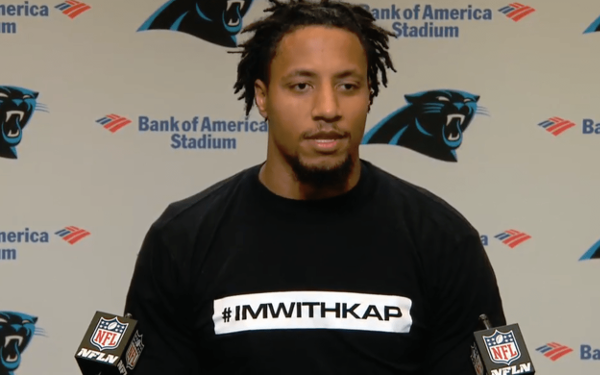 The Carolina Panthers picked up Eric Reid and now he's schooling the masses on slavery and more. Get into his first press conference since joining the Panthers, plus deets on Shaq's son Shareef O'Neal undergoing heart surgery inside...
Eric Reid is getting another chance in the NFL. Last week, the Carolina Panthers signed the free agent safety to a one-year contract where he will earn up to $2 million and Pro Bowl incentives, according to ESPN.
Eric was the first player to join his then-teammate Colin Kaepernick in taking a knee during the national anthem to protest police brutality. Soon after, he joined Kaepernick in a collusion lawsuit against the NFL. They allege NFL owners conspired to get them off the field due to protesting.
During his first press conference in Charlotte, Eric shared his time away from the game didn't affect his drive to continue to fight injustice and it surely didn't keep him from speaking out publicly, sharing what's on his mind. He wore an #ImWithKap t-shirt, showing his continued support of Kaepernick. He said he will "without a doubt" continue with the collusion lawsuit and that he has been looking at alternative ways to protest injustice outside of taking a knee. He also schooled the masses on slavery and why taking a stand was so important to him.
"Next year will be 2019. It will mark 400 years since the first slaves touched the soil of this country. That's 400 years of systemic oppression," Reid said.
"That's slavery, Jim Crow, new Jim Crow, mass incarceration, you name it. The Great Depression — they come out with the New Deal, and black people didn't have access to those government stimulus packages. The New Deal set up what is known as the modern-day middle class. We didn't have access to those programs, the GI Bill, social security, home loans, none of that. So this has been happening since my people have gotten here. And so, I just felt the need to say something about it."
Peep the clip:
Eric Reid explains why it was worth the risk to kneel, and miss time in the #NFL#nfl#pantherspic.twitter.com/MPYR32m3bb

— Nick Carboni (@NickCarboniWCNC) October 1, 2018
As for how he'll continue protesting, he explained: "I'm still evaluating the scope of our country, and I'll make that decision later."
He ended the conference saying, "I will keep speaking for my people."
YAS!
Peep his full press conference below:
Eric Reid is at the podium https://t.co/dv774UEhoQ

— Carolina Panthers (@Panthers) October 1, 2018
We wish him the best this NFL season!
In college basketball news...
dcsc
Shareef O'Neal, son of Shaq and Shaunie O'Neal, is being forced to sit out the next basketball season at UCLA due to complications that were found by the school's physicians. Doctors found issues with his heart that will need to be fixed by undergoing surgery.
"We found a medical issue dealing with heart," he explained to TMZ. "Thank God the UCLA medical staff found it early. I will not be playing this season. I'll be a medical red shirt. During this time off - I'll be off for a while - I'll be focused on my academics, my health, of course, and I'll be observing to be the best player I can be next year."
He's super optimistic about the future. He said it's not career ending and that he'll be back in no time.
Listen below to find out how doctors found the issue:
Thank God they found this issue early. While we know going into his freshman year as a stand out basketball player and then having to be benched is hard and frustrating, his health comes first!
Mama Shaunie posted about her baby saying:
Awww!
Photos: Twitter Screenshot/Shareef's IG