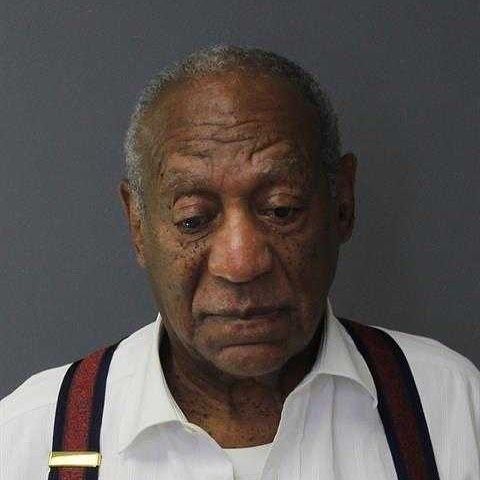 Bill Cosby was sentenced to jail on Tuesday.  He was ordered not to pass Go and was brought directly to lock up.  We've got his mugshot and everything he's eating and doing his first night in the slammer inside...
After two days of court appearances, "America's Dad" turned convicted sex offender Bill Cosby was sentenced to 3-10 years in a state prison for drugging and sexually assaulting Andrea Constand at his home 14 years ago.
Cosby's bail was immediately revoked - the judge was actually insulted that Cosby's attorneys had the audacity to ask - and he was escorted from the courthouse in handcuffs.
"When a sentence in prison includes more than two years, the defendant shall not have the same right as bail before the verdict," Montgomery County, Pennsylvania, Judge Steven O'Neill said. "The bail should be at the discretion of the judge.  This was a serious crime.  Mr. Cosby, this has all circled back to you. The day has come, the time has come."
Cosby was convicted in April of aggravated indecent assault, and he interestingly declined to speak to the court prior to the sentence. He also was ordered to pay a fine of $25,000 plus the costs of prosecution as part of the sentence.
Right before the sentencing, the comic was ruled a "sexually violent predator" after his defense fought the label for months.
He was placed at the Montgomery County Correctional Facility before being transferred to SCI Phoenix for his classification.
Your boy used this moment to defend Trump's SCOTUS pick. https://t.co/2ENX9Y9w6m

— 2/2 Milahs (@JamilahLemieux) September 25, 2018
His attorneys have already filed an appeal (see the above foolishness about us now being in a "sex war"), but in the meantime, he's behind bars. With Puddin' Snacks.  We couldn't make this ish up.
The Blast reports:
Officials at Montgomery County Jail in Pennsylvania tell The Blast Cosby will be well fed for his first night in the slammer, including a chicken patty with gravy, mashed potatoes, mixed vegetables and an iced tea juice packet. On top of all that, we're told he will be getting VANILLA PUDDING!

It's unclear if the pudding will actually be Jell-O, but convicted sex offenders can't be choosers.

As for what Cosby will be facing over the next few days until he's transferred to a permanent facility to serve out his sentence, we're told he will be first searched and offered a shower before changing into prison attire and issued his jail swag.

We're told Cosby will be receiving: 1 blanket 2 sheets 1 towel 1 washcloth 1 hygiene kit
And before you try to argue Bill deserves to be free because other accused white men are (for now):
There is great imbalance in our criminal justice system. We know this. But your position can't be, because Cosby is black, he should get the right to rape without repercussions like a white dude. Trash position.

— Jemele Hill (@jemelehill) September 25, 2018
Instead of insisting that white rapists receive more time, you want black rapists to go free? Yall don't gaf about justice or women.

— Glowla Darling (@missleighcarter) September 25, 2018
Also, if it takes until he is 81 and blind to get Robert Kelly, then so be it. What is more sad than the fall of an old man who created a beloved icon, is how we don't ride for our girls. Now that's some sad shit

— Kierna (@kiernamayo) September 25, 2018
Cosby's case was decades in the making. Trust, Harvey Weinstein's going to see this jail life.