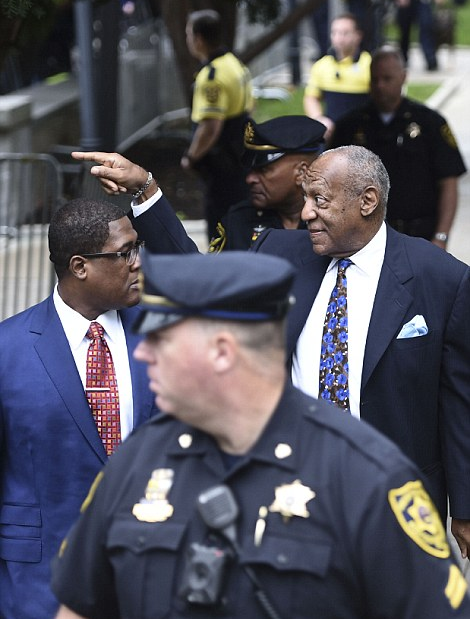 The two-day sentencing for Bill Cosby on sexual assault charges kicked off today and his lawyers are trying their hardest to keep him from having to register as a sex offender. Meanwhile, a psychologist made claims that Cosby has a mental disorder and should be labeled a "sexually violent predator." Details inside...
So, this is how Bill Cosby showed up for his two-day sentencing at Montgomery County Courthouse in Pennsylvania this morning, pointing at protestors as he made his way inside the court house alongside his publicist Andrew Wyatt.
Peep the clip below:
SENTENCING DAY: Bill Cosby has arrived at court. pic.twitter.com/quhmu49uu6

— Lauren Dawn Johnson (@LaurenDawnFox29) September 24, 2018
"ANTM" judge Janice Dickerson, who testified that she was sexually assaulted by Cosby, was present in the courtroom, along with other women who came forward with claims that Cosby sexually assaulted them. Up to 60 women have accused Cosby of sexual assault.
Crowd starting to fill courthouse for Bill Cosby sentencing. MANY accusers, including mode Janice Dickinson, Lise-Lotte Lublin, Therese Serignese, Linda Kirkpatrick, Victoria Valentino, Lili Bernard and others

— Manuel Roig-Franzia (@RoigFranzia) September 24, 2018
Back in April, a jury found the 81-year-old entertainer guilty on three counts of aggravated assault for drugging and sexually assaulting former Temple University employee Andrea Constand inside his Philadelphia home in 2004.
By the way, Bill's case is the first celebrity sexual assault trial since the #MeToo movement kicked off last fall.
During today's proceedings, Cosby's lawyers argued over whether it's constitutional to make the former Hollywood veteran register as a sex offender. Joseph Green, who represents Cosby, said the law was unconstitutional and that it could not be constitutionally applied to Cosby because it was punitive - and punishment without due process, according to CNN.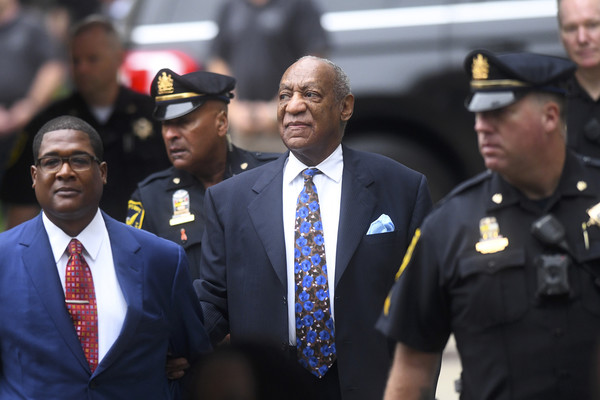 Attorney Green also argued Cosby is legally blind, and he's not fit to go to prison.
A Commonwealth Attorney responded with claims that Cosby is trying to "escape" the registration for sexual predators. They argued that the sex offender registration laws are not punitive. They said it's a way to help citizens and their children protect themselves.
Judge O'Neill ended up ruling that the Sexually Violent Predator Assessment and current PA law dealing with sex offender registrations was constitutional.
Kristen Dudley, a psychologist and a member of the Pennsylvania Sexual Offenders Assessment Board, then testified that Cosby SHOULD be labeled a "sexually violent predator" because he has a "mental disorder that involves urges toward non-consenting women." Dr. Dudley believes if given the opportunity, he would re-offend.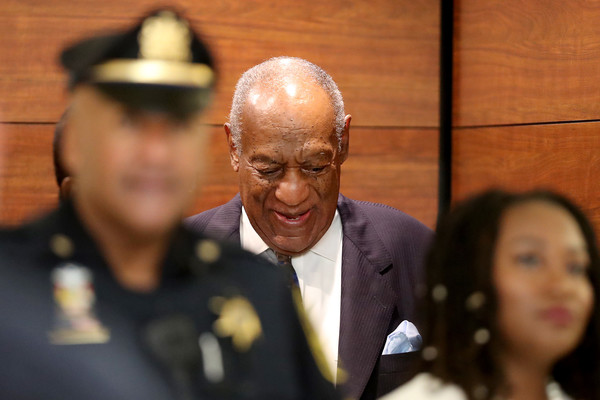 Bill's accuser, Andrea Constand, took the stand to deliver a victim impact statement (as well as members from her family, including her mother, father and sister).
"I have testified, I have given you my victim impact statement," Andrea said in court today. "You heard me, the jury heard me and Mr. Cosby heard me. All I'm asking for is justice as the court sees fit," she said.
The defense did not call any witnesses, but Cosby could possibly take the stand tomorrow during day 2 of sentencing.
Montgomery County District Attorney Kevin Steele requested a sentence of 5 to 10 yrs in state prison.
You recall, Cosby's first trial ended in a mistrial in June 2017, but prosecutors retried the case.
EXTRAS:
1. Detroit officer fired over "zoo animals" post on Snapchat. The comment referred to Detroit residents as "zoo animals." STORY
Photos: Getty